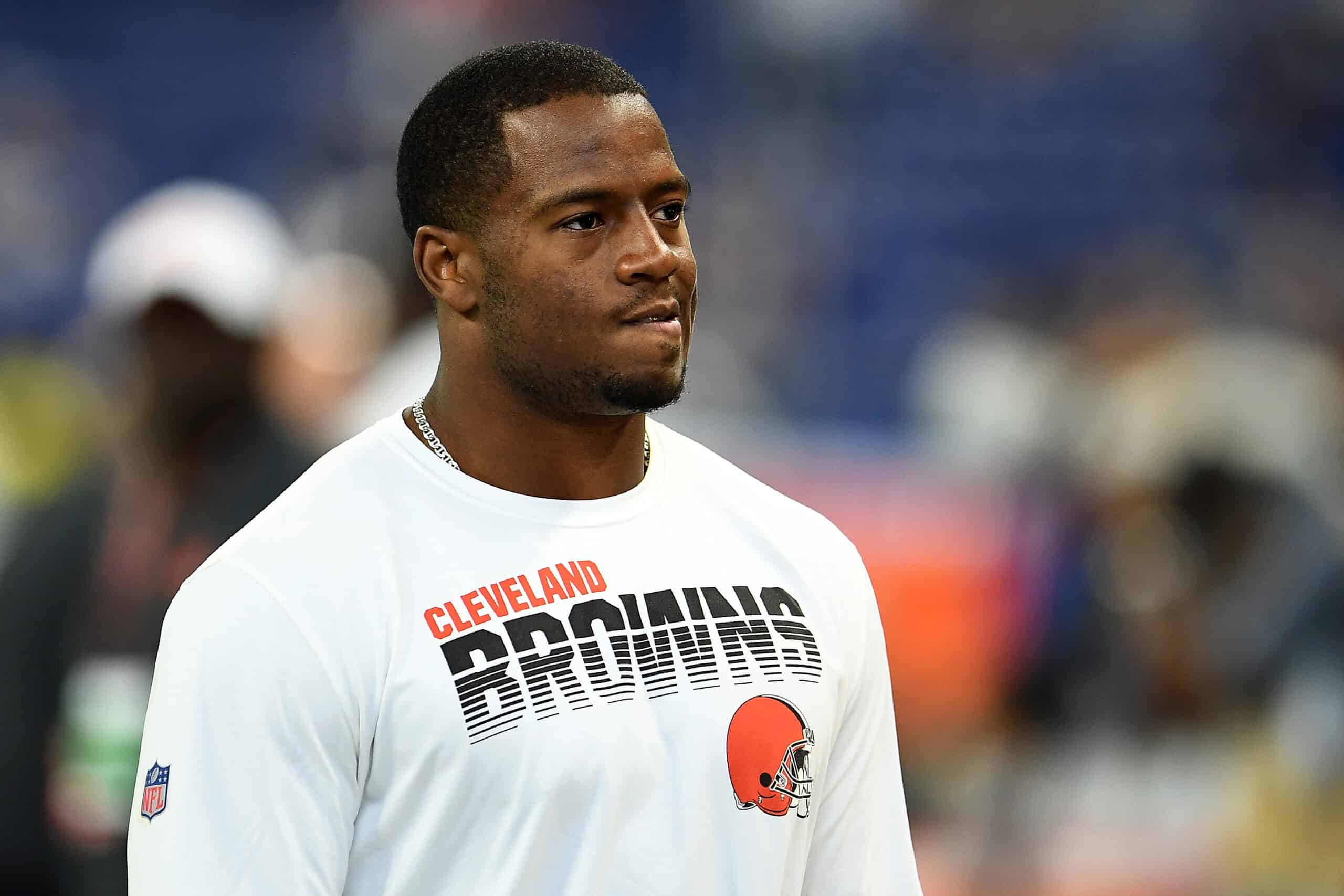 For those with minimal experience in the weight room (such as myself), walking into a facility and seeing Nick Chubb do this would be quite the sight.
420-pound hang clean like it's nothing. Nick Chubb is not of this world 😳 @Browns

(via @NickChubb21) pic.twitter.com/XmC4kAhAQu

— The Checkdown (@thecheckdown) July 21, 2021
Yet, for the Cleveland Browns starting running back, a 420-pound hang clean is just another day at the office.
The Offseason Grind
Opposing NFL defenses have become all too familiar with Chubb over the last couple seasons.
With three consecutive top-ten rushing yard campaigns, defenses know what's coming when number 24 is lined up against them.
As a result, Chubb will continue to see stacked boxes defensively in an effort to slow him down.
The former Georgia star is already a freakish athlete.
That clearly has not stopped him from putting in work in the weight room over the summer to get ready for the physicality of a 17-game season.
Nick Chubb best RB in the NFL #Browns pic.twitter.com/eZHApeQdFN

— Tyler Johnson (@T_johnson_TJ) July 15, 2021
Ya Can't Touch This
Chubb has both the speed to run by you and the strength to run right through you.
That makes bringing him down a pretty tall task for any NFL defender.
Breaking tackles and picking up extra yards has been a huge component of Chubb's game since arriving in the league.
Last season, both Chubb and his running mate Kareem Hunt were top-15 in yards after contact among running backs.
Both guys will look to do much of the same in 2021.
Highest missed tackle rate per touch since 2019:

🔹Nick Chubb – 27%
🔹Mike Davis – 27%
🔹Kareem Hunt – 26%
🔹Tony Pollard – 25% pic.twitter.com/sHsmlhv1hw

— PFF (@PFF) March 24, 2021
The Wild Card game against the Steelers shows exactly how the duo of Hunt and Chubb can hurt a defense.
Both were running hard all game, highlighted by Hunt's two early scores.
The Pittsburgh defense, gassed by the final frame, surrendered the dagger to a 39-yard Chubb touchdown catch-and-run.
The Browns make the Steelers pay for being too conservative. Nick Chubb's screen-pass TD puts Cleveland up by 19 early in the fourth. pic.twitter.com/YaSIKfk5FK

— Sporting News (@sportingnews) January 11, 2021
The one-two punch has often been too much for a defense to handle.
Again, the strength and speed of the two put constant pressure on the defense.
Watching Chubb continue to attack the offseason should excite the brown and orange faithful.
When Is He Getting Paid?
A contract extension for Nick Chubb has been a hot topic in northeast Ohio the past few months.
Clamors of "pay the man!" surround any social media timeline.
Browns fans may be able to relax soon, however, as recent reports indicate the team is focused on getting an extension finalized with Chubb.
.@RapSheet reporting that the Browns are focused on Nick Chubb and Denzel Ward contract extensions while letting the QB market develop before extending Baker Mayfield.

— Nick Pedone (@NickPedone12) July 21, 2021
Spotrac currently has a market value for Chubb set at four-years, $48.4 million.
One year ago, Titans running back Derrick Henry agreed to a four-year, $50-million extension in Tennessee.
Somewhere in the $12.5 million per-year salary seems about right for Chubb.
Ultimately, Browns fans will get an answer to their questions sooner than later in terms of what his contract extension will look like.