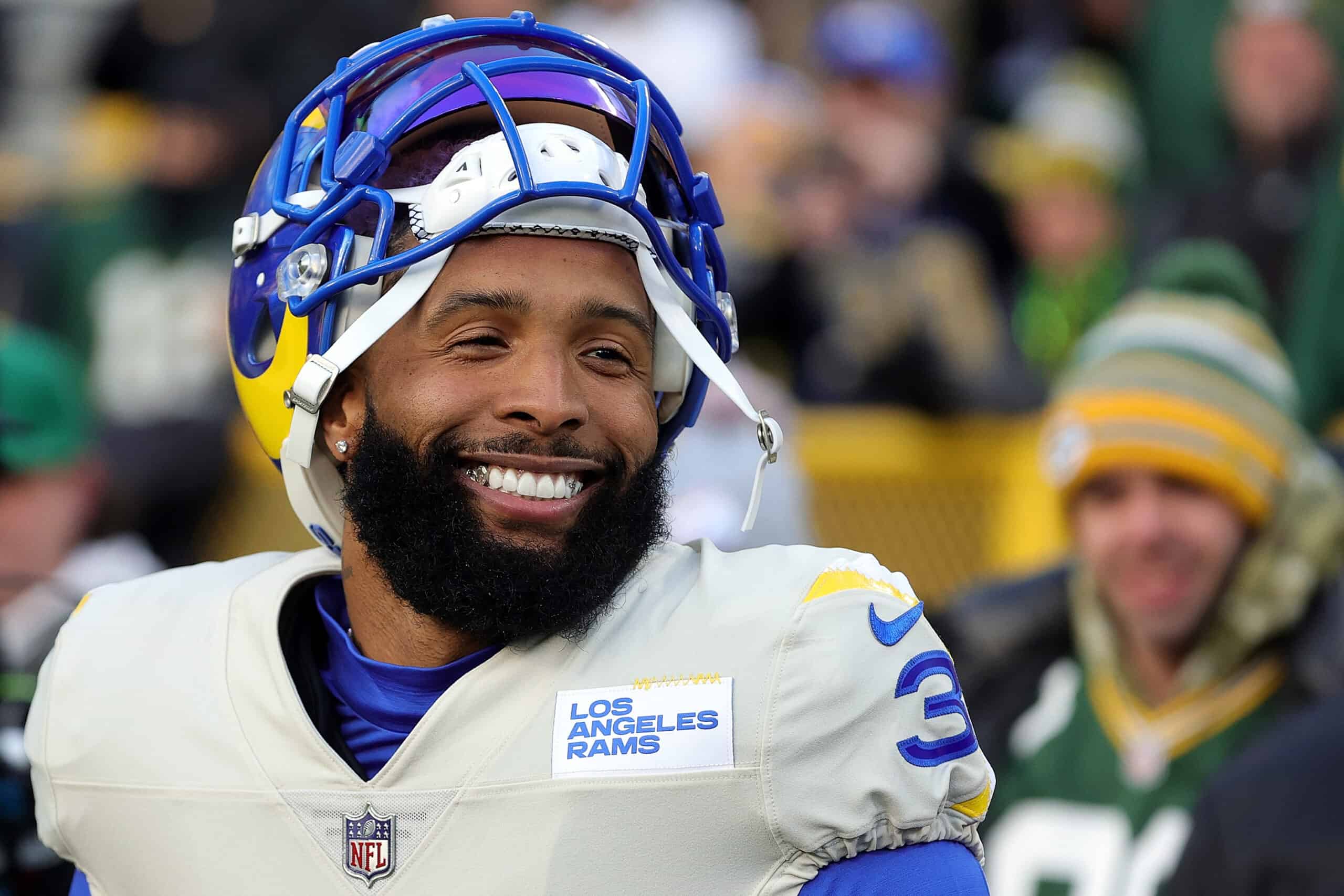 Los Angeles Rams wide receiver Odell Beckham Jr. somehow is still in the Cleveland Browns news cycle despite not playing for the team since October.
The three-time Pro Bowl wideout has moved on, but it doesn't seem that everyone in Cleveland is done with him yet.
Marla Ridenour of the Akron Journal wrote on social media about how the wideout is suffering karma for the drama he caused in Cleveland.
The stud receiver quickly turned around and mentioned that he only has love for Cleveland.
It's just Love! There is no Karma! Karma is for "unjust" https://t.co/Xf1nQozgCq

— Odell Beckham Jr (@obj) January 3, 2022
It was obviously a frustrating and abrupt ending to Beckham's career in Cleveland.
Although, he has moved on and it's time that the Browns do the same.
Beckham in LA
The 29-year-old has moved on from Cleveland and appears to be doing quite well in Los Angeles.
He certainly didn't let Ridnour's tweet impact his performance during Sunday's game.
Beckham hauled in five of his seven targets for 39 yards and a touchdown in the win.
It was his second game in a row with a touchdown and this one was a game winner.
OBJ did the Judon celebration after catching the game-winning touchdown @man_dammn @obj pic.twitter.com/otH1lDRqPR

— Trev Reporteraport (@incredelman_11) January 2, 2022
Beckham has five touchdowns in seven games with the Rams this season.
That is more than he had in a single season during both the 2019 and 2020 campaigns with Cleveland.
Clearly, Beckham is doing much better in Los Angeles and that's great for him.
Browns fans should be happy that Beckham is finally in a spot that can help him succeed.
Now, he'll get a chance at a Super Bowl with his new team before hitting free agency.
Time To Forget OBJ
Sadly, the Browns season is over as they've been officially eliminated from the postseason.
It's a shame, but the Browns do have a strong core of young and talented players.
That being said, it's time to let go of OBJ and focus on the future.
Obviously, OBJ and quarterback Baker Mayfield were never on the same page.
It happens, so let Beckham go elsewhere and find a quarterback he connects with on the field.
The Browns now need to focus on rebuilding their wide receiver group this offseason.
Cleveland is obviously without OBJ and Jarvis Landry could be headed elsewhere at season's end.
That means, we could be seeing some big things in Cleveland soon.
Until then, Browns fans can shift their action to playoff football and don't hold a grudge on OBJ because everyone is sick of hearing about it now.