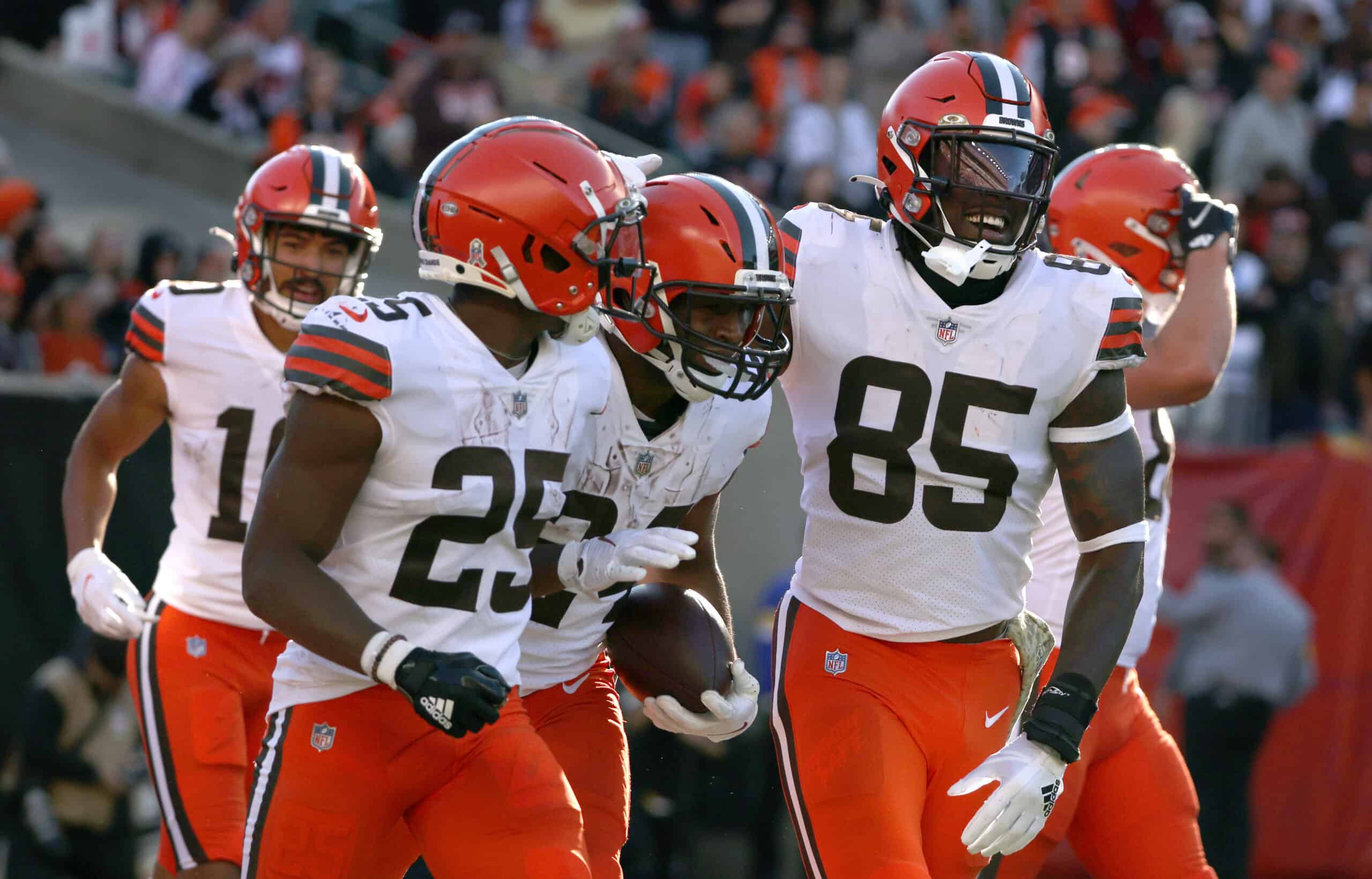 There is no sugar coating the bitter pill that Cleveland Browns fans have to swallow.
The 2021 team, full of preseason promise, failed to make the playoffs.
It did not even come down to the wire; there are still two games left for the Browns to play.
Though much is lost, the Browns do have some valid reasons to play hard and try to win their final two games.
Here are three things the Browns have to play for in 2021.
1. Playing The Spoiler
Well the #Browns play tonight. Season is lost. But still crush the #SteelersNation pic.twitter.com/INZkK7fZZR

— InfinitiSportsPicks (@InfinitiPicks) January 3, 2022
The final two games are against AFC North rivals.
Though the Bengals have already won the AFC North, beating both the Steelers and the Bengals would be beneficial.
Today is a good day for the #Browns to play spoiler and send Big Ben out with a whimper

— Nathan Vance #D4L Browns Week 17 (7-8) (@nathanvance521) January 3, 2022
It would make Browns fans a little happier to disrupt Ben Roethlisberger's farewell from Heinz Field on Monday night.
After all, he has been a major disruptive force against the Browns in his 18-year career.
As for the Bengals, it is not yet clear if they will rest their starters in Week 18.
The Browns have played well against the Bengals so sending them into the playoffs with stilted momentum would be somewhat satisfying.
2. Finishing With Pride
This is arguably the most talented Browns roster in years.
These are world-class professional athletes who do not like losing.
They do not put their bodies through the rigors of football to lose games.
Going out on a winning note would allow the Browns and their fans a feeling of pride that despite everything, the Browns finished strong.
Some may call it a case of "too little too late", but others will just be happy to watch winning Browns football.
3. Ending 2021 Above .500
No, it will not be an 11-5 Cinderella season like 2020.
However, it can be a 9-8 hard-fought season that had more downs than ups.
Before 2020, the last time the Browns finished the regular season above .500 was in 2007 when they went 10-6.
Before that, it was 2002 when the Browns finished 9-7.
Though finishing above .500 did not pave the way to the playoffs, it is still something to be happy about especially given the Browns' recent history.
If you are a browns fan and you are not excited to watch this game today and you are saying the season is over you aren't a real fan cause I was excited to watch the browns when they were 1-31 cause damnit I love them and I certainly am not mad that they could go 9-8! #browns

— TS (@shirer111) January 3, 2022
Conclusion
To be clear, no one is wearing rose-colored glasses.
This year is a big disappointment.
Some believe it is more disappointing than the 0-16 season because there were so many great expectations attached to the 2021 Browns team.
Ending the two-game series with AFC North rivals on a winning note is just an effort to make lemonade out of lemons.
There is a lot to be evaluated and discussed this offseason.
The most talented roster on paper in the NFL fell short.
What will it take for the 2022 Browns to do what its predecessor could not do?
That is a big question that Andrew Berry is probably wrestling with right now.
Remember when we were happy just to be able to watch the #Browns ?! Only 2 games left and everyone will be begging for it back.. just keep things in perspective, enjoy the moment! I love ya @Browns

— Cameron Savage (@CamSlamSavage) January 3, 2022
But as long as there is Browns football to be played in 2021, let's focus on the games ahead and trying to salvage some satisfaction out of this season.