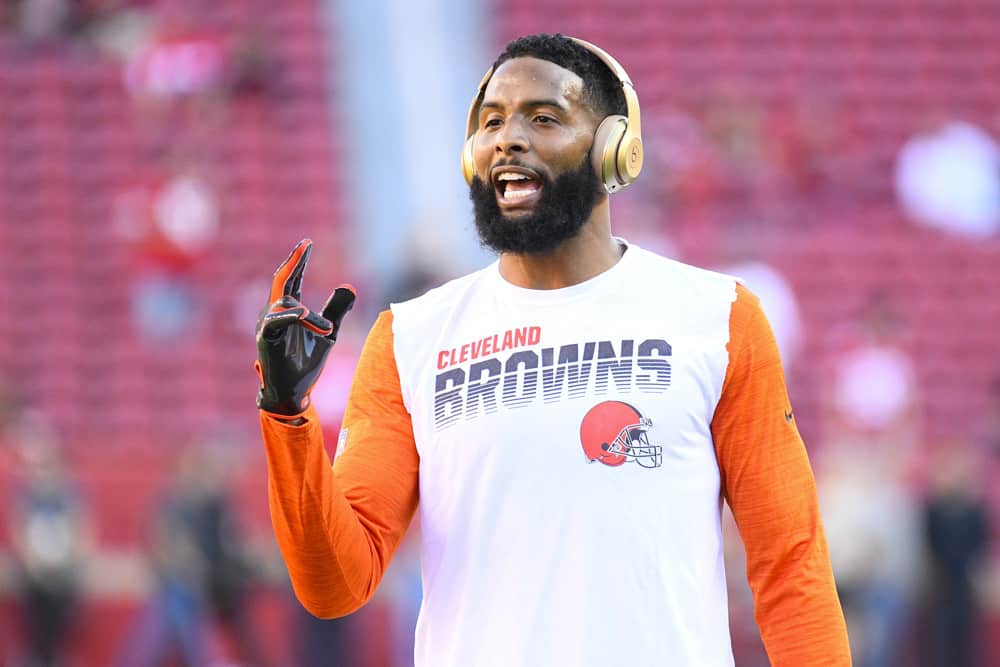 In his first Twitter media post in over two months, Cleveland Browns wide receiver Odell Beckham Jr. posted a YouTube video, which included his five essential items for quarantine.
OBJ's Five Essentials During Quarantine
Wearing a tie-dye Nike shirt, Beckham put together a professionally-produced video.
Sitting on his pool table, Beckham presented his top five essentials while in front of his seemingly countless number of shoes:
Classic Deck of Cards or at least an UNO deck.
Call of Duty: War Zone on Xbox One.
Football and Football Gloves.
2008 Giuseppe Quintarelli 'Alzero' Cabernet Wine.
His Sleep Essential, "Vibezzz."
More Details On His Five Essentials
Beckham's experience with the #DavidBlaineDeckChallenge increased his interest with cards, which are thrown to him from off the screen.
He said he learned a few magic tricks, and he has some card games that he enjoys.
Beckham then mentions that he likes to play UNO before he swaps the deck of cards for an Xbox One controller.
With the controller in his hand, he offers up Call of Duty: Warzone challenges to his viewers.
Beckham described his Xbox One experience as, "I'm getting wins. That's all I'm doing on there."
He also calls the video game a "must" for him.
Beckham calls his third essential his most important.
Fortunately for Browns fans, the third essential is his football.
He mentions that he has continued to work on his football game during the offseason.
Beckham is fashioning his Nike football gloves, and he catches a ball thrown to him from off-screen.
He next essential is a 12-year-old wine to help him "wine down."
Beckham calls the Giuseppe one of his favorites and mentions it has a "chocolatey" taste.
The video team wisely did not toss him the bottle of wine, but after he was done with the wine, the supplement bottle was incoming.
His last essential is called "Vibezzz," which is made by his company, Brand X.
With Beckham focusing on sleep and recovery, he showcases one of the three supplemental products on the company website.
Beckham's New Company: Brand X
He partnered with hormone and gynecology health specialist Dr. Nisha Jackson to launch the vitamin and supplement company, Brand X.
They launched the company two months ago and after a year in which they focused on product creation.
On February 7, Beckham tweeted a promotional video for the company:
Brand X can be found on the website, takebrandx.com.
The website is currently offering a free Brand X water bottle with every order.
In addition to football and sponsorship, Beckham has created another source of income.
Beckham Staying Busy
Meanwhile, Beckham has been keeping himself busy during his offseason.
He showed off his jump shot.
OBJ workin' on that LeBron signature shot 🤣 (via @obj) pic.twitter.com/eJltTDlykr

— Overtime (@overtime) April 29, 2020
Beckham has also kept busy with his intense workouts and has been having fun as well.