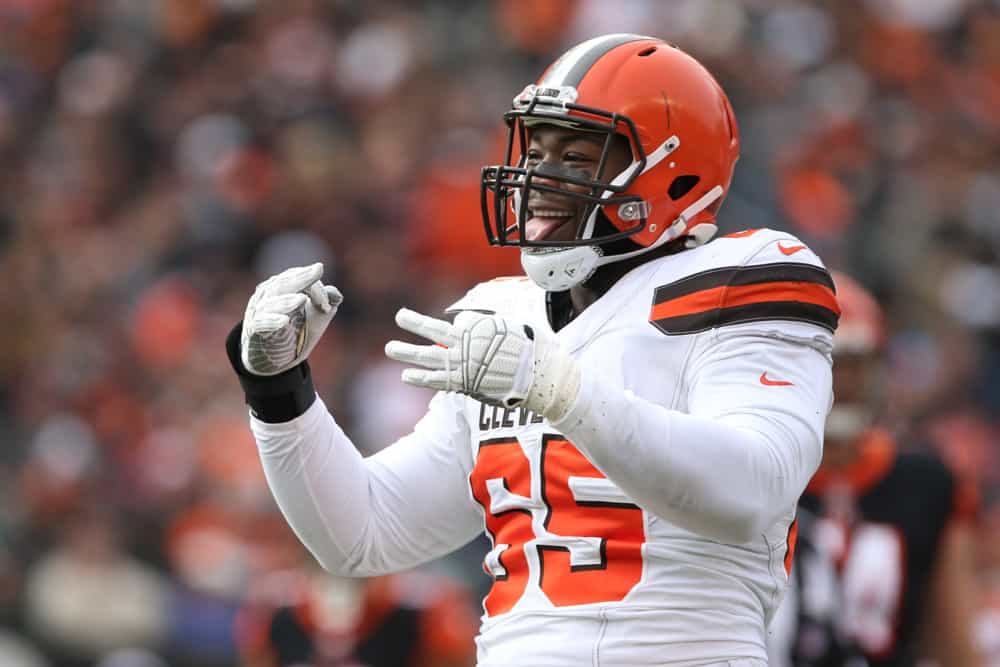 As athletes battle lockdowns, members of the Cleveland Browns have done everything they can to stay in elite shape.
Defensive tackle Larry Ogunjobi is the next in line after posting some of his results from his recent workout.
Ogunjobi has been working on improving his hands, while also showing off some of his elite athleticism while working with Dr. Sharif Tabbah.
Tabah released a statement on Instagram that detailed what the pair have been doing.
"The strobe glasses block his vision in increments which increases the challenge to both his balance and his hand-eye coordination. During gameplay, a pass-rushing defensive lineman must be able to keep the blockers hands off of him while trying to get passed him, very often making his move with 1 or no feet on the ground, which results in a great challenge to their core and balance, hence why we do this drill combined with single leg balance."
Tabbah has posted other training videos of working with Saints running back Alvin Kamara, Bengals safety Von Bell, and Ravens running back Mark Ingram.
A Fresh Start With Competition
In 2017, the Browns selected Ogunjobi in the third round of the 2017 NFL Draft.
He has grown into a key piece on the Browns' defense.
Over the course of the last two seasons, he has notched 5.5 sacks in each season.
Last season, Ogunjobi started next to veteran Sheldon Richardson, which many expect to be the same for 2020.
However, the Browns have created a competition on the front line by adding free agent Andrew Billings and third-round pick Jordan Elliott out of Missouri.
Not to mention, Ogunjobi looks to have a fresh start after serving a suspension in the team's brawl with the Steelers during the regular season.
– Roughing the passer helmet hit on Mason Rudolph
– Helmet to helmet hit on JuJu Smith-Schuster
– Helmet to helmet hit on Diontae Johnson
– Myles Garrett swings a helmet at Rudolph's head
– Larry Ogunjobi comes in with a cheap shot on Rudolph

Browns are out of control. pic.twitter.com/6b4beiz0zd

— Daniel Valente (@StatsGuyDaniel) November 15, 2019
Depended On Defense
Having Elliott on the team will be nice, but the Browns will depend on Ogunjobi during the 2020 season.
Don't believe us?
Take a look at the snap count from last year.
#Browns Defensive Snap count after Week 11 #NFL:

Joe Schobert 685
Mack Wilson 559
Myles Garrett 557
Larry Ogunjobi 540
Jermaine Whitehead 511
Travis Carrie 488
Sheldon Richardson 479

Stats via @FantasyDataNFL/ @Footballguyscom

— Brad Ward (@WardonSports) November 23, 2019
However, with that being said, there is hope that Elliott and he can work together.
The Browns really like Elliott, as do analysts covering the draft.
ESPN's Matt Bowden had this to say:
"Elliott provides more defensive line depth for the Browns to shore up the interior with Larry Ogunjobi entering his contract year. Elliott has the upside of a disruptive defensive tackle, with the active feet and hands to win at the point of attack."