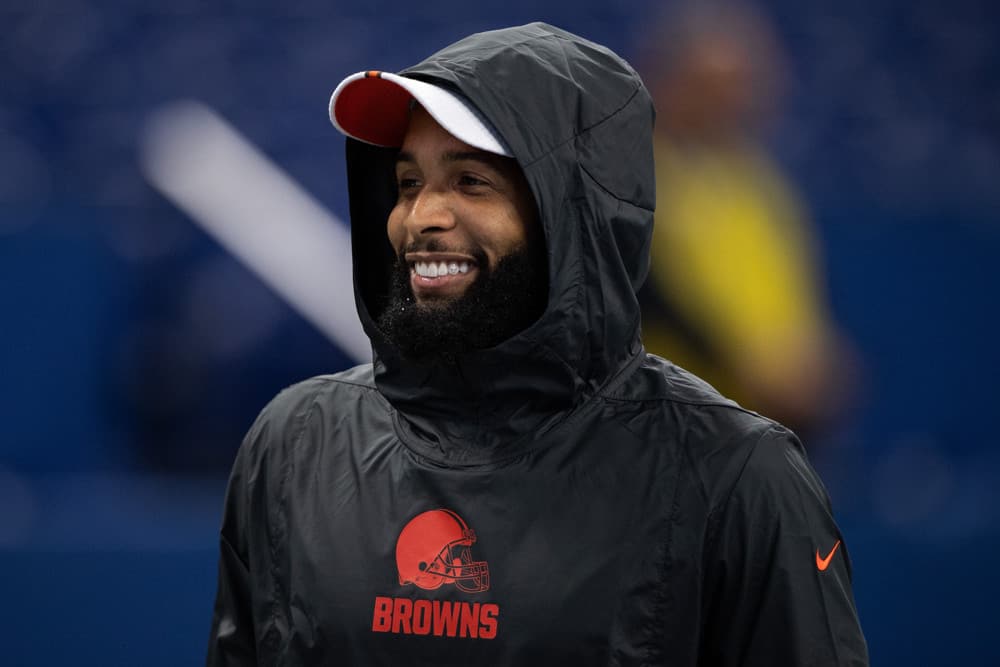 Cleveland Browns WR Odell Beckham Jr. is not one to shy away from media coverage.
So it should be no surprise that even in quarantine he is letting the world know that he is staying in football shape with intense workouts.
Ironically, he released clips of his workouts on Thursday April 16 while rumors continued to swirl about his future with the Browns.
Every day of the week, there is reportedly a new team pursuing OBJ via trade with the Browns.
On Wednesday, April 15, the team in question was the Minnesota Vikings.
The #Vikings and #Browns are discussing a trade that will send star WR Odell Beckham Jr. to Minnesota for a a 2nd and 5th round picks next year, according to @MarcMalusis

The #Browns traded a 1st round pick, a 3rd round pick and Safety jabrill Peppers for Odell last season.

— Dov Kleiman (@NFL_DovKleiman) April 15, 2020
The Cleveland front office continues to downplay the rumors.
In the meantime, we have OBJ's workouts to obsess over.
Browns fans should be very happy to see that he is not gaining the Corona 15 (not to be confused with the Freshman 15) in quarantine.
1. Time-Lapse Video
Takeaways
After reviewing this video, there are a few key takeaways:
#1 This would be much better to see in regular speed; it is not obvious what exercises he is doing because the video is fast-forwarded.
#2 Judging by the outside lighting, we can assume he is literally exercising day and night to get ready for the 2020 season.
#3 His musical selection could be considered borderline offensive, but he clearly does not care.
Of course, that video leaves us scratching our heads and wanting more, and OBJ delivers in spades.
2. Throwing Video
@obj dropping dimes 🔥🔥🔥 pic.twitter.com/d3QqNGGezg

— Heavy on Browns (@HeavyOnBrowns) April 17, 2020
In addition to his ability to make one-handed catches look effortless, OBJ has a great arm that he is happy to remind the world about in this video.
Questions
It should come as no surprise that we have more questions than answers after seeing this.
#1 Could there by a Browns version of the "Philly Special" in the playbook this year?
#2 How many takes were required for him to score the basket at the end?
That Pesky Trade Talk
Assuming OBJ is working out like this every day, he will certainly be in tip top shape for the beginning of the 2020 season.
The lingering question remains who he will be playing for.
In another video, he is opening a box of the new Browns jerseys and checking them out.
View this post on Instagram

Will he actually wear one?
The Vikings are calling the rumors "fake news".
No doubt he is talented, but are the Browns through with the off-the-field antics?
It has been widely reported that his behavior while watching his alma mater LSU defeat Clemson in the College Football National Championship in January did not make anyone in the Browns front office happy.
There was an arrest warrant issued because OBJ allegedly spanked a police officer on the butt.
OBJ wasn't gonna let that officer spoil the fun.. told him to get the gat. 🤣 pic.twitter.com/sWoWj53r42

— 🕊 (@wannabjoyful) January 14, 2020

Then, there was Heisman Trophy Winner Joe Burrow corroborating what was plainly visible on the sidelines, OBJ handed out cash to the LSU players.
Burrows said it was real cash, but others said they were fake bills.
He also allegedly gave players Beats 3 wireless headphones prior to the game, though the NCAA apparently approved of that.
These types of behaviors may be precisely why Cleveland could be looking to part ways with OBJ.