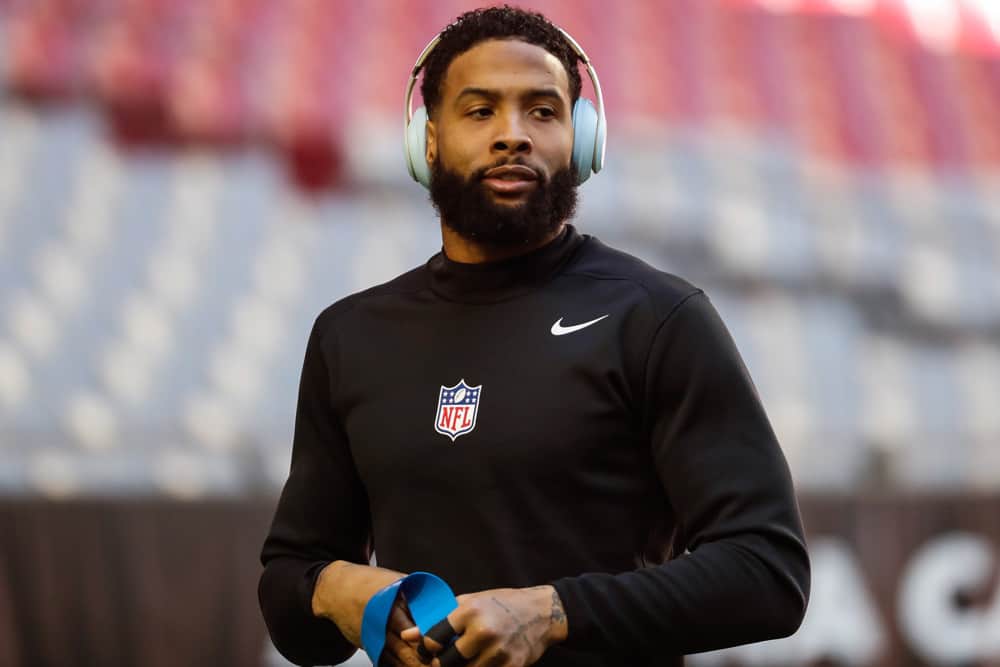 Well if it's another day that ends in "day", it is time for us to check in with Cleveland Browns WR Odell Beckham Jr. amidst the ongoing quarantine.
In the past few weeks, we've noted the following:
OBJ Trade Rumors
The trade talks have cooled down after hitting a fever pitch last week.
The Vikings seemed to be the most interested; however, talks either fell apart or were never substantial in the first place.
Skeptics were not sure why the Vikings would want OBJ when their offense is heavily based on the running game, and they were not sure if or how Vikings QB Kirk Cousins and OBJ would gel as teammates.
The Browns have denied any trade talks this offseason involving Beckham.
You heard it here from @AdamSchefter!

Odell Beckham Jr. isn't going anywhere. OBJ will be in Cleveland in 2020.

Listen🎧: https://t.co/f8CC2ZUZtL pic.twitter.com/mngHYWfuQG

— Complex Sports (@ComplexSports) April 21, 2020
OBJ's crazy workouts
Coincidentally while the Vikings trade rumors were flooding all media outlets, OBJ delighted us with a time-lapse video of his crazy workouts.
We can't see the specifics, but rest assured he looked very fit and football-ready.
OBJ followed the workout video up with a crazy stunt showing off his often overlooked throwing skill.
@obj dropping dimes 🔥🔥🔥 pic.twitter.com/d3QqNGGezg

— Heavy on Browns (@HeavyOnBrowns) April 17, 2020
In this video, OBJ's center is current girlfriend Lauren Wood who he is quarantined with in Los Angeles.
Who is Lauren Wood?
Lauren Wood is an Instagram star known as lolowood_ to her 1.4 million followers on the social media platform.
View this post on Instagram
View this post on Instagram

OBJ has been officially involved with Lauren Wood since his 27th birthday last November.
However, he was spotted with her last September so it is unclear how long the relationship has been going on.
If you are like me and feeling confused because you thought there was also a woman named Lauren in that infamous 2018 Paris hotel room video with the questionable white powdery substance present, you are correct.
To set the record straight, that was French model Lauren Cuenca, not Lauren Wood.
Quarantine Activities
We know while they are hunkered down in LA, their living "quarters" look very posh.
There is a home gym and outdoor pool on their property.
Working out and making videos seem to occupy the couple's free time.
Without a doubt, OBJ is a very talented WR.
At only 27 years old, his miscues have been very public.
If his long-term relationship with Lauren Wood helps him settle down and focus on the upcoming Browns season, Browns fans will be very happy.
OBJ's reaction to the new Browns jersey
.@obj getting a first-hand look at the Browns' new threads 👀 pic.twitter.com/uIGHC6QTFN

— NFL on ESPN (@ESPNNFL) April 16, 2020
The video of OBJ's "excitement" over his first look at the new Browns jersey is not that thrilling, to be honest.
Making a face that could be interpreted as disgusted or perhaps pained, OBJ continued to unpack the box of jerseys.
He didn't show the camera the front of the jerseys before slapping them down on a nearby table.
His dance at the end did entertain us, but overall OBJ's jersey reveal was ho-hum.
Should we read into this that he wants out of Cleveland?
Who knows?
Maybe he just doesn't like the new jerseys.