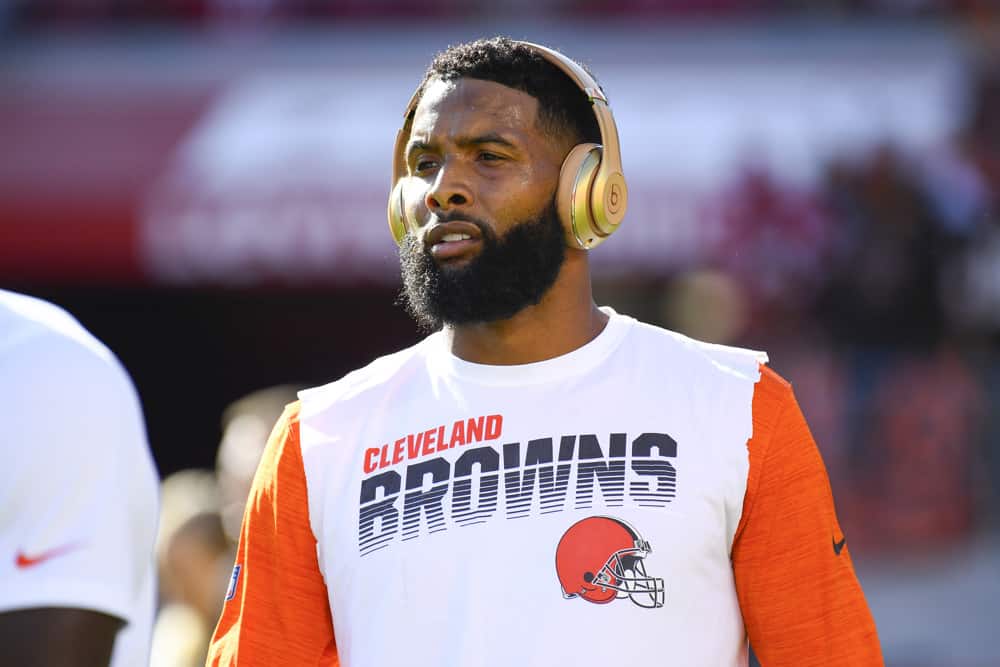 Though we have not seen Cleveland Browns WR Odell Beckham Jr. on the field since Week 7, he continues to work hard.
OBJ tore his ACL in the beginning of the Week 7 game against Cincinnati; he is approaching rehab with the same tenacity as he brings to the field.
OBJ in the gym attacking the rehab process 💯 (via @obj) pic.twitter.com/Y7ueGzkSTg

— Overtime (@overtime) December 3, 2020
Savvy people noted that he is lifting 225 pounds.
He had surgery less than a month ago, on November 10.
Working Hard
If that's not enough evidence that he is working hard, check this out.
OBJ was spotted practicing one-handed catches while keeping the weight off the surgically repaired knee.
OBJ already back to doing one-handed catches as he rehabs from ACL surgery (via his IG) #browns pic.twitter.com/6ZAYVzvVrU

— Jake Trotter (@Jake_Trotter) December 4, 2020
It is impressive.
So obj already out here snagging one handers and squatting 225 not even a month after acl surgery oh man next year Gonna be crazy

— neil meyer (@MeyerNeil6) December 3, 2020
Some would call it inspiring.
3 weeks removed from ACL surgery & @obj is working on getting that quad to fire! 🦵🔥 pic.twitter.com/kAOLynEvtL

— ACL Recovery Club (@ACLrecoveryCLUB) December 1, 2020
OBJ's Future
Like Baker Mayfield, OBJ is a polarizing figure.
He is a fantastic athlete.
At 28, he has seen his share of serious injuries.
He had offseason core muscle surgery and now has the long road back from ACL surgery.
Many have speculated that he's played his last game as a Brown.
Shortly after the Browns announced OBJ was out for the remainder of the season, talk began about his future.
Ian Rappaport of NFL Network said:
"Odell Beckham, Jr. is out for the season with a torn ACL. My understanding is that there's a very real possibility that he has played his final game with the Cleveland Browns. Based on his contract, they cannot cut him. If they did wanna move on, he's got $12 million dollars that is going to be fully guaranteed right around the start of the league year when he is not yet healthy enough to be moved….if they did wanna trade him, it'll probably be around the spring or the summer."
GM Andrew Berry has grown tired of the repeated questioning about OBJ's future.
"Honestly, our focus with Odell, Odell is one of the best receivers in the NFL," he said. "He played really good football for us before he was injured. He's done a fantastic job with his teammates at practice, he's embraced the organization, he's under contract for multiple years. So our focus with Odell is making sure he recovers from the ACL tear. We want him to be healthy and ready to go next year. But we're pleased with him."
Can The Browns Win Without OBJ?
The Browns won without Nick Chubb.

The Browns won without OBJ.

The Browns won without Myles Garrett.

The Browns are going to win without Denzel Ward.

That's what good teams do. pic.twitter.com/4JbI5bKSiW

— Nick Karns (@karnsies817) November 29, 2020
That's a question that will be answered as this season marches on.
He is a deep threat and attracts a lot of defensive coverage and attention.
So far, Browns receivers have stepped up when needed.
However, the caliber of the competition is about to ramp up.
Starting with Tennessee, the Browns then have the Ravens and Steelers.
Certainly the Browns would prefer to have a healthy OBJ on the field especially if they are playoff bound, but time will tell how they perform without him.