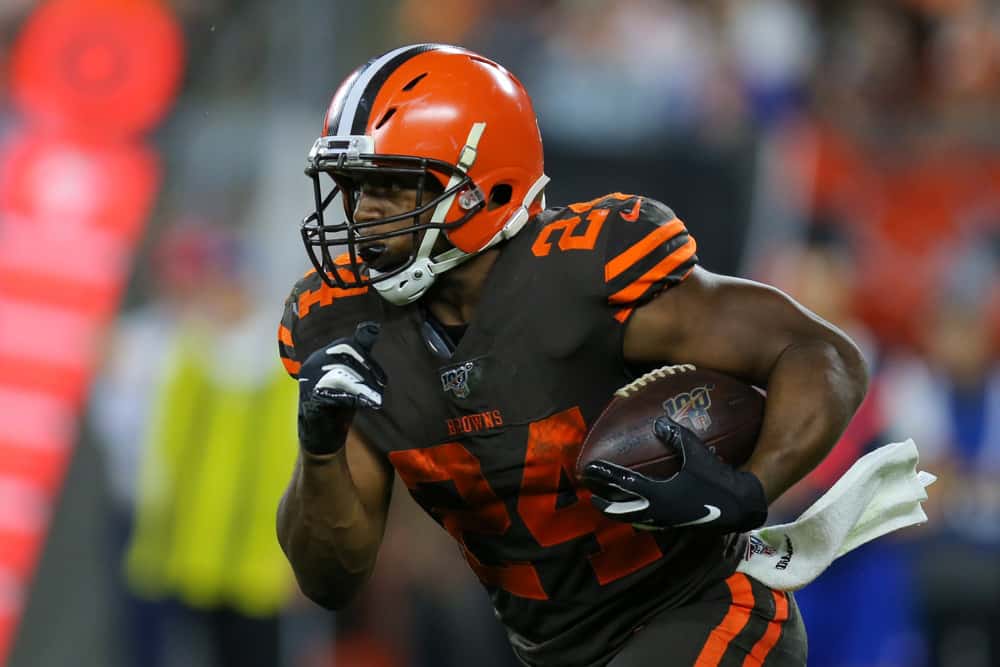 This Sunday, the Cleveland Browns travel to face the Tennessee Titans in a battle of two potential playoff teams.
Major matchup between 8-3 teams in the AFC.

📺: #CLEvsTEN — Sunday 1pm ET on CBS
📱: NFL app // Yahoo Sports app pic.twitter.com/ITm1GwCpsz

— NFL (@NFL) December 4, 2020
The Browns (8-3) are sitting in the top Wild Card spot while the Titans (8-3) are leading the AFC South.
There is still a chance that the two sides can meet in the first round of the NFL Playoffs.
Each team is bolstered by their running games, as they boast some of the best rushing offenses in the NFL.
The Browns are led by a dual-threat running back system with Nick Chubb and Kareem Hunt.
Each have stood out in the backfield this season, and they are threatening to be the seventh pair of 1,000-yard rushers ever in the same season.
The Titans, on the other hand, are carried by the NFL's most dominant rusher, Derrick Henry.
With this matchup of the two top rushing teams in the league, who will have a better game: Chubb or Henry?
Let's "buy" and "sell" the likelihood of Chubb outrushing his Titans counterpart this weekend.
Buy
Last season, Chubb exploded onto the NFL running back scene as a true threat out of the backfield.
In 16 starts, he rushed for 1,494 yards which was good for second in the league.
This season, the Browns have seen much of the same dominance from Chubb.
While a Week 4 MCL sprain against the Dallas Cowboys sidelined him for four games, it hasn't slowed Chubb's production.
In three games since the injury, Chubb has exploded for well over 100 rushing yards each game.
He stood out even more last week against the Jaguars, as he collected 144 yards in just 19 attempts.
Is it crazy to think Nick Chubb should get some MVP votes this season?

Browns With/Without Chubb in 2020

With Without
6-1 W-L 2-2
199.0 Rush YPG 95.5
5.5 Yds/Rush 3.9
11 Rush TD 0 pic.twitter.com/ucIuZiaOHC

— CBS Sports HQ (@CBSSportsHQ) November 30, 2020
The yards-per-attempt have stood out for him too, as he leads NFL running backs with 6.3 rushing yards each carry.
He also ranks seventh in total rushing yards while having much less carries than any other RBs ahead of him.
On any given day, Chubb can become a complete difference maker on the field.
If the Browns are able to get into a rhythm this Sunday with their run game, Chubb could once again prove to be a threat.
It would not be shocking to see him outrush Henry in this matchup.
Much of this also boils down to the Browns' rushing defense, which ranks ninth in the league for rushing yards allowed.
This is better than Tennessee's, who ranks 17th.
If the defense is able to contain Henry, look for Chubb to come out on top in the battle.
Sell
While Chubb has proven to be one of the best RBs in the NFL, there is reason to be cautious in taking him in a rushing battle.
Really, it boils down to one person: Kareem Hunt.
#Browns Stump Mitchell on Nick Chubb and Kareem Hunt each getting 1,000 yards: "That's going to happen. I knew it was going to happen before the season. That was our goal. It's just a matter of time"

— Mary Kay Cabot (@MaryKayCabot) December 4, 2020
Hunt is a wild card in a situation like this, as he will be getting carries this Sunday as well.
He himself has proven to be a good option this year, as he averages over 60 rushing yards per game.
The Browns as a team may outrush Henry, but the yards may end up being split between Hunt and Chubb.
However, Hunt has been nursing a thigh injury which has kept him limited in practice this week.
Henry, on the other hand, has no other back that he splits carries with.
He will shoulder the team's offense and will likely have over 25 rushing attempts.
By the sheer volume alone, this could mean that Henry outrushes Chubb this week.
It is also possible that Henry just proves how much of a freak athlete and talented runner he is, putting up insane numbers this week.
Derrick Henry has 140 yards and 3 TD in the first half. Animal. pic.twitter.com/s2Vu8vibNB

— Barstool Sports (@barstoolsports) November 29, 2020
Again, much of it comes down to how much each defense can contain the other side.