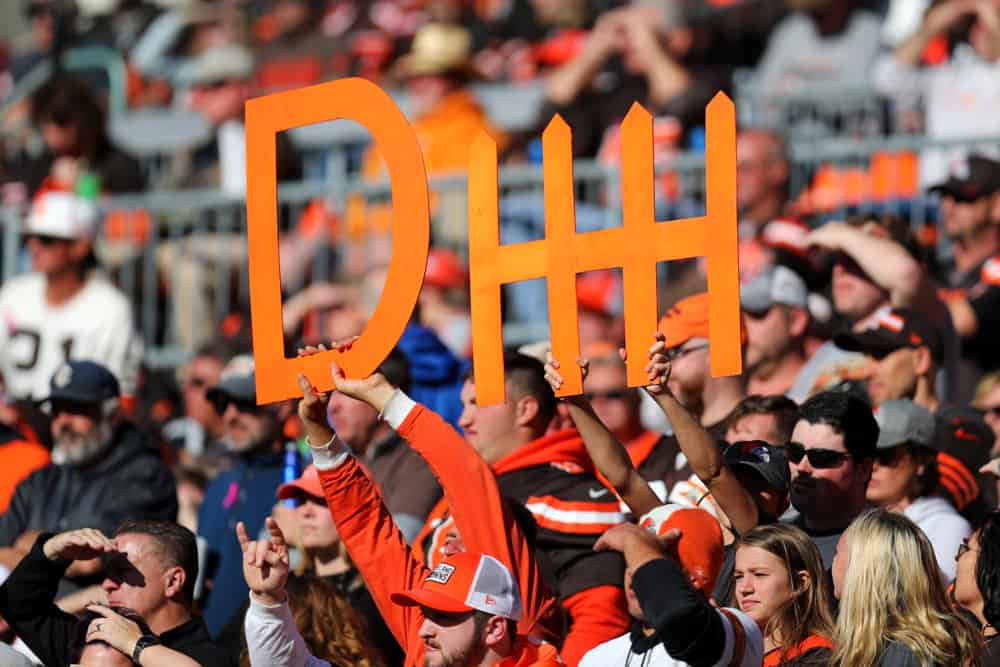 Even the most passive Cleveland Browns fan knows the team has the NFL's most improved defense.
How can it not with such a strong free agent and draft haul?
But it is always nice to get validation from experts with less of a personal attachment to Cleveland.
Most improved secondaries this offseason🔒 pic.twitter.com/Gjy60rBNoL

— PFF (@PFF) May 6, 2021
In past seasons, Browns fans might have ignored the popular rankings and opinions about the next season.
But things are different in Ohio nowadays, and we can look forward to things like Pro Football Focus rankings.
PFF put their brightest analytical minds together to determine the most improved NFL position groups so far.
And PFF concluded the most improved defensive secondary belongs to the Cleveland Browns.
Most improved defensive lines this offseason💪

🗣️@PFF_Anthony pic.twitter.com/OHFg8MkA1o

— PFF (@PFF) May 4, 2021
Their pronouncement might elicit an audible, "Duh!" from folks in Northern Ohio.
But it serves notice to the rest of the NFL that our Super Bowl aspirations are more than just hopeful opinions.
Defense wins championships, but we know there is more to defense than the secondary.
This is why PFF's assertion that Cleveland also has the second-most-improved defensive line bodes well, too.
And it has us anxiously anticipating PFF's pending "most improved overall defense" announcement coming soon.
What PFF Says About The Browns Secondary
PFF started their opinion piece citing the free agency acquisitions of 2 starters from 2020's best defensive unit.
Cleveland signed Los Angeles Rams safety John Johnson III and cornerback Troy Hill.
Per PFF, Johnson is one of the most well-rounded secondary players in the league.
Browns safeties earned the worst cumulative grade in the league last season at 48.2

John Johnson III: 85.3 PFF Grade in 2020 (3rd) pic.twitter.com/jFVHUn1lQ8

— PFF (@PFF) March 15, 2021
And Hill was their top-rated slot corner last season.
The addition of first-round draft pick Greg Newsome helps assure Hill can stay in the slot.
Newsome gives the Browns a second lock-down outside corner opposite Denzel Ward.
PFF called Newsome one of the "smoothest" corners in the draft, citing great feet and movement skills.
Browns CB Greg Newsome II allowed a 0.0 passer rating on 3rd/4th down last season.

Only CB in the Draft class to do so. pic.twitter.com/HrFlbxdD9g

— PFF Draft (@PFF_College) April 30, 2021
They also mentioned the effect of second-round pick Jeremiah Owusu-Koramoah on the secondary.
Without called JOK a safety, they noted how his coverage skills and speed will bolster the Browns pass defense.
Two players they did not consider in their rankings were Greedy Williams and Grant Delpit.
Meaning that if the pair return to form after missing last year, the Browns secondary will be even more improved.
PFF Likes The Browns' Defensive Line, Too
PFF admits that each of the Browns' new defensive linemen carries some risk.
But they believe Jadeveon Clowney, Takk McKinley, Malik Jackson, and Tommy Tagiai can be a force.
All of them grade out very well when they are on the field.
This move by Jadeveon Clowney, though 😤 @Titans pic.twitter.com/74Sx3pD7LO

— The Checkdown (@thecheckdown) September 15, 2020
They are very high on Tagiai, citing his impressive bull rush that might get stronger as he bulks up.
Even with his injuries, Clowney ranked as the 18th best edge rusher since 2019.
McKinley and Jackson have shown what they can do and can return to form in a better situation.
But add those four to Myles Garrett and the returning Andrew Billings, and the line could be among the best.
Browns 4th-round pick Tommy Togiai put up 40 reps on the bench press

FORTY.

— PFF Draft (@PFF_College) May 1, 2021
PFF's article was written before Andrew Berry signed veteran Damion Square to the mix.
And UDFA Marvin Wilson was among the interior linemen not mentioned.
Cleveland is high on several of their younger players, like Curtis Weaver, Jordan Elliott, and Porter Gustin.
If any of them step up behind the others, this could be even better.
Do the Browns Have PFF's Most Improved Defense? 
PFF's series on most improved units continues and is usually followed by their overall assessments.
But Browns fans can be certain their team is under consideration.
The only other team to make the top five in both secondary and line improvement is the Detroit Lions.
Is this revamped #Browns defense now a top 10 unit in the NFL? 👀

Cleveland's PFF Draft Grade: 🅰️ ➕ pic.twitter.com/2JJzgvVNbA

— PFF (@PFF) May 2, 2021
But they did not appear in a teaser article published by PFF on May 3.
In in, writer Anthony Treash noted 6 of the most improved teams in alphabetical order.
Both Ohio teams, the Jets, Giants, Bears, and Chargers made the cut.
PFF's linebacker article is also pending, and the Browns can expect to rank high there, too.
Cleveland. Browns. Defense. 🔥🔥🔥

— Mike Clay (@MikeClayNFL) May 1, 2021
The addition of Anthony Walker, along with JOK and late draft pick Anthony Fields sounds like another top 5.
But it matters little where the Browns land in PFF's rankings.
Cleveland fans already know the improved defense alongside their offense makes the team Super Bowl contenders.
But it is nice to see the folks at PFF noticed the Browns' continued improvement, too.