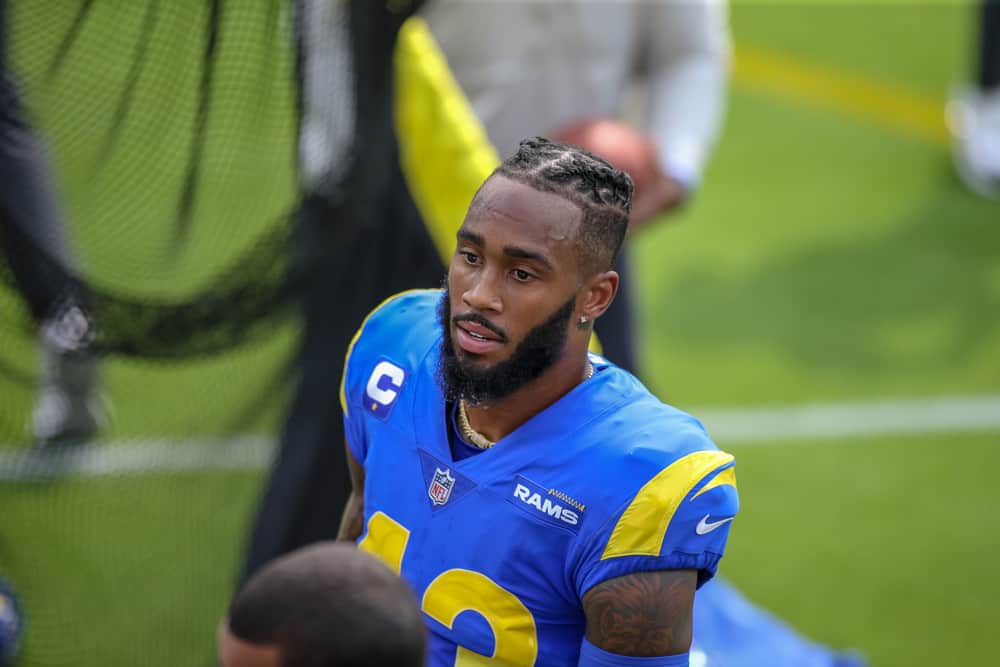 The Cleveland Browns' signing of former Los Angeles Rams safety John Johnson III has received praise from several NFL media members.
It includes Pro Football Focus senior analyst Steve Palazzolo, who said Johnson is a bargain for the Browns during Thursday's edition of "The PFF NFL Podcast."
"All of a sudden, the Browns go from a secondary that had some question marks last year at this time, to maybe one of the better ones in the entire league," Palazzolo said. "John Johnson is one of the best free-agent signings so far this year."
"John Johnson III is one of the best free-agent signings so far this year."

🗣️ @PFF_Steve pic.twitter.com/W5MX7HwZ8h

— PFF (@PFF) March 19, 2021
The Browns signed Johnson to a three-year, $33.75 million contract with $24 million guaranteed.
"That was where they decided to spend their money," Palazzolo said. "I think that was the right play."
On Thursday, PFF's Sam Monson said the Browns' signing of Johnson was "one of the best moves of free agency."
Monson spoke about Johnson stacks up against the 2021 free agency market for safeties.
"We talked on a preview that there's a ton of really good safeties hitting the market even after the franchise tag was used fairly liberally on them. What was that going to do to their market?" Monson said. "Was it going to depress them and make them all cheaper than they would ordinarily be?

"It turns out the market overall I think has been depressed because of the salary cap crunch. So, the fact there is less money to go around combined with the fact that there is a ton of availability for high-level safeties means people are signing these guys for really not much money."
Earlier this month, the NFL set its 2021 salary cap at $182.5 million.
It's significantly lower than the 2020 cap of $198.2 million because of the economic impact of the COVID-19 pandemic.
"We compare the top end of the market, the Budda Baker kind of contracts to John Johnson signing for three years, $33.75 million. That's a freakin' bargain." Monson said of Johnson's new contract. "Like, he's one of the best safeties in the NFL every single year of his career that he's been healthy."
Last offseason, the Arizona Cardinals signed Baker to a four-year, $59 million contract with $33.1 million guaranteed.
Johnson is due to make an average of $11.25 million per year, while Baker is due to make an average of $14.75 million per year.
Johnson received a coverage grade of 83.5 from PFF for his performance in the 2020 season, which ranked third among NFL safeties.
"[Johnson has played] four years the league. He's been hurt for one of them. We'll throw that one out," Palazzolo said. "The other three where he played a full season, PFF [gave him] a coverage grade of over 80 in each of those three years."
Former #Rams safety John Johnson is signing with the #Browns, per @RapSheet

Johnson III: 85.3 PFF Grade in 2020 (3rd) pic.twitter.com/10FEcomzSl

— PFF (@PFF) March 15, 2021
Palazzolo said Johnson's signing gives the Browns secondary depth.
"We talked about what the Browns have in the secondary, Denzel Ward at corner. Now at safety Grant Delpit comes back, Ronnie Harrison is in the mix," Palazzolo said. "John Johnson just adds so much flexibility to the talent in the secondary now."
On Thursday's podcast, Palazzolo correctly predicted that the Browns could look to acquire another corner to pair opposite Ward and to hedge against Greedy Williams, who is due to return in 2021 from a shoulder injury.
Later that day, the Browns signed Troy Hill, Johnson's former teammate on the Rams.
Reports indicate Hill signed a four-year, $24 million contract.
Hill could also provide the Browns insurance if Ward gets hurt.
Ward has not played a full 16-game season in his three-year NFL career.
In 2020, Ward played in 12 regular-season games
In 2019, Ward played in 12 regular-season games
In 2018, Ward played in 13 regular-season games
The Rams couldn't afford to keep Johnson and Hill.
As of Saturday night, OverTheCap.com listed the Rams at about $18.75 million over the salary cap, which ranks last in the NFL.
NFL Defensive Player of the Year Aaron Donald has helped several of his current and former teammates get paid this offseason.
Earlier this offseason, outside linebacker Leonard Floyd signed a four-year, $64 million contract extension with the Rams.