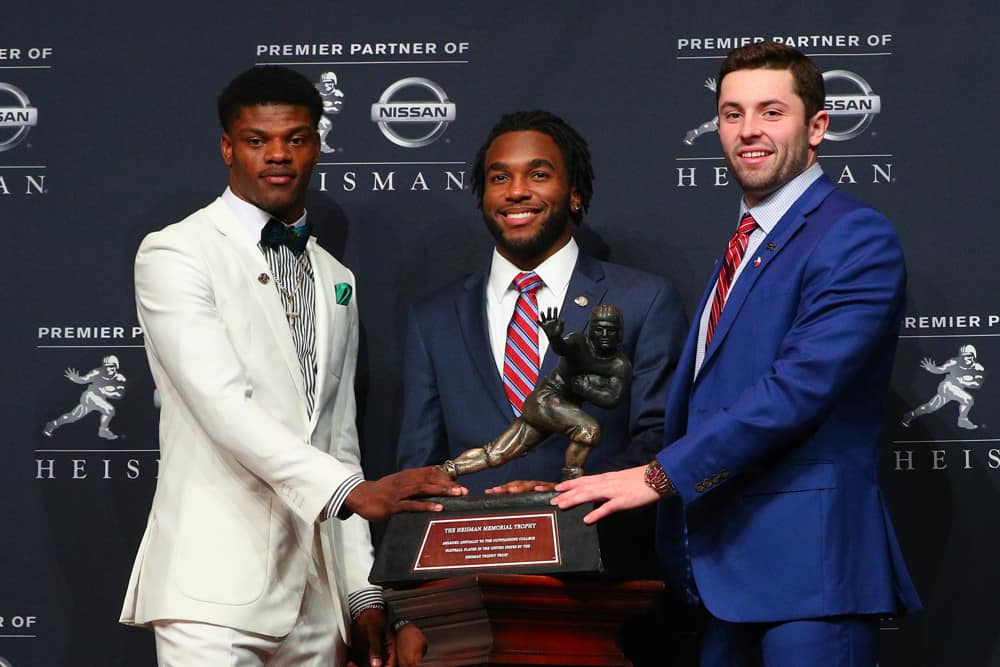 The much-hyped and much-anticipated 2018 quarterback class now has two full seasons, and it's not shaking out as most people expected.
Here's a look at where I rank the 2018 quarterback draft class after 2 full seasons.
Ranking the 5 Quarterbacks from the 2018 Draft Class
1: Lamar Jackson
If this article was written a year ago today, Lamar Jackson would probably be 3rd or 4th on the list.
Jackson currently holds the best odds for the 2019 NFL MVP.
Lamar Jackson turns 23 today.

His resume so far is the stuff of legend.

▫️Heisman
▫️2x ACC POTY
▫️Pro Bowl
▫️TD leader
▫️1st-team All-Pro
▫️QB season rushing record
▫️Youngest QB with perfect passer rating
▫️Youngest QB with playoff start
▫️Likely youngest MVP since Jim Brown pic.twitter.com/bZOUpLV8f2

— Bleacher Report (@BleacherReport) January 7, 2020
Safe to say the Ravens brass that took the chance on Jackson with the 22nd overall pick in 2018 are sitting real pretty with Jackson at the helm right now.
Jackson's athletic ability, elusiveness, and speed coming from the quarterback position has flipped the NFL upside down.
Last season, his passing numbers weren't great at all and he struggled all season with accuracy, but in year two Jackson has excelled.
Jackson has gone from the 31st ranked QB (according to PFF) while sitting behind Joe Flacco for the better part of the year, to the top of the index in his first year as a starter.
He leads the league in TD passes, QB Rating, and was 6th in the league in rushing.
A QB that is 6th in the league in rushing is just not fair at all, and Jackson is going to be breaking defender's ankles for a long time.
2: Josh Allen
The next three spots were pretty close here, but I have to go with Josh Allen and what he's done in year two for the Bills.
A rookie QB almost never has full reigns of an offense, and the coaching staff never 100% opens up the playbook for a rookie QB until they know he's ready.
Last season, Allen was pretty underwhelming, finishing 25th in PFF's QB grades.
This season, Allen's jump is 2nd only to Lamar.
Josh Allen's progress in one year. #BillsMafia #Bills #GoBills pic.twitter.com/yT3uzxKWkh

— Pamela (@Pammadonna) January 9, 2020
What Allen has been able to do with the Bills this season is like night and day compared to last season.
In 2018, Allen threw for 2,074 yards, 10 TD's, 12 INT's, with a 67.9 QBR.
In 2019, Allen threw for 3,089 yards, 20 TD's, 9 INT's, with a 85.3 QBR.
Add in how Allen has been able to make himself a threat on the ground, (3rd-best rushing QB behind Jackson and Kyler Murray) he's going to be back next year even better and ready for more.
If the Patriots don't end up re-signing Tom Brady this offseason, the Bills will be the favorite in the NFL East.
3: Baker Mayfield
Baker Mayfield was the best rookie QB a season ago, without a doubt.
He finished the 9th-best QB according to PFF last year, but this past season under Freddie Kitchens has been all but pretty for Mayfield.
In addition to the change at Head Coach, Mayfield also was without his QB Coach in Ken Zampese who helped with Baker's rookie season success as much as anyone last year.
The Browns have yet to hire a head coach this offseason, so it remains to be seen what sort of situation Mayfield is facing for year three, but he's really going to have to bounce back from his sophomore slump and get back to how he was his rookie year if the Browns want to have success.
Career Passing TD's for QB Class of 2018:

1. Baker Mayfield – 49 TDs
2. Lamar Jackson – 42 TDs
3. Sam Darnold – 36 TDs
4. Josh Allen – 30 TDs
5. Josh Rosen – LOL#Browns

— DollarDog Nick @BIGPLAY (@DollarDogSports) January 4, 2020
4: Sam Darnold
If you throw out the mono, the bad offensive line, and lack of offensive playmakers, then Sam Darnold is probably number 2 behind Jackson on this list.
Darnold has long been dubbed as an elite future QB in the NFL.
It remains to be seen if he can reach that potential or not.
The Jets have a lot of rebuilding to do to make that roster better. Darnold also needs better weapons around him to succeed.
Adam Gase also needs to open his playbook more to Darnold's abilities.
Gase really can't play it safe anymore and really has to go all-in next year and see if Darnold can take this team to the playoffs. I think he has it in him.
5: Josh Rosen
Josh Rosen has yet to find his way in the NFL.
He was drafted No.10 overall by the Arizona Cardinals and played in 14 games as a rookie.
Rosen struggled in his first year in Arizona that seen him surrounded by a poor offensive line and supporting cast.
Rosen completed 55.2% of his passes with 11 touchdowns and 14 interceptions in 2018.
The Cardinals lost confidence in Rosen and traded him to the Dolphins after the 2018 season.
He sat behind Ryan Fitzpatrick for most of the year and seen limited action.
Rosen threw for 1 touchdown and 5 interceptions.
Is Josh Rosen a legitimate starter?

— Walker Kelly (@walkerkelly13) January 7, 2020
In comparison to the other quarterbacks, Rosen finds his career at a crossroads.