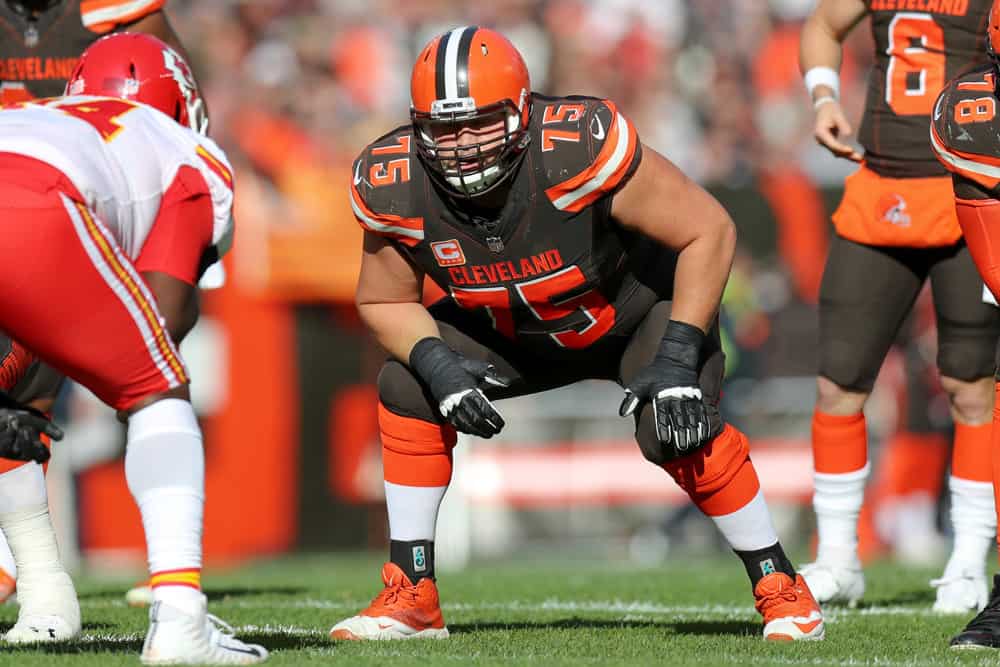 Three is never a crowd when it comes to the Pro Bowl.
The Cleveland Browns have a third representative in the Pro Bowl after an injury to Pittsburgh Steelers guard David DeCastro.
Left guard Joel Bitonio will take DeCastro's place, which is the second year in a row that Bitonio filled in as an injury reserve for DeCastro.
Bitonio was one of four players to be named replacements on Thursday.
Along with Bitonio, Amari Cooper replaced Mike Evans, Jaylon Smith replaced Luke Kuechly, and Kyle Fuller replaced, Jalen Ramsey.
Stealing The Spotlight
It was a busy news day for the Browns as his ex-coach made the same headline as Bitonio.
As it was revealed that Bitonio made the Pro Bowl, it was publically announced that Freddie Kitchens looks to join the New York Giants' staff.
#Browns Notes: Left guard Joel Bitonio headed back to Pro Bowl for 2nd straight year; Freddie Kitchens expected to meet with new Giants coach Joe Judge about spot on his staff; more. https://t.co/WWLlHSPmR7

— Scott Petrak ct (@ScottPetrak) January 9, 2020
Having Cleveland Pride
Bitonio was one of four alternates from the Browns when the Pro Bowl rosters were announced.
Additionally, offensive guard Joel Bitonio (first), linebacker Joe Schobert (second), cornerback Denzel Ward (fourth) and wide receiver Odell Beckham Jr. (fifth) were named as alternates. #ProBowl #OBJ https://t.co/eYYloaPwBT pic.twitter.com/nBETSSDDkj

— WSYX ABC 6 (@wsyx6) December 18, 2019
Bitonio released a statement through the team when he found out he was named to the team.
He said that he takes "a lot of pride" in representing Cleveland and wearing the orange helmet.
Bitonio also said that "it takes a team effort" and with this recognition, it is "really good to be able to share this with some of my teammates."
He joins wide receiver Jarvis Landry and running back Nick Chubb as the Browns representatives.
One Of The Best Blockers
It should not come as a surprise that Bitonio is in the Pro Bowl.
He has been one of the best blocking guards in the league dating back to last year.
In 2018, Bitonio ranked first in the pass block win rate according to ESPN's advanced analytics.
The #Browns are #2 in team pass block win rate per ESPN's analytics.

Joel Bitonio is #1 among guards, while JC Tretter is #4 among centers. pic.twitter.com/AdnqXthxlt

— DawgPoundHustle (@DawgPoundHustle) October 26, 2018
In 2019, he was once again in the top-5 for that statistic.
@Lionhawkeye @swarheit Have you guys seen the ESPN OG Pass-block win-rate?
1. Marshal Yanda, Ravens, 98%
2. Joe Thuney, Patriots, 97%
3. Richie Incognito, Raiders, 96%
4. Joel Bitonio, Browns, 96%
5. Zack Martin, Cowboys, 96%
6. Joe Dahl, Lions, 96%
7. Quenton Nelson, Colts, 95%

— TimT (@LineBusy) January 3, 2020
Final Thoughts
It was a well-deserved honor for the Browns left guard.
This was the third season in a row that Bitonio did not miss a snap during the season.
Bitonio has certainly lived up to the hype as a second-round pick in 2014.
The Pro Bowl will be on Sunday, January 26th at Camping World Stadium in Orlando.
The game will be televised on ESPN with a kick-off time of 3:00 p.m.