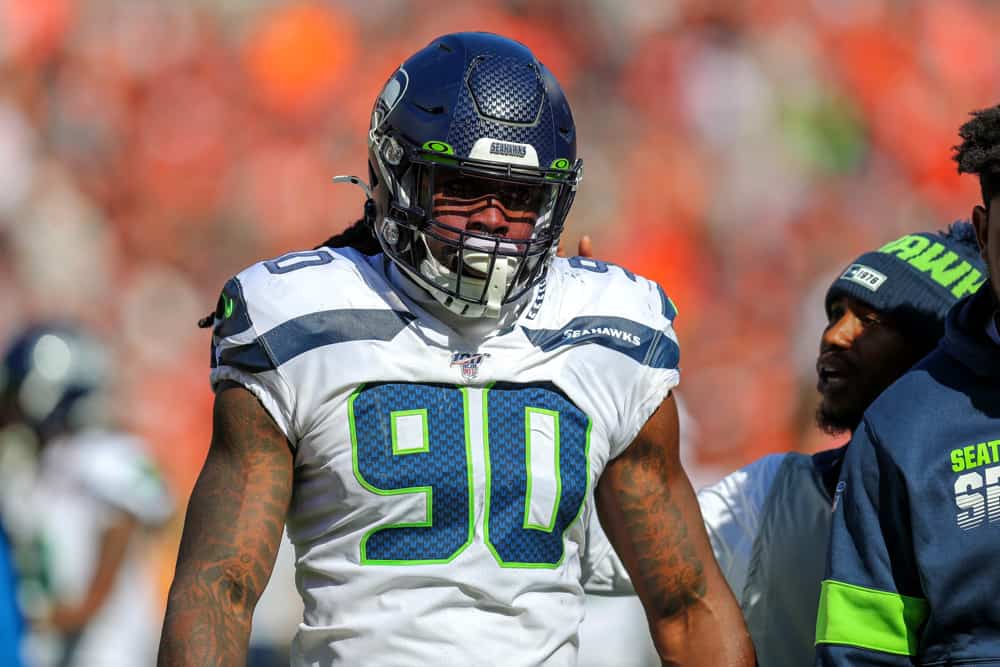 A new report says the Cleveland Browns are serious about free-agent defensive end Jadeveon Clowney.  
On Monday, Yahoo Sports NFL Insider Charles Robinson offered new reporting on the Browns pursuit when he joined the Pat McAfee Show:
"I still think the Browns are a team that are very interested in Jadeveon Clowney… He's still in a situation where he may need to sign a one-year, prove-it deal. But I think the Browns are interested in him longer term than that."
Swapping Olivier Vernon For Jadeveon Clowney
The Browns have the highest remaining cap space of any NFL team.
Spotrac estimates Cleveland's cap space to be $37 million heading into the summer.
It's possible the Browns can add Clowney to their current defense but it appears more likely that a Clowney signing would lead to a release of Olivier Vernon.
The Browns don't need Clowney and Myles Garrett and Adrian Clayborn and Olivier Vernon.
Vernon is owed $15 million this season but none of it is guaranteed if he's cut before Week 1.
Clowney is seeking a deal worth $17-18 million per year.
This makes it unlikely Vernon would ultimately get the chance to team up with Clowney for a combined $32 million in 2020.
Clowney's Potential Impact in Cleveland
The 2020 Browns defense already has a chance to finish top 10 in the league for the first time in 7 years.
This version of the Browns D has a wide range of stars in their prime, reliable veterans and young starters.
And we know Myles Garrett is a certifiable "game disruptor" on one side of the Browns defensive line.
Highest pass-rush win rate among edge defenders in 2019

Myles Garrett – 25.9%
J.J. Watt – 23.7%
Joey Bosa – 23.1% pic.twitter.com/qyJxYL4oro

— PFF (@PFF) March 25, 2020

Lining up Clowney across from Garrett could give the Browns the best pass-rushing duo in the NFL.
Jadeveon Clowney. 😤💪#SEAvsSF | #MNF

(via @NFL)

— PFF (@PFF) November 12, 2019
Charles Robinson went on to talk about that scenario:
"You want to put him with a set of guys who can be sort of force multipliers. Sitting there at defensive end — Myles at one end, Jadeveon Clowney on the other… Something is going to happen here. Someone has to get doubled. It's going to change the matrix upfront for offensive teams."
Clowney averages a sack every two games and would bring instant credibility to a Browns defense that only got to the quarterback 38 times in 2019.
His 80 career QB hits and 71 career tackles for loss would bring the Browns a toughness missing since Myles Garrett played his last game of the 2019 season in Week 11.
Weighing Clowney's Injury Past
The Browns can't afford to pay Clowney long-term money if he's not 100% healthy.
And he had offseason core surgery, meaning it's difficult for the Browns doctors to get a good read on Clowney's current status.
Signing Clowney long-term could also have ramifications on Myles Garrett with the Browns.
Garrett is due to be a free agent following the 2021 season and is seeking a new deal worth around $25 million a year.
But game wreckers like Clowney are not available often.
And the opportunity to stay within their budget and add one might be too good for Cleveland to pass up.