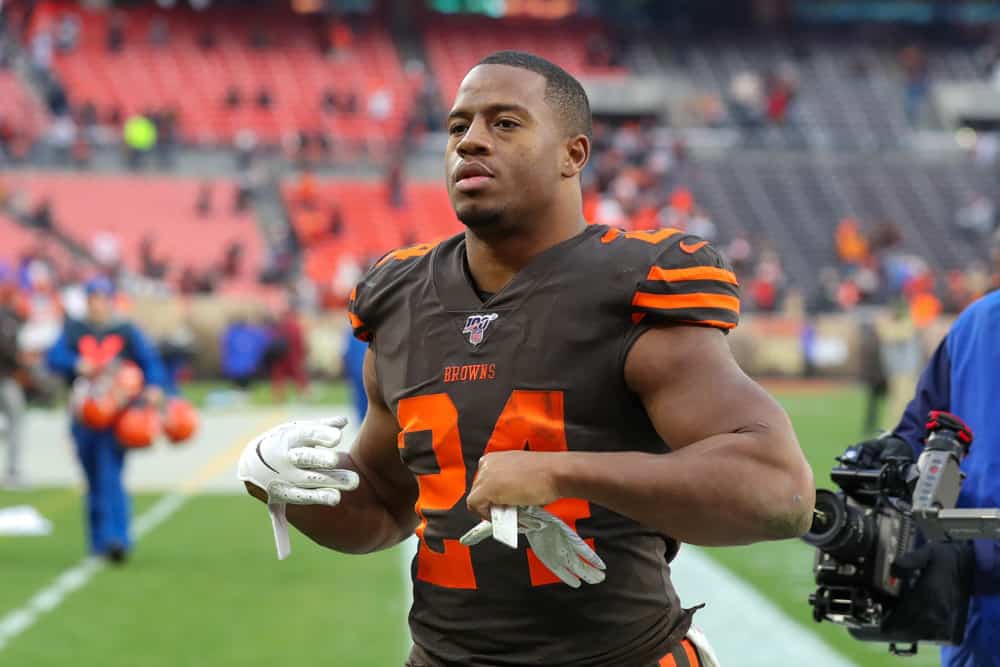 The Cleveland Browns have revamped their offense for the 2020 season.
They've added multiple players over the course of the offseason, but one of the biggest impacts might come from someone who was already on the team.
Browns running back Nick Chubb is coming off a strong 2019 campaign.
He is already one of the top running backs in the league, but Chubb wants to be the best.
Chubb is spending his offseason training hard and getting prepared for another outstanding campaign.
👀 @NickChubb21 man just lifted a truck! pic.twitter.com/0GNmq3Jcyt

— Zach Chubb (@ZachChubb10) May 25, 2020
His workout videos have gone viral, but that's not surprising after seeing what Chubb did at the squat rack.
The former second-round pick is not taking his training lightly.
NFL defenders already had a tough time tackling Chubb, but he's not making their life any easier.
His NFL Career
The Browns selected Chubb with the No. 35 overall pick during the 2018 NFL Draft.
He was outstanding with the Georgia Bulldogs, so it wasn't too surprising that Chubb was drafted that high.
He finished with 996 rushing yards on 192 attempts with eight touchdowns during his rookie campaign.
That was a fairly strong showing especially since he only started nine games in 2018.
Chubb followed that up with 1,494 rushing yards on 298 attempts with eight touchdowns last season.
He ended up finishing second in rushing yards to Tennessee Titans running back Derrick Henry.
Last season was a breakout campaign for Chubb who is proving that he is one of the best young running backs in the league.
The Browns may very well have a franchise running back on their hands for the next decade.
Can Chubb Improve in 2020?
Chubb was fantastic last season and earned himself his first Pro Bowl selection of his career.
The 24-year-old is going to be receiving plenty of accolades if he continues to play at the pace he was last season.
He is already working hard this offseason to improve his body and his game.
How does Nick Chubb do this!? 🤯 pic.twitter.com/astcy1W5PZ

— Everything Cleveland (@EverythingCLE_) May 20, 2020
Chubb wants to get better, faster, and stronger during the offseason.
He is not satisfied with his current level of play and wants to become a better player than he already is at the moment.
There is a very good chance that Chubb has another successful season in 2020.
He might get overlooked because of all the talent on the Browns roster, but he is truly just as talented as everyone else in the organization.
The NFL knows Nick Chubb is on the rise 📈 pic.twitter.com/fwVXrcP0BV

— Everything Cleveland (@EverythingCLE_) May 25, 2020
The Browns have an improved offensive line which should give Chubb a boost next season.
Cleveland added right tackle Jack Conklin and drafted left tackle Jedrick Wills during the 2020 NFL Draft.
Both players should be extremely helpful to the Browns offensive line next season.
Having a reliable offensive line is critical for success in the running game.
Chubb was able to have tremendous success under a below-average offensive line last season.
It is scary to think about what he is possible of doing with top tier offensive line around him.
Browns fans should be excited about the future with Chubb leading the charge.
He is hungry to get better and could very well end up as the best running back in the league at some point in his career.