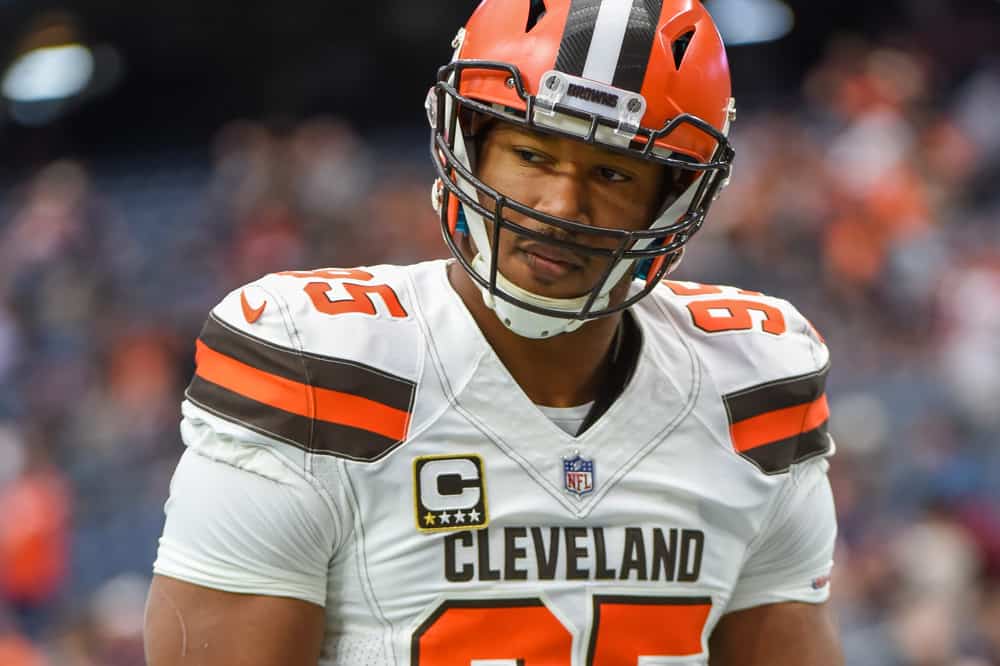 Nick Shook of NFL.com recently ranked the best defensive players, also known as the best "disruptors," in the league in 2019, and Myles Garrett topped the list.
Shook ranked the defensive players by their "disruption rate."
The stat: Disruption Rate, which is the total number of disruptions (the combined total of hurries, pressures or sacks, with only one counting per play) divided by the total number of pass-rush snaps.
According to the advanced NFL statistic, Garrett's 18.5 percent disruption rate led all players last season.
His 3.5 percent sack rate was second on this list of the top 10 disruptors, with only Tampa Bay Buccaneers linebacker Shaquil Barrett having a better sack rate (3.8).
Shook writes the following about Garrett:
"Garrett played in just 10 games, as the indefinite suspension that resulted from his actions during Cleveland's Thursday night affair with Pittsburgh brought his season to an end, but he had been performing to the level of a former No. 1 overall pick until that point. Cleveland's pass rush suffered a drastic dropoff in effectiveness after his departure. The Browns had a 32.9 percent pressure rate with Garrett on the field in 2019; without him, that figure dropped to 21.5 percent."
During Garrett's first three NFL seasons, he has missed 11 games, and the Browns have won just two of those contests.
The Browns have a win percentage of .281 over the last three seasons.
When Garrett plays, Cleveland owns a .319 win percentage.
Not only do statistics say that Garrett makes the Browns better, but the casual fan sees every game that he is impactful on the field.
Shook continues:
"With each Browns contest, there was a moment or two in which a quarterback would hit the turf and there'd be only one word to say in response: Myles."
Garrett has had a Tremendous Career Thus Far
Pro Football Focus ranked Garrett as the No. 9 player on the list of the top 25 NFL players under the age of 25.
Myles Garrett's first play in the NFL? A sack. 🐶🏈 #Browns pic.twitter.com/ITpmie9ezt

— Myles Garrett Facts (@Myles95Facts) April 27, 2020

In just 37 games, Garrett has an impressive 30.5 sacks thus far in his NFL career:
2017 1st round edge defenders and sacks through three seasons:

1:1 – Myles Garrett – 30.5
1:14 – Derek Barnett – 14.0
1:22 – Charles Harris – 3.5
1:26 – Takkarist McKinnley – 16.5
1:28 – Taco Charlton – 9.0
1:30 – T.J. Watt – 34.5 #Steelers

— Tommy Jaggi (@TommyJaggi) May 1, 2020
Although he has four fewer sacks than Watt, Garrett has played 10 fewer games than the Pittsburgh Steelers linebacker.
In 2018, Garrett ranked sixth in the league in sacks (13.5) and 10th in forced fumbles (three).
Heading into 2019, he was ranked No. 49 on the NFL Top 100 list.
Through 10 games in 2019, he was on pace for a career-high 16 sacks before his suspension.
Garrett, who has a career seven sacks against the New York Jets, has shown his potential in those three contests.
Along with having more sacks against the Jets than against any other team, he has a career-best nine quarterback hits.
Garrett will be excited for the Browns' return to MetLife Stadium to face the Jets on December 27, 2020.
At MetLife Stadium on September 16, 2019, Garrett had a career-high three sacks and five quarterback hits.
Is There a Long-Term Extension for Garrett?
As of right now, Garrett may not be worth the exorbitant contract of $25 million per year.
However, the 2020 season may be the perfect test.
Ian Rapoport knows one thing for sure – Garrett will most likely get a long-term extension:
#Browns GM Andrew Berry told RapSheet + Friends (https://t.co/CiKkY8tVHv) that he hopes Myles Garrett is with the #Browns for years to come. Why a long-term extension makes sense 👇🏼👇🏼👇🏼 pic.twitter.com/Xfe6oebpQU

— Ian Rapoport (@RapSheet) May 5, 2020
Garrett, who was the best player on the 2018 Browns according to Pro-Football-Reference, should be having a career year in 2020 if he can stay on the field.
In his first Pro Bowl season (2018), Garrett has played more than 1,000 defensive snaps.
In his other two seasons, he played a combined total of just 1,064 snaps.
As Garrett heads into his fourth NFL year, he will look to stay on the field more, and if he does, the Browns organization and the fans will be very excited for what is to come with the future Hall of Famer.