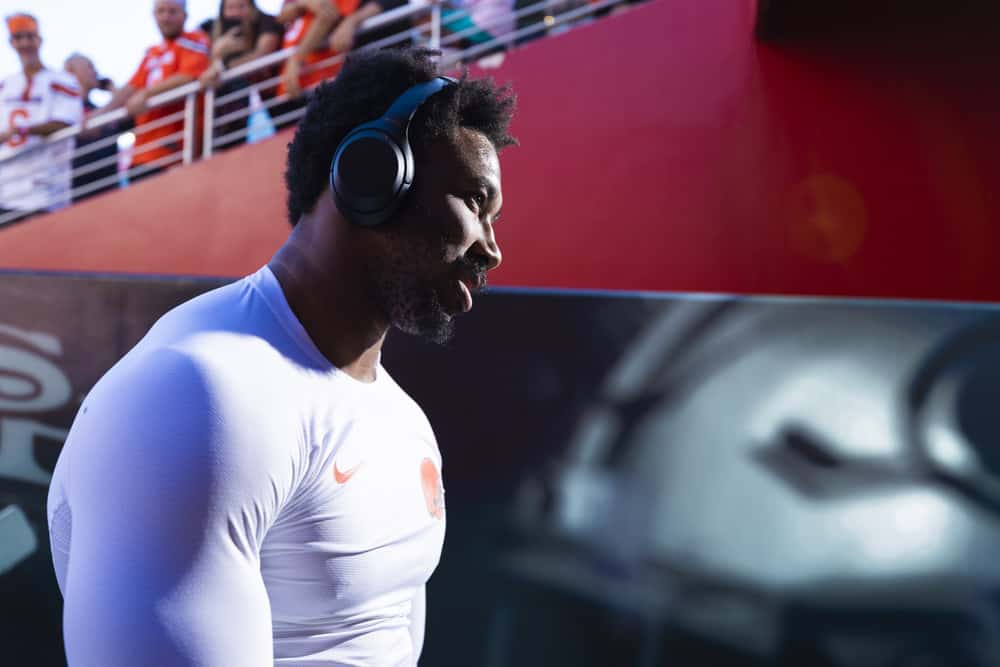 This is a big year for defensive end Myles Garrett.
In a contract year, Garrett will get a chance to prove himself and potentially become the highest-paid defensive end in the league.
The highest-paid defensive end is Dallas Cowboys' DeMarcus Lawrence, who gets $21 million per year.
The former No. 1 pick in Garrett could look to surpass that amount.
Could he become the first to receive the magic number at $25 million?
The Report
For starters, NFL Network's Ian Rapoport reported that GM Andrew Berry is hopeful that Garrett will be in a Browns uniform for many years.
As the panel discussed, many wondered if Garrett could get paid $25 million per year.
#Browns GM Andrew Berry told RapSheet + Friends (https://t.co/CiKkY8tVHv) that he hopes Myles Garrett is with the #Browns for years to come. Why a long-term extension makes sense 👇🏼👇🏼👇🏼 pic.twitter.com/Xfe6oebpQU

— Ian Rapoport (@RapSheet) May 5, 2020
The Comparison
As previously mentioned in this week's mailbag, Garrett has similarities to another former No. 1 overall pick in Jadeveon Clowney.
Clowney is entering his 27-age season, while Garrett is entering his age-25 season.
For starters, we can only compare one of Garrett's seasons because he has only played a full 16 games once.
In 2018, Garrett finished with 44 combined tackles, 35 solo tackles, 13.5 sacks, 12.0 tackles for loss, and 29.0 quarterback hits.
Pittsburgh's next possession is ended on 3rd & 7 by this Myles Garrett sack. His 8th of the year. Excellent job of winning with bend at the top of the rush. The fact that Ben held onto this ball is pretty impressive. #BrownsFilmBDN pic.twitter.com/0x1bqSTiDY

— OBR Film Breakdown (@TheOBRFilmBDN) October 29, 2018
For Clowney, his best season came in 2017, where oddly enough he was also 24 at the time.
In 2017, Clowney finished with 59 combined tackles, 41 solo tackles, 9.5 sacks, 21.0 tackles for loss, and 21 quarterback hits.
The Argument
According to Spotrac, the highest-paid defensive ends in the league are DeMarcus Lawrence, Frank Clark, JJ Watt, and Trey Flowers.
Garrett has the statistics that are on par with these players, or better.
In 2019, Garrett played just 10 games and produced 10.0 sacks, 29 combined tackles, 11.0 tackles for loss, and 18 quarterback hits.
Garrett was on pace to become the highest-paid defensive end until his altercation with Mason Rudolph, which drastically hurt his stock.
Myles Garrett hits Mason Rudolph in the head with his own helmet, a breakdown pic.twitter.com/hi4Jc8Cmgo

— Jomboy (@Jomboy_) November 15, 2019
In comparison to the previously mentioned top-4 defensive ends, this is what they produced:
Lawrence: 5.0 sacks, 45 combined tackles, 10.0 tackles for loss, 16 quarterback hits
Clark: 8.0 sacks, 37 combined tackles, 12.0 tackles for loss, 14 quarterback hits
Watt was hurt in 2019 (played 8 games), so here are his 2018 stats: 16.0 sacks, 61 combined tackles, 18 tackles for loss, 25 quarterback hits
Flowers: 7.0 sacks, 51 combined tackles, 8 tackles for loss, 21 quarterback hits
Final Answer
Here is an unfortunate truth for Browns' fans.
Garrett is going to get paid a lot of money.
It's just a matter of by who.
The Browns shouldn't unload that type of money into someone that hasn't played a full 16-game schedule.
If Garrett can prove he can stay on the field, then we'll talk.
Until then, he's not worth $20 million a year, let alone $25 million.