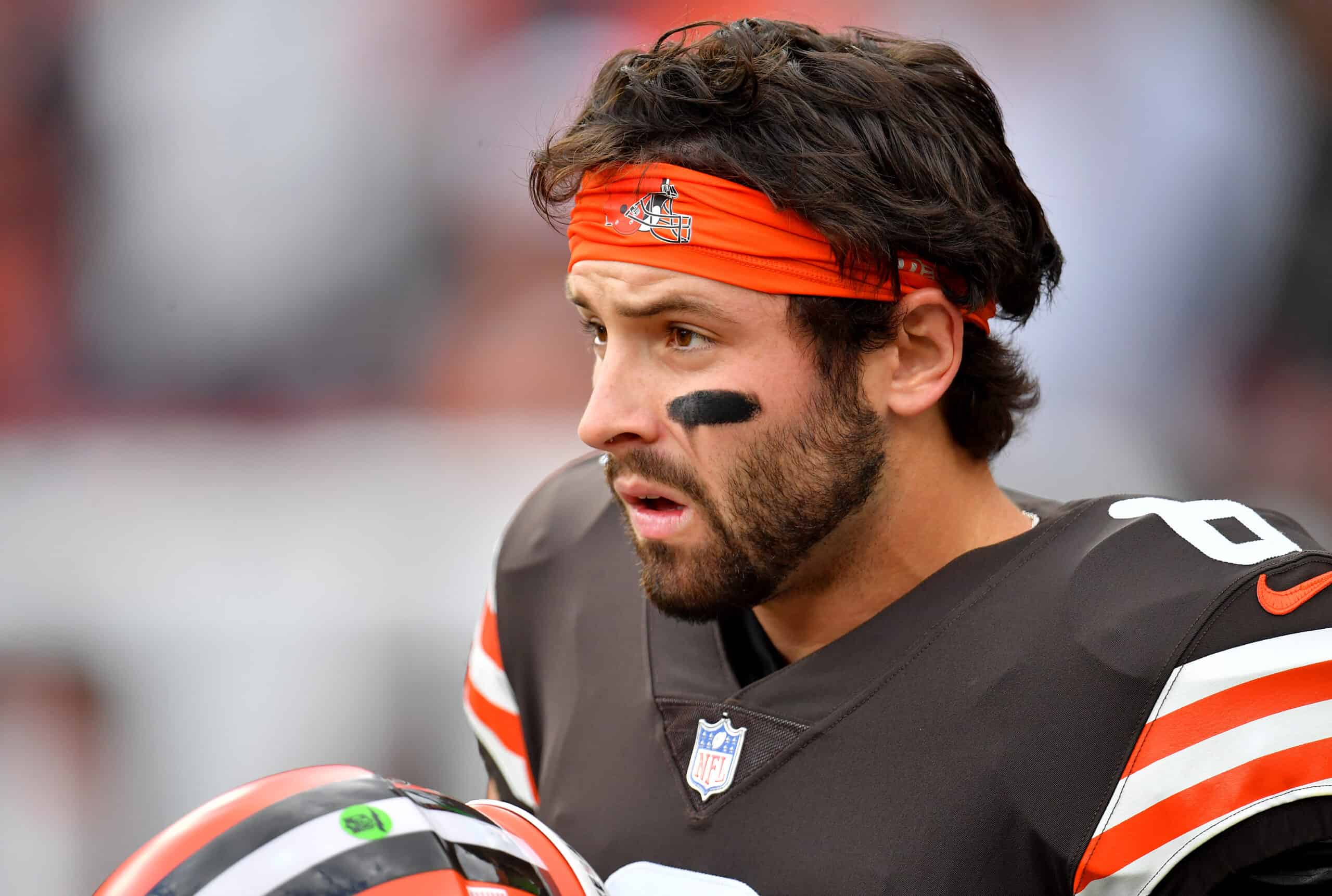 According to Mike Florio of Pro Football Talk, the Cleveland Browns are looking to trade Quarterback Baker Mayfield sooner than later.
This doesn't come as a surprise given the team just signed Quarterback Deshaun Watson for a guaranteed $230 million over the next 5 years.
The team is also on the hook for another $18.8 million if they don't move Mayfield before the start of the season.
#Browns Kevin Stefanski on where things stand with Baker Mayfield: "I think everyone understands the situation and we're hoping that there's closure to it at some point."

— Camryn Justice (@camijustice) March 28, 2022
But, as much as the team would like to move Mayfield and the money they owe him, the market for the veteran QB is dwindling.
Why the market is down on Mayfield?
Other veteran QBs have already been traded or signed to their new teams, plugging up what was the available market for Mayfield.
There are also character concerns about the Quarterback.
His history of fighting with reporters, walking out of press conferences and questions about his locker room presence are likely making General Managers apprehensive.
With Mayfield owed over $18 million and questions on how he would mesh with a new team, there isn't much of a demand
Teams that could still be interested
The team that has been more consistently connected to Mayfield as of late is the Seahawks.
They seemingly are still in the market for a new QB.
But there has also been some speculation they are high on Drew Lock whom they got in the Russel Wilson trade with the Denver Broncos.
Other teams that have been loosely connected to a Mayfield trade include:
The Houston Texans, who didn't want Mayfield in the trade for Watson and like their sophomore QB David Mills.
The Carolina Panthers, who have shared a "mutual disinterest" in Mayfield and who still have Sam Darnold on contract, another veteran QB who was drafted just two spots behind the Browns' QB.
The Atlanta Falcons, who just signed Marcus Mariota for a 2-year deal.
While none of these teams seem to be pouncing on Mayfield right now, they could show more interest after the draft.
If a QB needy team misses out on a guy they liked in the draft, they may be forced to turn to the Browns available quarterback and Mayfield's stock could rise.
What about the Pittsburgh Steelers?
As much as Browns and Steelers fans mutually agree they don't want Mayfield in Pittsburgh, there have been reports the team is interested in signing him.
The "I hope Baker Mayfield goes to the Steelers so he can beat the Browns twice a year" people please leave the Browns fan base and not just say you will. Thanks!!

— Yvette (@yvettemlaboy) March 24, 2022
I am SO tired of hearing about Baker Mayfield. Dude is a below average qb, who can't keep his mouth shut and act professional. He will never wear the Black and Gold. He is not worthy of wearing the Black and Gold.

— Big Ben's Burner (@Blitzburghstil1) March 25, 2022
This of course would only be possible if the Browns decide to simply cut Mayfield and eat the money owed to him.
While there could be mutual interest between Mayfield and Pittsburgh, the Browns will likely do their best to see this doesn't happen.
What if the Browns can't trade Mayfield?
If the Browns can't trade him, their only two choices will be to keep him on the roster or to cut him.
Given the tension that seems to be building between Mayfield and the Browns, it doesn't seem likely they would keep him around.
They may have to decide to cut their losses for the sake of moving forward with the team.