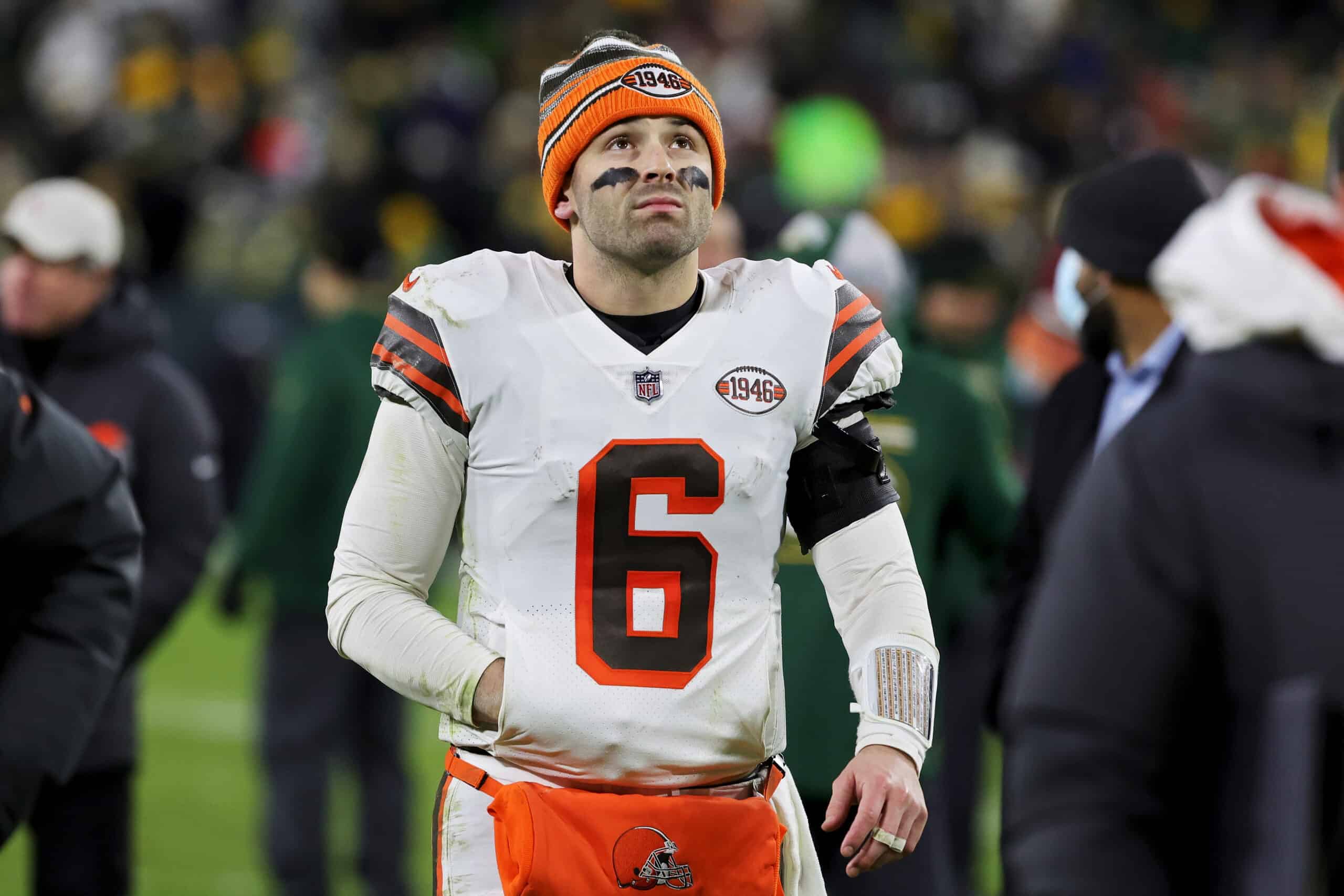 The NFL free agency market is beginning to slow down.
However, the Cleveland Browns continue to stay a focal point in the news.
Recently, there was a rumor that quarterback Baker Mayfield turned down a contract extension worth $30 million per year prior to the 2021 season.
According to Mary Kay Cabot of Cleveland.com, Mayfield never received a $30 million per year offer from Cleveland.
It's '100% false' that Baker Mayfield turned down $30 million a year before '21 from the #Browns; nothing imminent on the trade front: #Browns Insider https://t.co/ZlkW3KU6C0

— Mary Kay Cabot (@MaryKayCabot) March 28, 2022
The Browns continue to try and find a trade partner for Mayfield.
The former No. 1 overall pick certainly won't be receiving a long-term extension with Cleveland.
The 30 Million Dollar Man
It doesn't sound like Mayfield was ever offered a deal of $30 million per year.
However, it's possible that the Browns organization and Mayfield's agent had discussed an extension.
It seemed likely that Mayfield would want a new deal after taking the Browns to the postseason in 2020.
That being said, Mayfield's asking price could've easily been $30 million or more per season.
It's plausible that the Browns' front office would've considered that kind of extension after the 2020 season.
Although, it seemed like Cleveland was prepared to let Mayfield play out the 2021 season before discussing a long-term deal.
They wanted to make sure the 2020 season wasn't a fluke, which sadly might've been the case.
Regardless, there was never full-blown negotiations and Mayfield never received that $30 million extension offer.
That is all in the past now with the Browns set to move on from Mayfield this offseason.
Mayfield Mania 
At this point, it doesn't matter whether or not Mayfield ever received an extension from Cleveland.
The relationship between the two sides has been broken, which means the end is looming.
The Browns front office began discussing the possibility of trading for quarterback Deshaun Watson.
Obviously, Mayfield wasn't happy to hear that and mentioned he won't be the Plan B for Cleveland if the Watson deal fails to happen.
Baker Mayfield said he ain't nobody's Plan B. Good for him.

— Robert Griffin III (@RGIII) March 17, 2022
Luckily, Cleveland was able to acquire Watson in exchange for multiple draft picks.
A high-risk move by the Browns, but Watson could be the player to put this team over the top.
Now, Cleveland must decide what to do with Mayfield.
The Browns don't want to be stuck paying Mayfield's fully guaranteed $18 million salary for the 2022 season.
Although, the trade market isn't exactly red-hot for Mayfield right now.
The Browns lost their leverage when Mayfield stated that he won't play for them anymore.
Possibly, Cleveland is able to trade Mayfield and his salary for a late-round draft pick.
One thing is certain, the Browns won't be giving Mayfield an extension and could end up cutting the former No. 1 overall pick.