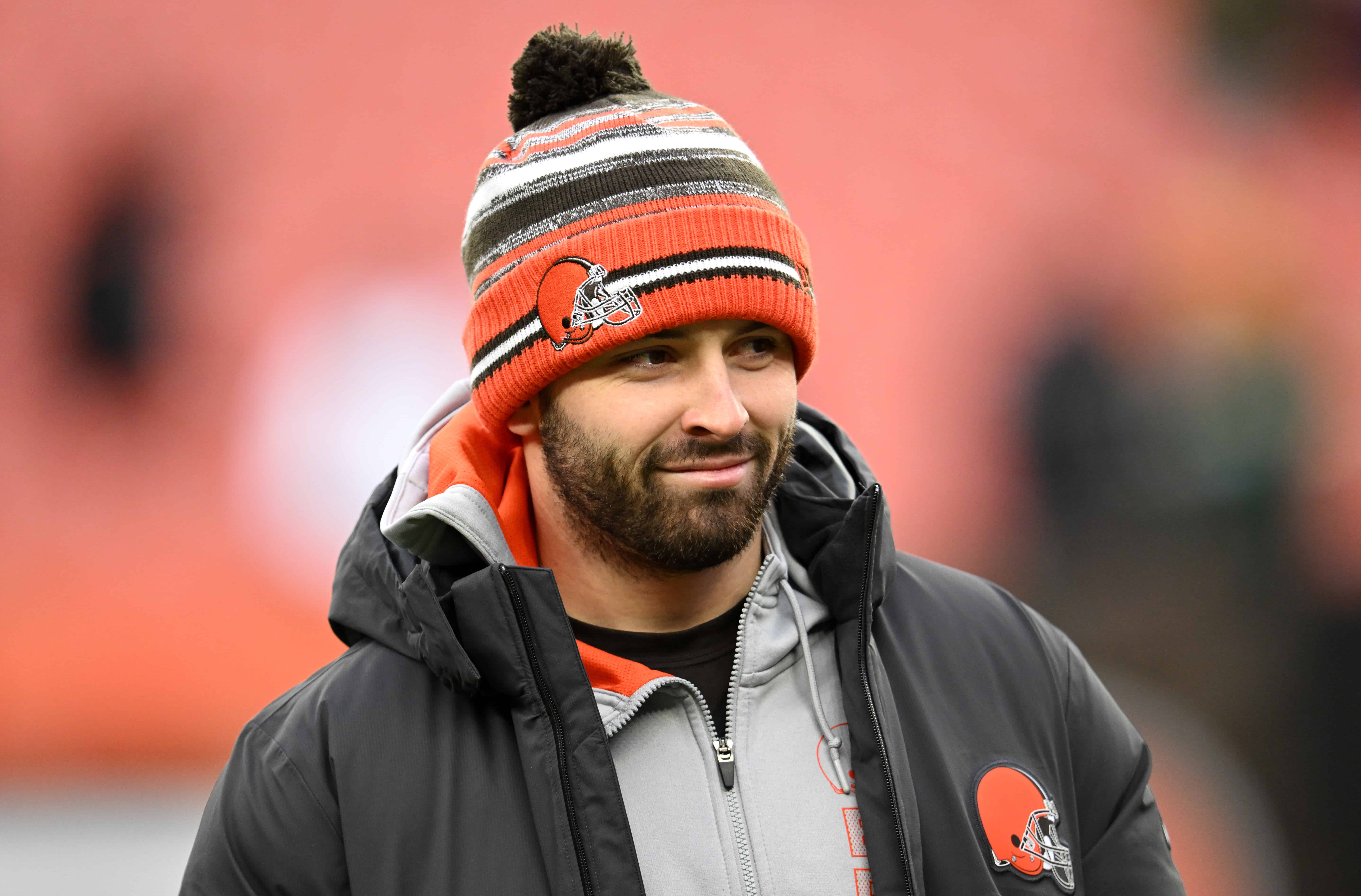 Baker Mayfield's representatives showed up at the NFL Combine this week to speak with Andrew Berry.
Berry and Kevin Stefanski were pretty clear in their press conferences earlier in the day.
But now Mayfield has their personal assurances that the Cleveland Browns plan on starting him in 2022.
The #Browns and Baker Mayfield's reps met at the #NFLCombine as scheduled on Thursday, and reinforced the Browns plans to start him in '22 and not replace him with a veteran, sources tell clevelanddotcom https://t.co/7BuV3XWktb

— Mary Kay Cabot (@MaryKayCabot) March 3, 2022
Specifically, the Browns ruled out adding a veteran starting quarterback to the mix.
Thursday's scheduled meeting also clarified plans to hold off on extension talks this season.
Mayfield will play out the fifth-year option of his rookie deal trying to prove he is the long-term answer for Cleveland.
The #Browns also do not seem intent on landing a "mid-tier" veteran QB such as Mitch Trubisky to be Baker Mayfield's back up. (Via https://t.co/cJivcQ9imJ)

— MoreForYouCleveland (@MoreForYou_CLE) March 3, 2022
In the GM's press conference Wednesday, Berry acknowledged the impact of Mayfield's shoulder injury last year.
And he predicted a healthier Mayfield is a playoff-caliber NFL quarterback.
Stefanski also predicted a bounceback season for his passer, along with other expectations.
Can Mayfield Breathe Easier? 
Mayfield had a torn labrum in his non-throwing shoulder surgically repaired in January.
Reports say his rehab is going very well and he should be full-go by training camp.
Cleveland's brain trust assured Mayfield he'll get a shot at winning a franchise-quarterback status.
But that doesn't mean he can rest easy or take anything for granted.
Kevin Stefanski with no hesitation when asked if he's confident in Baker Mayfield as a starter: 'Yes.' pic.twitter.com/S5epUXqDfX

— Jeremy Fowler (@JFowlerESPN) March 2, 2022
Stefanski explained to reporters again that Cleveland's QB must make plays from the pocket.
This is because defenses adjusted to cut off Mayfield's preferred rollouts last year.
Complicating matters could be an expected turnover of most of the wide receiver room.
Mayfield's challenge is to heal, improve his pocket passing and progressions while melding with new receivers.
What It Means To The Browns
Cleveland said they would explore all options at every position looking for ways to improve.
Berry's scouts and analysts might have progressed through their veteran options and decided Mayfield is the best bet.
Jimmy Garoppolo's name made the rounds as someone specifically ruled out as a Cleveland option.
And most of the veteran pool is dwindling as decisions are made or situations become clearer.
Case Keenum is undefeated as the Browns starter this year. pic.twitter.com/ro5WDZnXeN

— Nick Karns (@karnsies817) December 15, 2021
It is unclear whether Case Keenum is a lock for the backup spot.
There are some cheaper options, but Keenum could also be open to a renegotiated deal.
With a roster bonus due next week, the Browns will have to deal with Keenum's status very soon.
No mention was made of Cleveland's draft plans, and they could pick a quarterback to sit behind Mayfield in 2022.