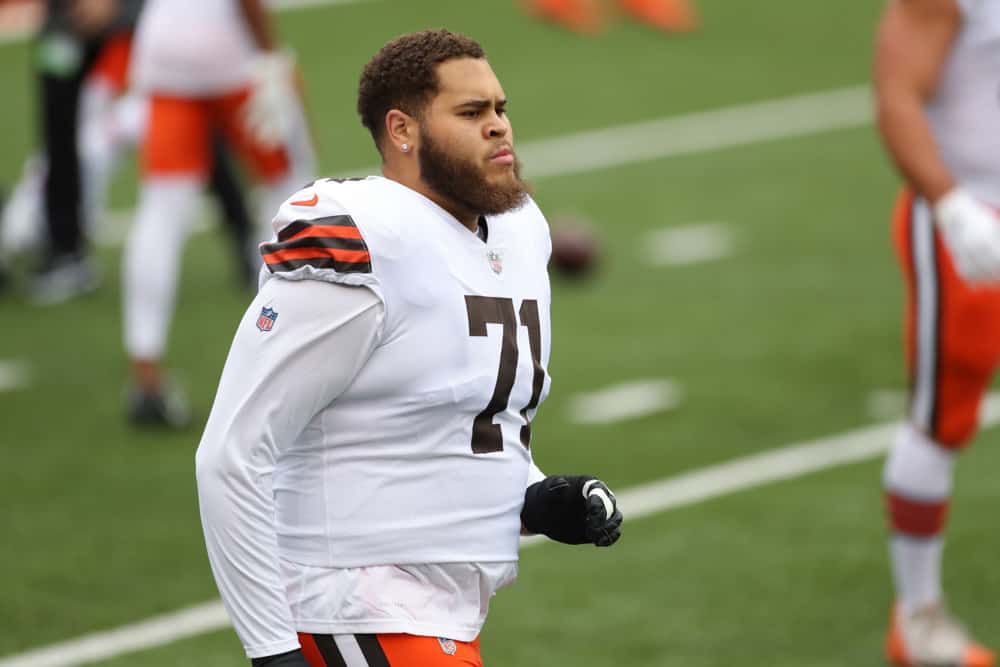 Among the many topics covered, Cleveland Browns GM Andrew Berry spoke about the team's offensive tackle situation at his Tuesday afternoon press conference at the 2022 NFL Combine.
He talked about Jack Conklin's health.
Conklin, who just restructured his contract last week to create $4 million in additional cap space for the Browns, has been recovering from a torn right patellar tendon which happened in the November 28 game against the Baltimore Ravens.
Berry said that Conklin's recovery and rehab are going well.
#Browns GM Andrew Berry said RT Jack Conklin is doing well, right on schedule with rehab, if not a little ahead of schedule, we're optimistic he's going to make a strong return for us

— Nate Ulrich (@ByNateUlrich) March 1, 2022
Jedrick Wills' name came up when asked if he would slide over to the right tackle position in Week 1 if Conklin was not ready.
What Berry Said
Berry was unusually forthright in his answer to this question.
He made it very clear that Wills, who played right tackle through high school and college, will remain at left tackle even if Conklin is not fully recovered and ready to play in Week 1.
Andrew Berry said nothing has changed with his expectation that Baker Mayfield will be back as the Browns starter in '22.

Said the thought there will be a lot of vet QB movement is usually "just speculation." Said Jed Wills is the Browns LT and won't be moved.

— Zac Jackson (@AkronJackson) March 1, 2022
"No, Jed will stay at left tackle…As we all saw (last) year, you can never have enough tackle depth and O-line depth. But we feel good about Jed."
#Browns GM Andrew Berry said Jedrick Wills Jr. will remain at left tackle. Isn't a contingency plan at right tackle if Jack Conklin isn't ready (torn patellar)

— Scott Petrak ct (@ScottPetrak) March 1, 2022
Wills Had His Own Injuries To Deal With In 2021
Wills injuries happened almost as quickly as Mayfield's.
He suffered a high ankle sprain in Week 1 against the Kansas City Chiefs.
Wills played through the injury for weeks, but his mobility and performance were impacted by it.
He ended up missing four games because of both COVID-19 and the injury.
Healthy Offensive Line Is Vital In 2022
Looking back on 2021, it is not hard to see how things went off the rails so quickly with the injuries to the offensive line and Mayfield.
Both need to be playing at 100% when the season rolls around for the Browns to have a chance to compete with the Bengals in the AFC North and the rest of the NFL.