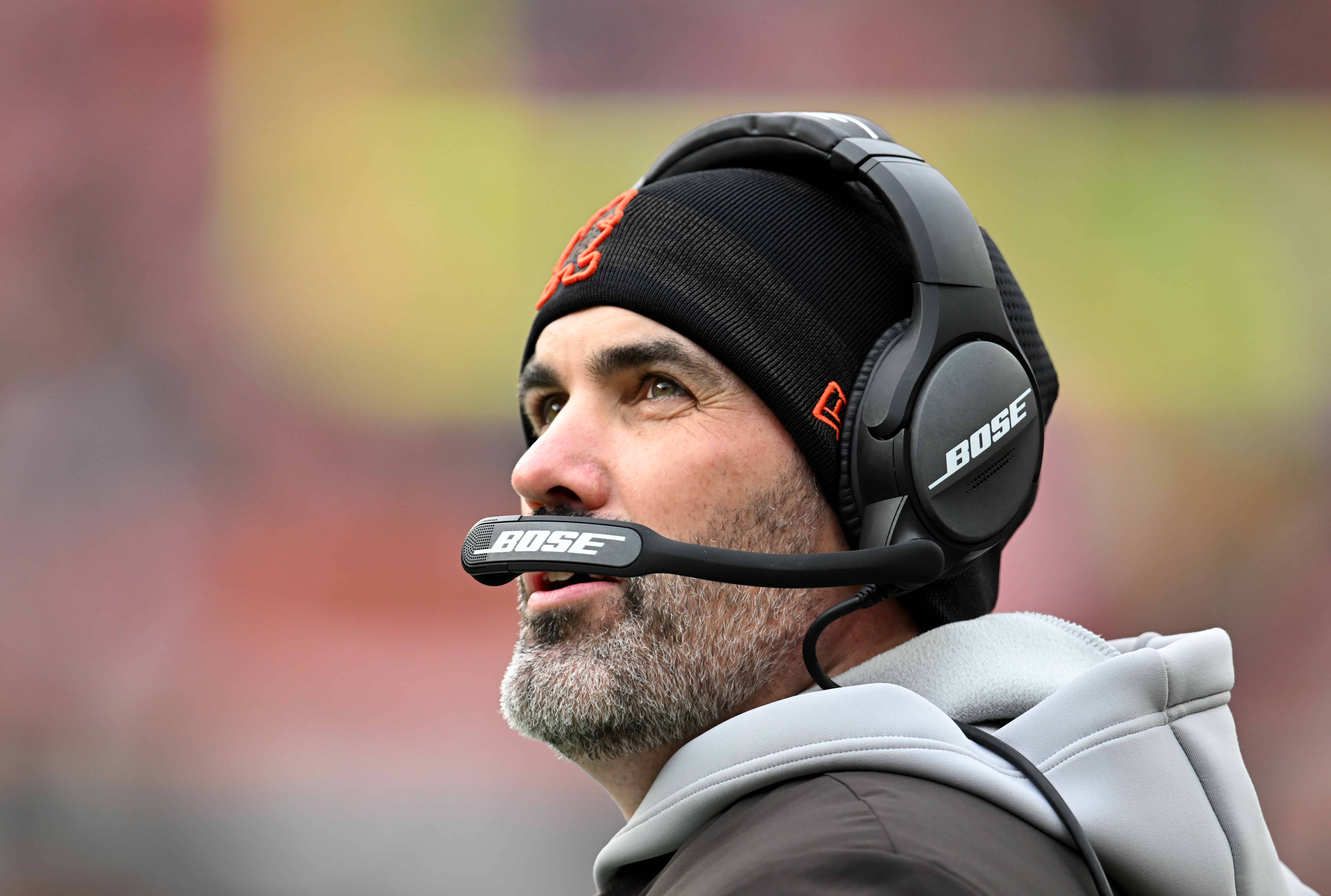 Kevin Stefanski was in midseason form talking with reporters yesterday at the NFL Combine.
The Cleveland Browns head coach had little to say about prospects, but he offered this about the Browns' 2021 season:
"We were just too inconsistent. There were times we had to be just a little better… at every spot; coaching, playing… We need to nail down the details of our system. Give our guys the best chance to succeed and ultimately, just make a couple of more plays each game. That's what it comes down to."
To that end, it sounds like Stefanski plans to make little changes to the Browns system in 2022.
#Browns Kevin Stefanski said they were just "too inconsistent" last season and they need to "nail down the system" and "make a couple more plays a game" this year.

— Camryn Justice (@camijustice) March 2, 2022
Several assistant coaches take on different responsibilities, most notably Drew Petzing.
Petzing, the tight ends coach for the last 2 seasons, will be the quarterbacks' coach moving forward.
As the offensive coordinator, Alex Van Pelt remains "the biggest voice in the room", but Petzing will have important input.
In case anyone was still wondering about this, Kevin Stefanski says he will be calling the offensive plays again next season #Browns

— Jake Trotter (@Jake_Trotter) March 2, 2022
And AVP still won't call plays on Sunday as the head coach declared he will maintain that role for another season.
T.C. McCartney takes on the tight ends role, which Stefanski notes was how he broke into the NFL with Minnesota.
Shifting and amplifying voices will be in the "best interest of the Browns," according to Stefanski.
About Baker Mayfield 
Stefanski said nothing to indicate anyone but Baker Mayfield will line up behind center next fall.
But the coach continued to downplay the impact of Mayfield's injuries on the 2021 season.
He said he was not concerned about the brace his quarterback used last year affecting his delivery.
#Browns Kevin Stefanski on how he evaluates Baker's season with the shoulder injury:

I think it's difficult. The only time you are healthy is the 1st day of camp. Guys work through injuries. It's something you take into account in your evaluation of a player.

— Matt Fontana (@MattFontana83) March 2, 2022
And he acknowledged his quarterback needed to be healthier to bounce back from an inconsistent season.
But Stefanski again cited defenses adjusting to cut off play-action rollouts for the difference between 2020 and 2021.
That shouldn't eliminate play action, but rather puts the onus on the quarterback to make plays from the pocket.
Asked if he still has confidence in Baker Mayfield as his starter, #Browns HC Kevin Stefanski doesn't hesitate even a millisecond before saying, "Yes. Yes."

— Aditi Kinkhabwala (@AKinkhabwala) March 2, 2022
In other words, it was opposing defenses and not Mayfield's injuries, that made Stefanski's offense look so different.
Stefanski expressed confidence in Mayfield to bounce back into playoff form.
 "(Baker) looks at every day like a challenge. I don't think he lacks confidence. I think this is a great offseason for him to get healthy and then have an offseason in the building with the rest of the team, work together and try and get better. That is kind of our focus."
But two healthy shoulders, knees, and heels will certainly help Mayfield adjust his repertoire.
About His Wide Receivers 
Stefanski surprised some by admitting he is unfamiliar with many of the top wide receiver prospects so far.
But he bragged about a couple of his current wideouts when asked what he looks for in Combine interviews.
Stefanski cited Anthony Schwartz's 2021 Zoom interview when he described the importance of information retention.
#Browns Kevin Stefanski on being able to evolve in use of personnel packages. pic.twitter.com/vzllJYiSnX

— Scott Petrak ct (@ScottPetrak) March 2, 2022
He said they saw right away that the speedster could handle whatever they threw at him scheme-wise.
"We felt confident he could come in and contribute with his versatility in terms of where he can line up. He made some plays for us this season, which you do not often see for a young guy. He can still run, and we are going to hopefully develop him in some of the finer points of route running."
About Donovan Peoples-Jones, Stefanski called him "trustworthy" and went on to say,
"Quarterbacks love throwing to him because he is going to be where he has to be every single time. Good ball skills. A guy who we are looking forward to taking another step forward."
Perhaps more notably, there was little mention of Jarvis Landry or Rashard Higgins.
#Browns HC Kevin Stefanski praised Jarvis Landry but acknowledged that it's a business and said we'll see how the situation plays out.

— Noah Weiskopf (@BrownsWithNoah) March 2, 2022
When asked how an influx of new receivers might affect his offense, Stefanski said he is not tied into a particular player group.
If he has the personnel, Browns fans could see fewer 2- and 3-tight end sets this season.