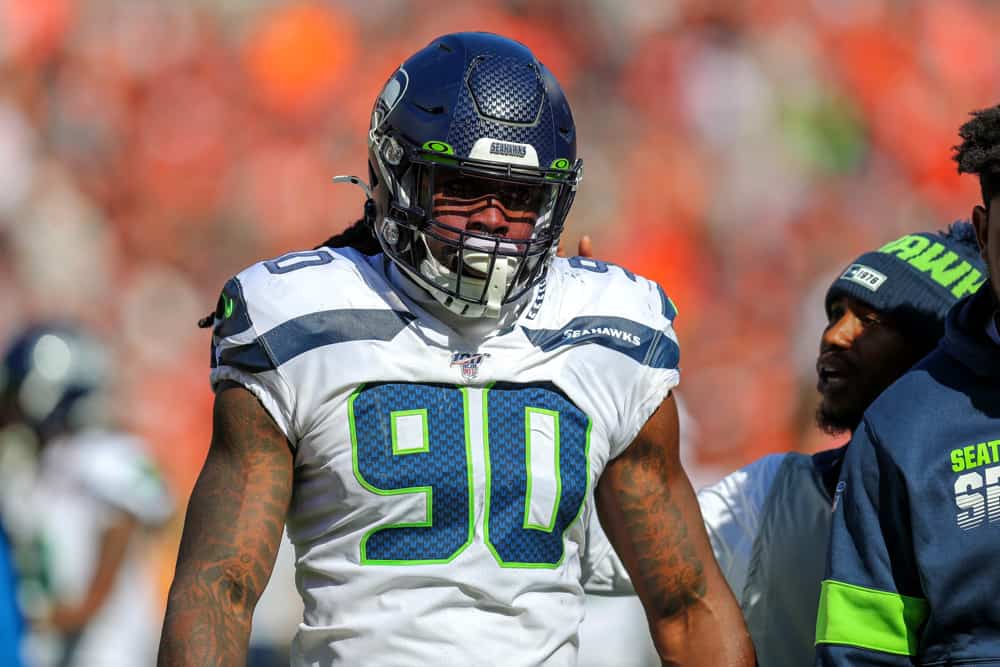 The Cleveland Browns have made significant upgrades throughout the offseason.
Training camp is right around the corner, but the Browns might not be done adding yet.
They've been linked to free-agent defensive end Jadeveon Clowney all offseason long.
The two sides have been unable to reach an agreement, but maybe there is finally some positive news.
The #Browns have made a new offer to Jadeveon Clowney. pic.twitter.com/O6FmlGvvwl

— Everything Cleveland (@EverythingCLE_) June 15, 2020
According to MMQB's Albert Breer, the team is willing to pay Clowney in the range of $15 million on a one-year deal.
Clowney was not too impressed with the Browns last offer, but maybe he has changed his mind.
Clowney's NFL Career
It is quite surprising that the three-time Pro Bowl defensive end is still available in free agency.
He was selected as the No. 1 overall pick during the 2014 NFL Draft.
Clowney only played in four games during his rookie season due to injuries.
However, he has seen major success over the last few seasons in the league.
Clowney has recorded 236 tackles, 80 quarterback hits, and 32 sacks through his first six seasons in the league.
He has put together some outstanding seasons throughout his career, but saw a down year in 2019.
Last season, Clowney finished with 31 tackles, 13 quarterback hits, and three sacks through 13 games with the Seattle Seahawks.
The 27-year-old did not live up to expectations last season, but he should at least be on an NFL roster by this time of the year.
Why Hasn't Clowney Been Signed? 
Clowney reportedly opened up the offseason asking for roughly $20-25 million per year.
He quickly dropped his price after not receiving any offers to his liking earlier in free agency.
The star pass rusher has already turned down offers from the Browns, Seahawks, and Tennessee Titans.
The Browns reportedly offered him the richest deal, but Clowney rejected and decided to wait it out in free agency.
Clowney is tremendously talented, but there have been some concerns about his physical health and the mental side of his game.
Jadeveon Clowney with one of the best defensive plays in the history of football pic.twitter.com/wpAFmK6o6q

— Jon Machota (@jonmachota) March 19, 2020
It does not appear that organizations are willing to give Clowney a long term deal with significant money attached to it.
At this point, Clowney might be forced to take a one-year deal to prove himself and head back into free agency next season.
Should The Browns Sign Clowney?
The Browns remain interested in Clowney despite him rejecting their first offer.
A one-year deal worth $15 million seems fair based on Clowney's performance last season.
Cleveland does not exactly need any help at defensive line, so it is a bit surprising that they continue to heavily pursue Clowney.
The Browns could use help at the linebacker position, but it's unclear if they plan to use him there, assuming Clowney signs with Cleveland.
Another idea would be the Browns cutting defensive end Olivier Vernon in order to make room for Clowney on the roster.
Vernon has a cap hit of $15.5 million, so the Browns would love to move on from that contract especially if they sign Clowney.
At the end of the day it's unclear if Clowney even wants to play in Cleveland after declining their first offer.
He would certainly be an upgrade at the linebacker position, but he doesn't fit with the organization in the long-term.
The Browns have other stars such as Baker Mayfield, Nick Chubb, and Myles Garrett who will require extensions soon.
Clowney would be a nice short-term solution, but we'll see if he's willing to agree to that kind of deal.