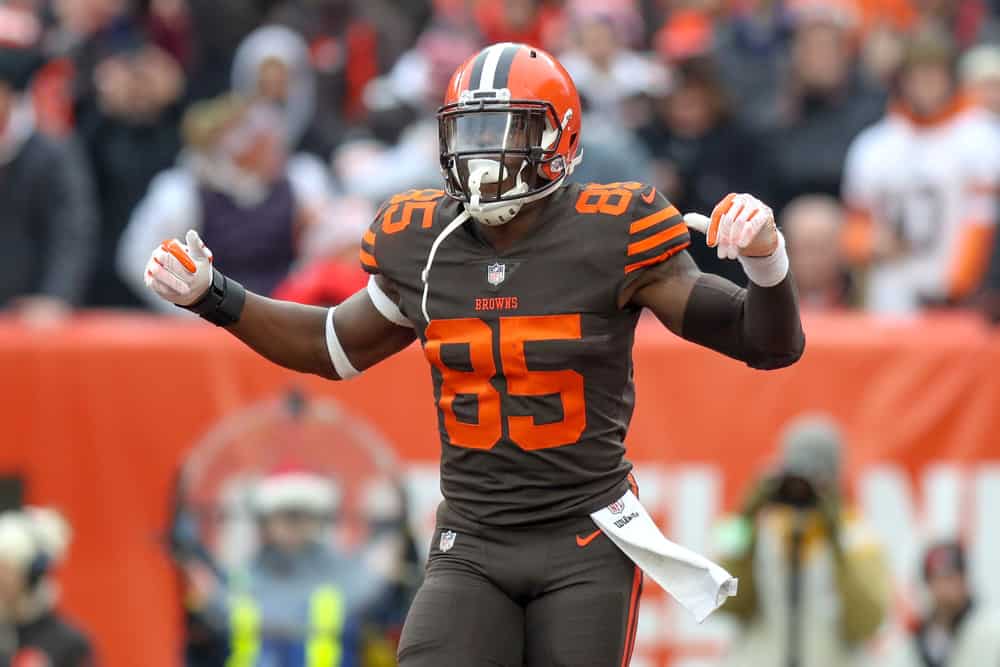 Cleveland Browns tight end David Njoku is having an excellent camp.
We are one year removed from his agent switcheroo that had the airwaves permeated with Drew Rosenhaus demanding a Njoku trade.
Recently, Njoku fired Rosenhaus and went back to his original representation with Malki Kawa of First Round Management.
Welcome home @David_Njoku80 #FRMFam @malkikawa @FirstRoundMgmt pic.twitter.com/Fp0R7FeZYa

— Peter Ariz (@PeterAriz) August 13, 2021
#Browns TE David Njoku no longer represented by agent Drew Rosenhaus, returning to former agent Malki Kawa of First Round Management.

Kawa said "After being told and promised certain things, all of which weren't true, my boy David Njoku decided he has had enough and came home."

— Camryn Justice (@camijustice) August 14, 2021
Browns fans were not sure what to make of this move, if anything.
Now it appears that Njoku sees himself as a Brown for the long haul, not just 2021, the fifth option year of his contract.
#Browns TE David Njoku said today he wants to stay in Cleveland and is instructing his agent to start working on a new deal. Njoku is entering the final year of his rookie contract and recently returned to @malkikawa of @FirstRoundMgmt for representation.

— Ari Meirov (@MySportsUpdate) August 20, 2021
The timing is interesting.
Many thought Njoku would test the free agent waters after the 2021 season so that he could garner top dollar.
Njoku is just the latest of several players expressing a desire to stay in Cleveland for the long term.
Others include Myles Garrett, Nick Chubb, Baker Mayfield, and Denzel Ward.
A refreshing culture change is happening in Cleveland!
About Njoku
Through all of the highs and lows with Njoku in the past year, no one has doubted his ability to play.
He was likely angered in 2020 by the Austin Hooper free agent signing.
There are already murmurs that the Browns may part ways with Hooper sooner rather than later.
Of note, Austin Hooper's salary-cap hit escalates to $13.25 million in 2022. The team can release or trade the TE post-June 1 and save $9.5 million. https://t.co/z3PXujfYG8

— Brent Sobleski (@brentsobleski) August 20, 2021
Assuming that happens for 2022, Njoku could find himself as TE1 with an excellent Browns offense.
Given that he arrived in 2017 and weathered losing seasons in a Browns uniform, he has to be excited about the team's prospects in 2021 and beyond.
He appears to be at peace and a better place this year off-the-field which can only make him more dominant when competing in games.
#Browns David Njoku said he's in a positive mindset this year and is excited about this season. @FredGreetham9 pic.twitter.com/AFdeSpg6ao

— Orange and Brown Rpt (@TheOBR) August 20, 2021
Njoku And Mayfield
David Njoku had a heck of a 1-1 period vs Giants DBs. Two great catches, including an over the shoulders grab vs fellow 2017 1st rounder Jabrill Peppers.

— Andrew Gribble (@Andrew_Gribble) August 19, 2021
Njoku and Mayfield have always had chemistry, and it has been on display more so in this summer's training camp.
Just yesterday, Mayfield and Njoku converted a pass play to burn former Browns teammate Jabrill Peppers during Browns and Giants joint practice.
Njoku is content in Cleveland, and we could not be happier about this.