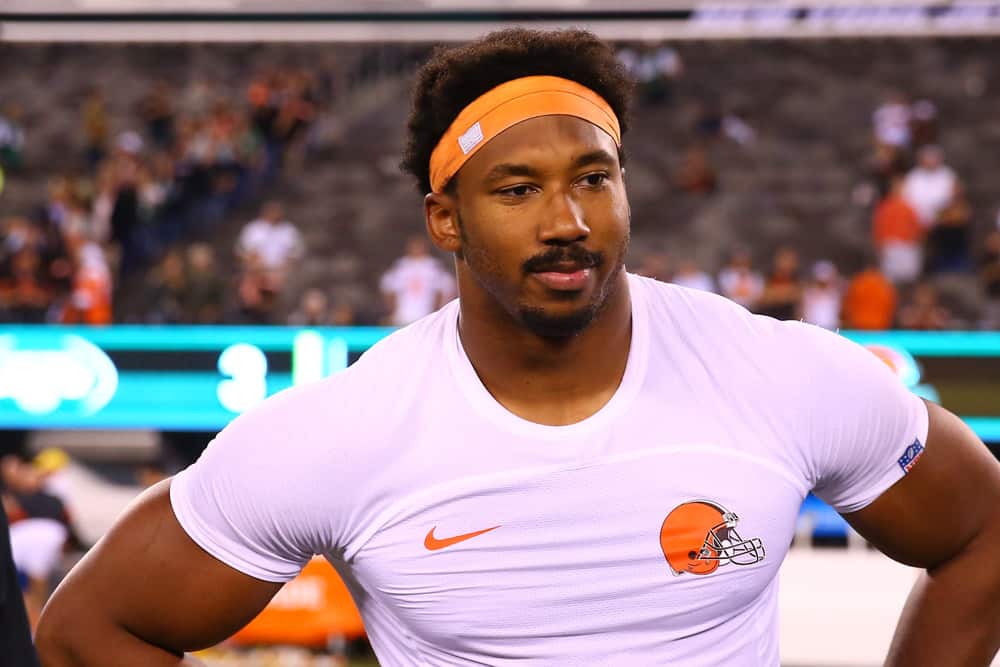 The NFL has officially reinstated Cleveland Browns defensive end Myles Garrett on Wednesday.
The decision comes two days after Garrett met with NFL commissioner Roger Goodell in New York.
"We welcome Myles back to our organization with open arms," Browns general manager Andrew Berry said in a statement on the team's website. "We know he is grateful to be reinstated, eager to put the past behind him and continue to evolve and grow as a leader. We look forward to having his strong positive presence back as a teammate, player and person in our community."
Garrett's reinstatement will allow him to be with the team and participate in offseason workouts, which are scheduled to begin April 6.
Myles Garrett has been reinstated by the NFL and rejoins our active roster

Details » https://t.co/BaoqiJeSU6 pic.twitter.com/8OO3ApUV1R

— Cleveland Browns (@Browns) February 12, 2020
Garrett was officially allowed to return to the Browns training facility near the end of December.
The league suspended Garrett indefinitely on Nov. 15, a day after he got into a brawl with Pittsburgh Steelers quarterback Mason Rudolph.
Near the end of the Nov. 14 Thursday Night Football game between the Browns and Steelers, Garrett swung Rudolph's helmet at the quarterback and hit him in the head.
The Browns defensive end then accused Rudolph of using a racial slur before the fight.
Rudolph denied Garrett's accusation.
Garrett finished the 2019 season with 10 sacks and two forced fumbles in 10 games.
After the NFL rejected Garrett's appeal, the suspension forced him to miss the final six games of the season.
Browns defensive lineman Larry Ogunjobi drew an unsportsmanlike conduct penalty for pushing Rudolph from behind.
The league suspended Ogunjobi for one game and Steelers center Maurkice Pouncey served two games after a successful appeal of his initial three-game suspension.
The NFL disciplined 33 players for their roles in the brawl between the Browns and the Steelers.
Garrett's 30 sacks through three seasons are the most ever by a Browns player during the first three years of their career.