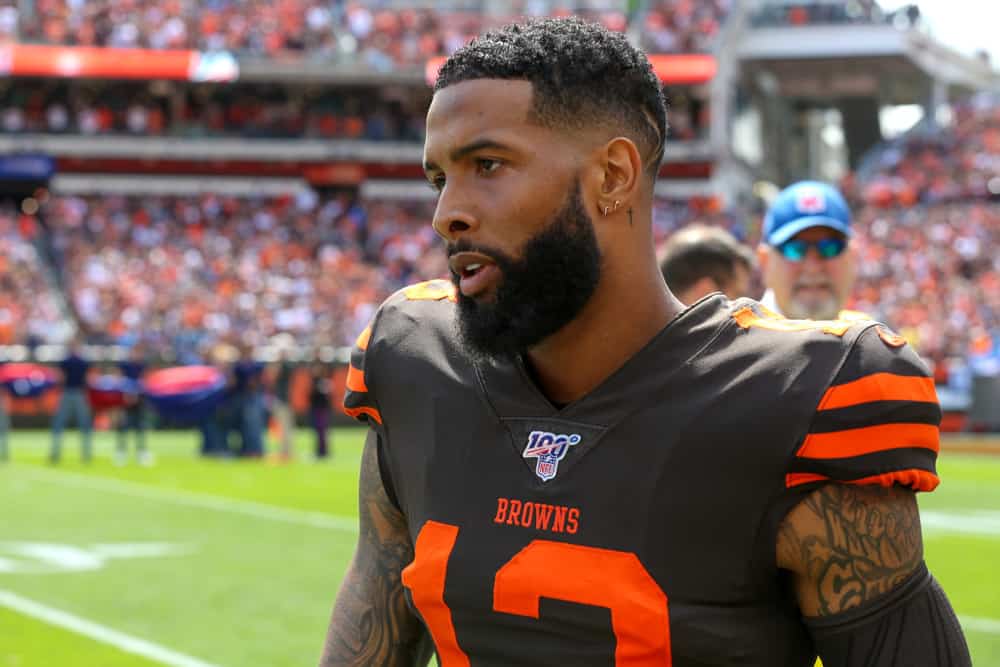 Cleveland Browns wide receiver Odell Beckham Jr. said he almost retired from the NFL after breaking his ankle in 2017 as a member of the New York Giants.
Beckham made the comments during a roundtable discussion called "The Bigger Picture" with New England Patriots quarterback Cam Newton, Atlanta Falcons running back Todd Gurley and former NFL wide receiver Victor Cruz.
"When I broke my ankle, bruh, there was really a point when…I said this in college, I said, 'I fear the day that they make this game a business and not what I love,'" Beckham said. "And when [I've] seen that for the first time after breaking my ankle, like I thought about not playing no more. Like, this is not really it for me because they've ruined the game of football for me a little bit."
Beckham said the support of the fans helped him return to the field.
"When I be on the sideline and that little kid is, 'Do the whip, dance,' like that s–t is what fueled me," Beckham said. "That's what fueled me, and that's what [makes] me now like…hopefully, they give me some more time because I'm coming back from serious injuries. Like, I'm trying to get fully healthy."
Beckham had core muscle surgery in January to repair a nagging injury, which contributed to a slip in his production last season.
In 2019, Beckham played in all 16 games, catching 74 passes on 133 targets for 1,035 yards and four touchdowns.
Browns head coach Kevin Stefanski said in June that Beckham is "free and clear" and "100%" ready for training camp, which is scheduled to start July 28.

Dealing with criticism
Beckham admitted the challenges of dealing with media criticism too.
"I feel that God's purpose for me was so much bigger than myself," Beckham said. "When they took my authenticity and f—-d me over with it, I couldn't deal with that.

"I'm giving you real insight, yet I'm seeing the articles and you're s——g on me, it [makes] me not want to be that, so I ran into bigger problems with the f—–g world than myself and then I struggled to deal with that. Depression, mental health issues, being in New York, not really liking it."
Beckham also said he struggled with back-to-back 6-10 seasons during his first two years with the Giants in 2014 and 2015.
"When I first got to the league, that was a major adjustment for me," Beckham said. "I couldn't deal with that, so you see the outlash on the field because I'm competitive."
Even at age 27 and entering his seventh season in the NFL, the criticism of Beckham is — at times — warranted.
After the College Football Playoff title game in January, Beckham was seen on the field handing wads of cash to LSU players.
Also, a security officer decided not to press charges against OBJ after he slapped the officer in the butt.

Working out with Cam Newton
Beckham and Newton have worked out together this offseason.
"When he knows somebody lookin' at him, that's when he kind of charge up," Newton said of Beckham. "Now we're really getting into the rhythm of things, and I'm like, he's feeding off the energy of people. You can't teach that."
OBJ has denied rumors the Browns would trade him to the Patriots, stating he has "unfinished business" in Cleveland.
U can find me in The LAND homie! We got unfinished business https://t.co/sqnWRGwLGT

— Odell Beckham Jr (@obj) June 29, 2020
Newton recalled one offseason workout with Beckham when the two had already run 75 passing routes together.
"I hit 75 and I'm like, 'Bro, okay, I'm done.' Cool," Newton said. "What O do? He [doesn't] take his shoelaces off, he [goes] all the way down on the other field where UCLA [is] working out and I see him coaching up…like, he has this kinetic personality, bruh that…Like, they want to hate you for that, but I'm like, 'this dude [is] genuine, dog.'"
"The Bigger Picture" allowed Beckham and company to discuss several topics, including the COVID-19 pandemic, Black Lives Matter movement and what the NFL should consider as it pertains to these issues. The conversation was filmed at 40Love in West Hollywood.