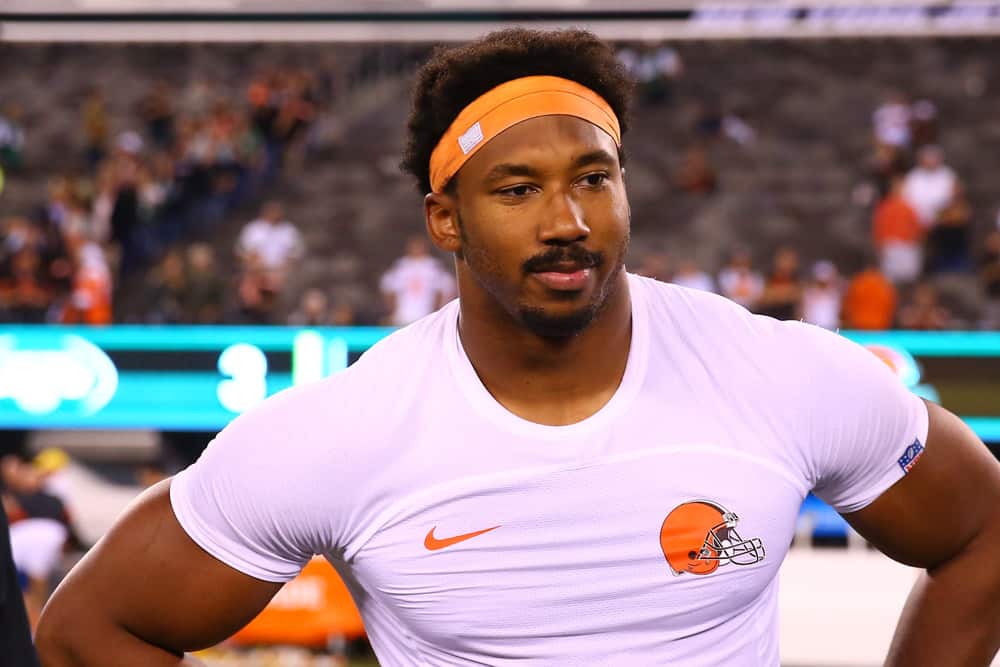 Roger Goodell and the NFL threw the book at Myles Garrett after last November's ugly incident.
The league suspended Garrett indefinitely on top of a $45,623 fine.
Myles Garrett has been suspended indefinitely by the NFL. What are your thoughts on the punishment?#mylesgarrett #helmet #nfl #football #ThursdayNightFootball #brawl #masonrudolph #browns #steelers #Suspension pic.twitter.com/7MKXpYzB8h

— Auction of Champions (@AuctionofChamps) November 15, 2019
There was a stipulation that the suspension lasts at least six games.
Garrett missed the Cleveland Browns' last six games of the 2019 season.
That means he can appeal for reinstatement at any time.
Goodell told Cleveland.com that he will meet with Garrett in the next 60 days.
#NFL Commissioner Roger Goodell tells clevelanddotcom he plans to meet w/#Browns Myles Garrett w/in next 60 days about reinstatement from indefinite suspension; Wouldn't characterize, but ban will likely be lifted then https://t.co/Upqyev5tUn

— Mary Kay Cabot (@MaryKayCabot) January 29, 2020
That timeline is important.
It allows Garrett to attend the first offseason sessions scheduled by Kevin Stefanski.
Cleveland's sessions start two weeks earlier than teams without a rookie head coach.
Although they are voluntary, Stefanski hopes every player will attend.
Record-Setting Punishment
Toward the end of the Browns 21-7 victory over the Steelers on November 14, all heck broke loose.
#Steelers vs #Browns became a street fight fast… WOW!!! The helmet is a weapon…
But Mason Rudolph definitely is at fault as well. pic.twitter.com/hdFpq7NjsV

— Ron Johnson (@3RonJohnson) November 15, 2019
Steelers quarterback Mason Rudolph took exception to Garrett's takedown after the throw.
Garrett took exception to Rudolph's reaction, which included an attempt to remove Garrett's helmet.
The melee that ensued saw Garrett land a direct blow to the head of Rudolph with his own helmet.
Pittsburgh's Maurkice Pouncey kicked Garrett repeatedly in response.
Defensive lineman Larry Ogunjobi drew an unsportsmanlike conduct penalty for pushing Rudolph from behind.
Ogunjobi was suspended one game and Pouncey served two games after successfully appealing a third.
Garrett's appeal was rejected by an independent appeals officer.
There were multiple individuals fined for their part in the melee.
In all, 33 players from Browns and Steelers were disciplined, including indefinite suspension of Myles Garrett (upheld upon appeal), per source.

There were $732,422 in total fines, including $250,000 fines to each organization.

— Adam Schefter (@AdamSchefter) November 23, 2019
The NFL cited each team as responsible for their players, fining each organization $250,000.
Goodell believes it was the most fines and penalties to result from one incident in NFL history.
Can Fans Expect Garrett to be Re-instated? 
An un-named league official says he expects Garrett to return for the beginning of the 2020 season.
There are several factors working in Garrett's favor.
The main consideration for reinstatement is usually a player's behavior pre- and post-incident.
Garrett has no prior suspensions or fines for fighting or unsportsmanlike conduct.
He does not have a reputation for dirty play or fighting.
Garrett maintained a low profile since his appeal.
He issued an apology to Mason Rudolph, the Steelers, Browns, and their fans.
Garrett took part in several Cleveland area fundraisers and charity events.
ICYMI: #Browns Myles Garrett, in his 1st public appearance since the suspension, fulfills a commitment to feed the needy: 'You have ups and downs in your life and right now I'm giving back' https://t.co/C6gtFJ1elE

— Mary Kay Cabot (@MaryKayCabot) November 27, 2019
In the rare moments he discusses the suspension, he contritely accepts responsibility for his role.
"We are all responsible for our actions and I can only prove my true character with my actions going forward," said Garrett.
He claims to have learned from his mistake.
Why Would Garrett's Reinstatement be Delayed? 
There is a faction of NFL players and fans who want to see Garrett punished more severely.
For the most part, they say there was never such a severe act of aggression in the NFL.
They used words like "assault" and say it was just luck that Rudolph was not seriously hurt or even killed.
One can argue the situation could have ended much worse than it did.
Cleveland Brown star Myles Garrett has been suspended indefinitely by the NFL for ripping off Pittsburgh Steelers quarterback Mason Rudolph's helmet and striking him on the head https://t.co/ODTDKnNBUB pic.twitter.com/cekrU2e5hA

— CBS News (@CBSNews) November 16, 2019
But this was not the first time someone used a helmet as a weapon in  NFL history.
That's why throwing and swinging helmets are specifically addressed in the NFL rulebook.
Rule 12, Article 17 is titled, "Use of Helmet as a Weapon".
It mandates a 15-yard penalty and disqualification.
What to Expect
Given what could have transpired, Garrett is fortunate Rudolph was not injured.
But his was not the only incident of an NFL player using his helmet as a weapon in 2019.
Raiders' Nevin Lawson suspended one game for using helmet as weapon https://t.co/qWFeQwKAhR https://t.co/46OmgDDtVr #newmusic #newhiphop pic.twitter.com/Qu1vgC0Xjk

— Kenny Wade (@KennyWadeMusic) January 4, 2020
Nevin Lawson of the Oakland Raiders swung a helmet at another player at the end of his team's final game.
The Oakland defensive back was handed a one-game suspension to be served in 2020.
This does not indicate the NFL will try to make a bigger example of Garrett.
Garrett's demeanor and actions since November do not point to future concerns.
There is little reason for Goodell to deny his reinstatement.
Kevin Stefanski will likely have his star defensive end back when the team comes together in April.