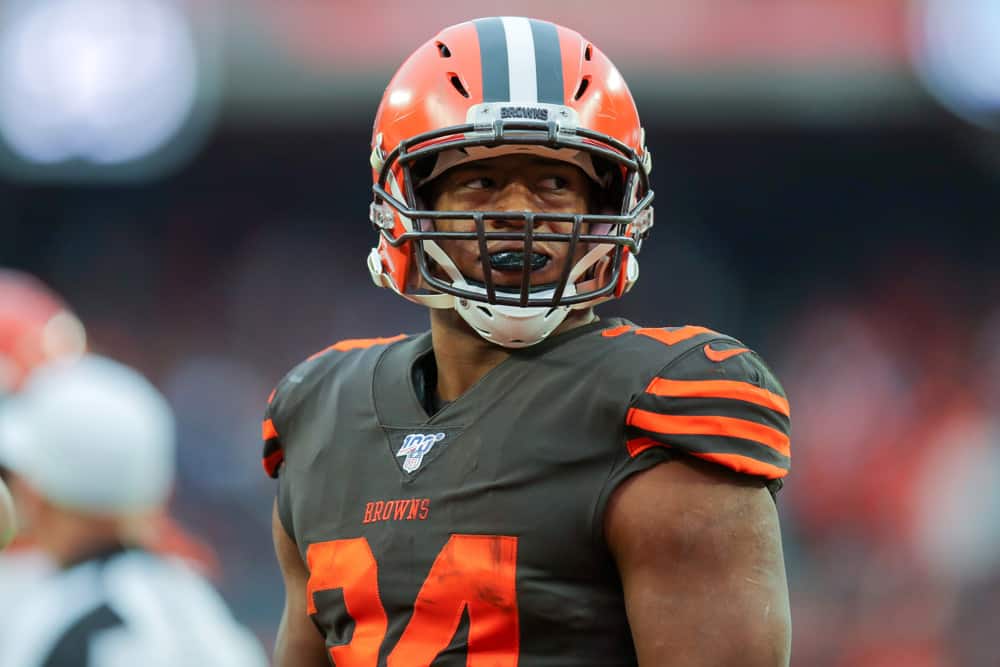 The Cleveland Browns have lost some significant contributors due to injuries in the first half of the season.
Thus far, the Browns have lost Odell Beckham, Nick Chubb, Greedy Williams, and Grant Delpit to injuries during the first eight games.
Luckily, Cleveland is hopeful to get Chubb back following their Week 9 bye week.
Speaking of the #Browns, star RB Nick Chubb, out more than a month with an MCL sprain, is expected back at practice this week and the team is hopeful that he'll play Sunday, source said. That would help an already stout run game.

— Ian Rapoport (@RapSheet) November 8, 2020
The 24-year-old back has missed each of the last four games due to an MCL sprain.
The good news is, Chubb is getting healthy and should be ready to play the Houston Texans following the bye week.
Getting Chubb Back
Finally, the Browns are getting some good news on the injury front after OBJ recently went down for the rest of the 2020 season.
Chubb was destroying opposing defenses before he injured his knee during the victory over the Dallas Cowboys.
Through four games, Chubb posted 335 yards on 57 attempts with four touchdowns this season.
He recorded two 100-yard or more rushing performances during his first four games of the year.
Getting Chubb back on the field is going to be a huge boost to this Cleveland offense.
They desperately need a big-time playmaker on the field with Beckham sidelined.
Luckily, Chubb isn't the only player that is expected to return after the bye week.
Cleveland is hopeful they will also get tight end Austin Hooper and right guard Wyatt Teller back on the field soon.
#Browns are 5-3 going into the bye week. Some key players possibly returning from injury in Week 10:

🔹Nick Chubb
🔹Austin Hooper
🔹Wyatt Teller

With the trade deadline in 2 days, there could be some new faces in Cleveland Week 10. 👀#NFL pic.twitter.com/mPhG3gdLXk

— The Hottest Take Sports Podcast (@Hottest_TakePod) November 1, 2020
There is no promises that Chubb will be out on the field versus the Texans.
However, the fact he is returning to practice is a great step in the right direction.
Kareem Hunt filled in nicely for Chubb during his four-game absence.
Although, it's almost impossible to replace the kind of impact that Chubb brings to the field.
Having both Chubb and Hunt healthy in the backfield will give Cleveland a significant boost in the second half of the season.