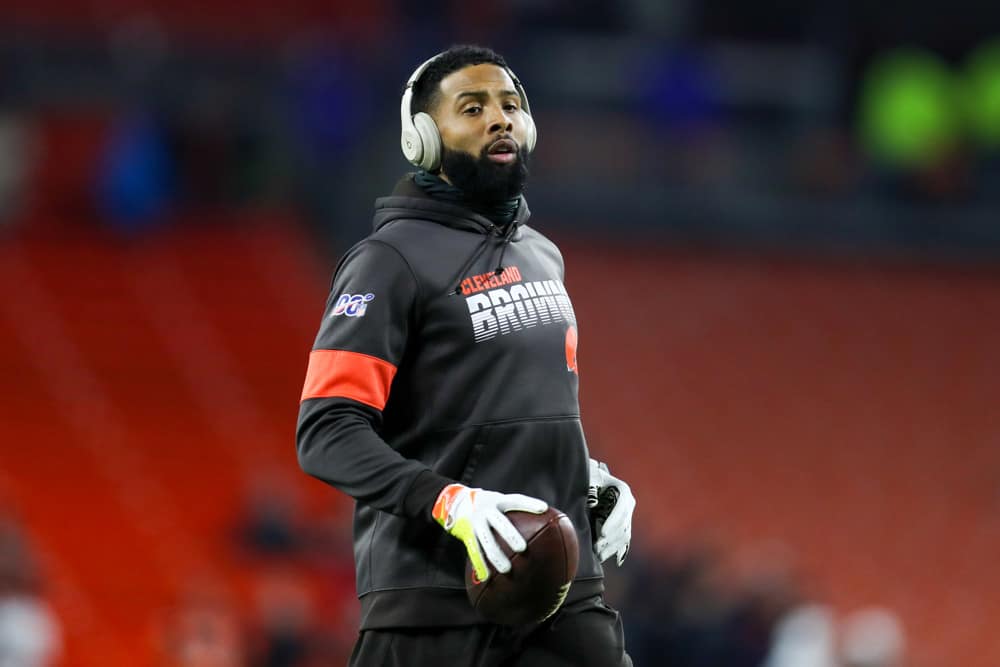 The NFL trade deadline passed on Tuesday afternoon and Cleveland Browns wide receiver Odell Beckham Jr. is still on the team for now.
On Wednesday morning, a group of panelists on ESPN's "Get Up" discussed Beckham's future with the Browns.
The discussion came after a series of social media posts from LeBron James and Beckham's father advocating for the Browns to release or trade the three-time Pro Bowl receiver.
ESPN analyst and former NFL quarterback Robert Griffin III said he believes the Beckham himself is not hurting the Browns.
"Odell Beckham Jr., he's not hurting this Cleveland Browns team, but they are hurting him," Griffin said. "They're hurting his legacy, his reputation."
ESPN's Josina Anderson reported the Browns excused Beckham from practice on Wednesday, citing an unnamed source.
Anderson tweeted that Beckham had been ready to practice.
Beckham's future with the team is unclear heading into Week 9 against the Cincinnati Bengals.
I'm told #Browns WR Odell Beckham Jr. has been told he's excused from practice today, per league source. Additionally, it is my understanding that OBJ was ready to attend practice per usual.

— IG: JosinaAnderson (@JosinaAnderson) November 3, 2021
Since joining the Browns in 2019, Beckham has averaged 54.7 receiving yards per game and caught 54.3% of his targets.
While playing for the Giants from 2014-2018, Beckham averaged 92.8 receiving yards per game and caught 62.7% of his targets.
Since 2019, Browns quarterback Baker Mayfield has a 69.0 passer rating when targeting Beckham, which is the lowest figure of any NFL quarterback and receiver with more than 100 passing attempts in that span.
In the 2021 season, Mayfield has a 77.8 passer rating when targeting Beckham and a 98.9 passer rating targeting anyone else.
Beckham has had several different injuries, which includes an ankle injury while he was a member of the Giants, playing through a core muscle injury in the 2019 season and tearing his ACL in 2020.
"People (are) out there disrespecting him, saying, 'He can't play anymore. He can't catch it just because of some of they injuries that he's had and some of the drops,'" Griffin said. "But, when you look at Odell Beckham Jr., him and Baker can't even make cereal together alright because they can't decide what milk to use.

"Is it 2%? Whole milk? Maybe we use a little goat milk or maybe we'll just go with kefir. These two guys are not on the same page. They don't mix. They don't mix well together."
Griffin said he's seen Beckham get open based on game film he's watched.
On Tuesday, OBJ's dad posted an 11-minute, 18-second YouTube video to Instagram entitled "Odell Beckham is Always Open for the Cleveland Browns in 2021."
"(Beckham) and Baker aren't on the same page, and it's also this offensive scheme," Griffin said. "This scheme is not built to have a primary receiver."
Beckham is due to make $15.75 million in the 2021 season.
The Browns have Beckham is due to make $15 million per year in 2022 and 2023.
"When you pay him that much money, he has to be the guy you're trying to get the ball to four or five times in the first 15 plays, and that's just not what they're doing with him," Griffin said.
On Tuesday, a report surfaced the Browns nearly traded Beckham to the New Orleans Saints.
ESPN's Kimberley A. Martin reported the Browns and Saints couldn't agree on a deal, given how much Beckham is owed the rest of the year.