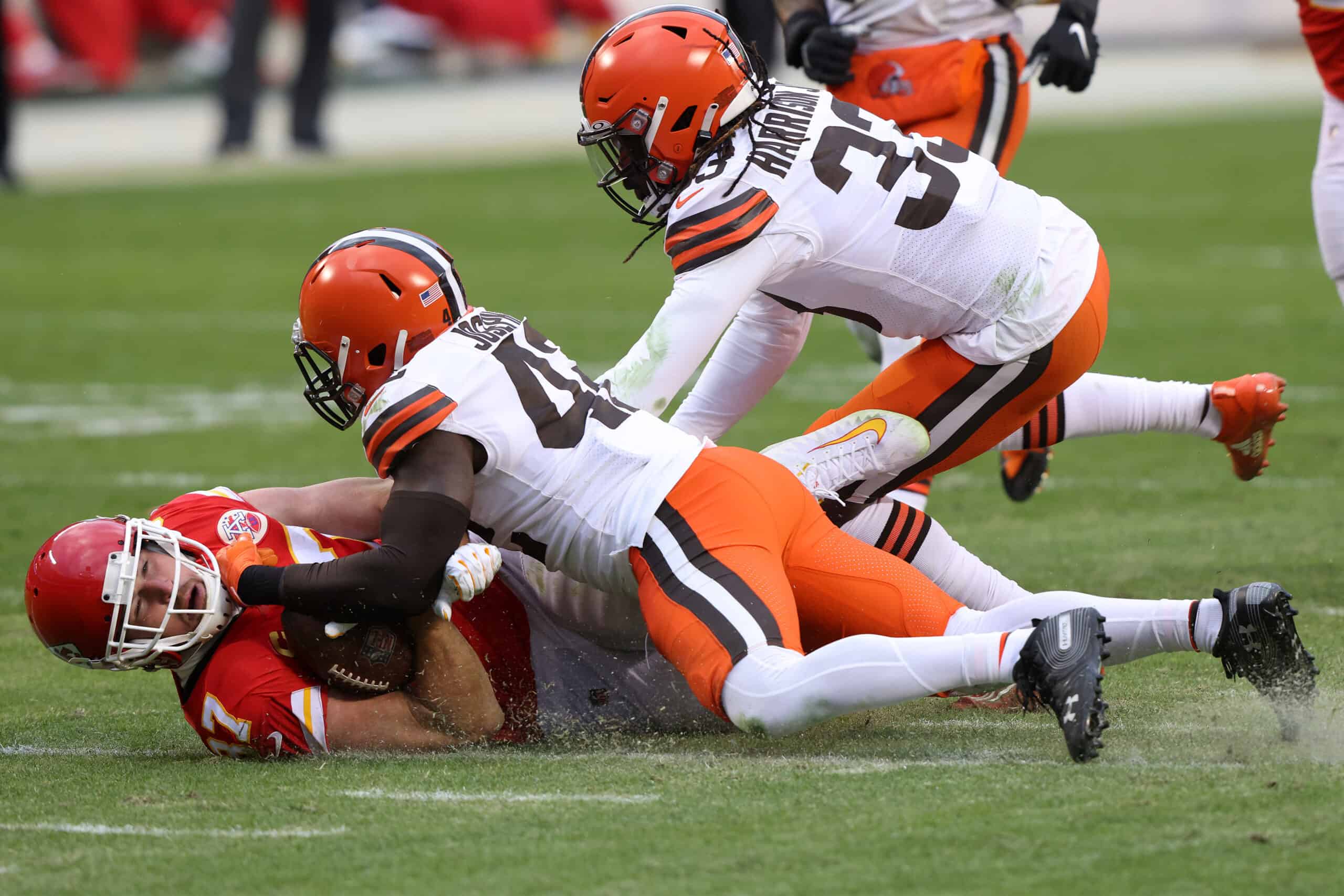 Earlier in the week, the NFL indicated that no suspensions would be handed out as a result of the altercation in the Cleveland Browns game against the Kansas City Chiefs, but fines were still possible.
Of course, this is related to the incident that caused Ronnie Harrison to be ejected from the game.
Saturday, the league followed up by issuing a fine to Harrison in the amount of $12,128.
The NFL fined #Browns safety Ronnie Harrison $12,128 for last week's shoving match with #Chiefs RBs coach Greg Lewis, who wasn't fined by the league but received a warning that any subsequent violations will result in discipline, according to team and league sources.

— Tom Pelissero (@TomPelissero) September 18, 2021
If you are wondering if Greg Lewis, the Chiefs running back coach also involved in the incident, received a fine also, the answer is no.
Seems the NFL left him off with just a warning.
Though he shoved Harrison to initiate the exchange, he was not fined or ejected from the game; only Harrison was penalized in these ways.
What Does It Mean
It does not send a good message.
Harrison was wrong to push Lewis, and he is paying the price literally.
Lewis should also be penalized; many believe this to be true including NFL PA President, Browns center JC Tretter.
Tretter said the coaches should be held to the same or higher standard and be penalized accordingly.
#Browns JC Tretter said that Ronnie Harrison shouldn't have pushed the Chiefs RB coach Greg Lewis, but that Lewis was wrong too.

"We can't have opposing coaches put their hands on opposing players."

Said Lewis should be held to the same standard as Harrison, if not higher.

— Camryn Justice (@camijustice) September 13, 2021
Myles Garrett thought Lewis should have been ejected from the game also.
#Browns DE Myles Garrett said #Chiefs assistant coach should have been ejected like Ronnie Harrison Jr. was

— Nate Ulrich (@ByNateUlrich) September 13, 2021
No one really knows how the NFL decides upon fines and punishments; it is almost as though the league acts as its own judge and jury.
Game film showing the incident is definitely used, but beyond that, it is not clear if interviews and other data gathering methods are used to get first hand information.
Coach Stefanski's Reaction To The Incident
Stefanski pointed out the obvious.
The second guy is usually the fall guy in these encounters.
 "I talked to Ronnie. It's the oldest thing in football, in sport – the game officials always see the second guy, and Ronnie's got to show some poise there and not retaliate."
#Browns HC Kevin Stefanski said NFL sent a memo this week reminding coaches to conduct themselves properly on sideline. This came on heels of Ronnie Harrison Jr.'s altercation with #Chiefs running backs coach Greg Lewis.

— Nate Ulrich (@ByNateUlrich) September 17, 2021
Stefanski said that the NFL did send out a communication regarding the behavior of coaches and staff members; it reminded them to conduct themselves accordingly.
#Browns Kevin Stefanski said a memo went out to the league reminding staff members of how to properly conduct themselves following the shoving incident with Ronnie Harrison and Chiefs RBs coach Greg Lewis.

— Camryn Justice (@camijustice) September 17, 2021
The Browns must move on and focus on Week 2 and the Texans; kick-off is at 1:00 PM EDT Sunday afternoon.