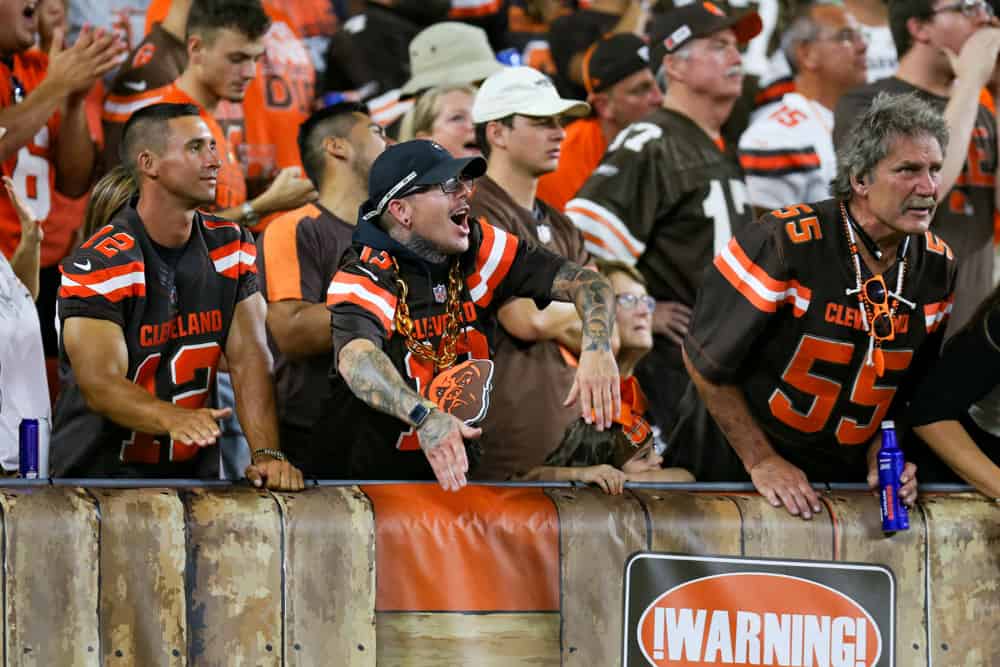 If you are lucky enough to be going to FirstEnergy Stadium tomorrow to watch the Cleveland Browns 2021 home opener against the Houston Texans, I hope you have plans to park elsewhere besides the infamous "Muni Lot."
Because parking at Muni Lot for tomorrow's game requires you to be in a traffic jam about 2.5 miles long on Saturday night to hopefully get in there at 7 AM Sunday morning when it opens.
If you do not believe me, see for yourself.
Check out these incredible videos.
THIS IS 2.5 MILES AWAY FROM THE BROWNS STADIUM. THE GAME IS TOMORROW. pic.twitter.com/yVcSuo0cgj

— The Kennel (@FootballKennel) September 19, 2021
WOW! Browns fans are lined up in DROVES to enter the Muni Lot tomorrow morning at 7 a.m. At least 70 vehicles with fans sleeping in them overnight. #Browns pic.twitter.com/03ILFMEqQq

— clevelanddotcom (@clevelanddotcom) September 19, 2021
What This Means
The Browns fan base is extremely loyal.
There have been more bad years than good years for this franchise.
In a strange twist of fate, one of the finest years in the franchise's history happened at the exact same time as a worldwide pandemic which prohibited the large gathering of crowds.
With (hopefully) the pandemic in a manageable state, fans can once again fill FirstEnergy Stadium and watch an exciting Browns team with the best coach in the game, reigning NFL Coach of the Year, Kevin Stefanski.
Tomorrow's big tailgate party clearly necessitates a preparty.
Browns Fans might be the only Fans who have a Tailgate Party for the Tailgate Party.

The Browns fans are the best fans that I have ever seen.#Browns #NFL #Cleveland pic.twitter.com/LAdruIHu0Y

— Nacho Donut (@NachoDonut) September 19, 2021
Speaking Of Coach Stefanski
Planning and discipline are his mainstays so it is not surprising that Stefanski has instructions for the fans who will be in FirstEnergy Stadium tomorrow.
Ironically, he calls out the fans that will be in Muni Lot when he gives the marching orders.
Kevin Stefanski has a message for Browns fans: Be in your seats for kickoff, be loud when the Browns are on defense and silent when they're on offense. #Browns pic.twitter.com/FfVHsbzCfJ

— clevelanddotcom (@clevelanddotcom) September 17, 2021
Coach Stefanski wants fans to be in their seats for kickoff, to break the sound barrier when the Texans are on offense, and to be as silent as church mice when the Browns are on offense.
Let's hope all of this pregame excitement is equal to an excellent home opener resulting in a big Browns win on Sunday.
For those of us not lucky enough to be at FirstEnergy Stadium tomorrow for the game, be sure to tune in at 1:00 PM EDT for kickoff.