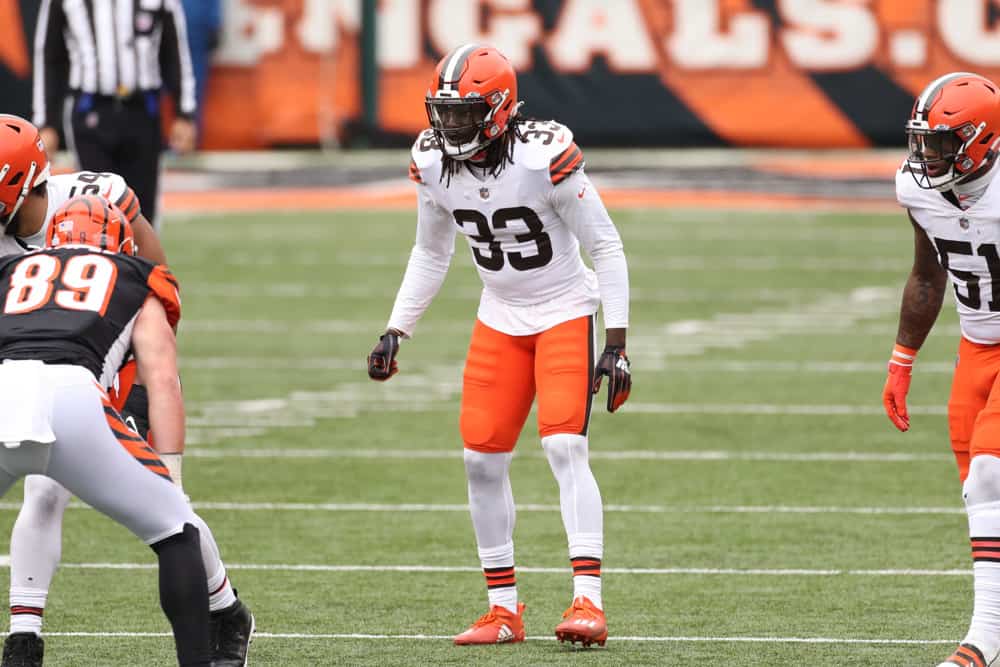 Cleveland Browns safety Ronnie Harrison won't play in Sunday's playoff game against the Pittsburgh Steelers after testing positive for COVID-19.
Harrison, 23, was set to play in his first career playoff game.
On Thursday, the Browns activated safety Andrew Sendejo from their reserve/COVID-19 list.
Sendejo did not play in Week 17 against the Steelers.
The Browns also put linebacker Montrel Meander on their practice squad/COVID-19 list.
We've made the following roster moves:

Activated from Reserve/COVID-19:
S Andrew Sendejo

Placed on Reserve/COVID-19:
S Ronnie Harrison Jr.

Placed on Practice Squad/COVID-19:
LB Montrel Meander

— Cleveland Browns (@Browns) January 7, 2021
As of Thursday afternoon, the Browns have 14 people isolating, which includes eight players and six coaches.
Harrison is among several other Browns players are also on the Browns' reserve/COVID-19 list, including guard Joel Bitonio, tight end Harrison Bryant, wide receiver KhaDarel Hodge, cornerback Kevin Johnson, linebacker Malcolm Smith and cornerback Denzel Ward.
The NFL mandates at least a 10-day isolation period for anyone who tests positive for COVID-19.
It means Harrison might also have to miss the Browns' next playoff game if they beat the Steelers.
Harrison played all 67 defensive snaps in the regular-season finale against the Steelers.
Sendejo isn't the only player due back for the Browns in Sunday night's playoff game against the Steelers.
Earlier this week, the Browns activated linebacker B.J. Goodson and safety Elijah Benton from their COVID-19/reserve list.
A shoulder injury prompted Harrison to miss the previous four games.
For the playoff game against the Steelers, the Browns are also without head coach Kevin Stefanski, tight ends coach Drew Petzig, defensive backs coach Jeff Howard, Bitonio and Hodge because of their positive tests.
"Coach Stefanski talks about it all the time, we gotta hit the curveball, and we've been thrown another one," wide receiver Jarvis Landry said of the Browns who are out against the Steelers. "In the last couple weeks, it's just been tough for us, but at the end of the day, we just have to answer the call each and every time, and roll with it, hit the curveball and guys are going to have to step up. It is what it is."
The Browns have yet to practice this week because their facility has been closed due to the team's COVID-19 outbreak.
"We gotta make the most out of the Zoom meetings, the walk-throughs that we're doing out of the time that we have to go over all the details," Landry said. "Be able to go outside, stretch, do anything that you can at your home or [with] what you have to be able to try to get ready for this game because this game is happening, obviously, despite what we're going through as a team.

"I don't think the league looks at it like a disadvantage or anything like that, so I think for us, we just gotta continue to prepare and get ready to play the game."
On Thursday, Harrison posted two tweets with several emojis, including a facepalm, a crying face and a heartbreak.
Harrison's Browns and college teammate Mack Wilson also posted a facepalm emoji.
In 11 games played, Harrison has 38 total tackles, seven pass deflections, one interception, one defensive touchdown, one fumble recovery and one sack.
In September 2020, the Browns acquired Harrison in a trade with the Jacksonville Jaguars in exchange for a 2021 fith-round pick.
💔💔💔

— Ronnie Harrison II (@Rharr_15) January 7, 2021
🤦🏿‍♂️😭😭😭😭😭😭😭

— Ronnie Harrison II (@Rharr_15) January 7, 2021
🤦🏾‍♂️

— Mack Wilson (@5mackwilson1) January 7, 2021