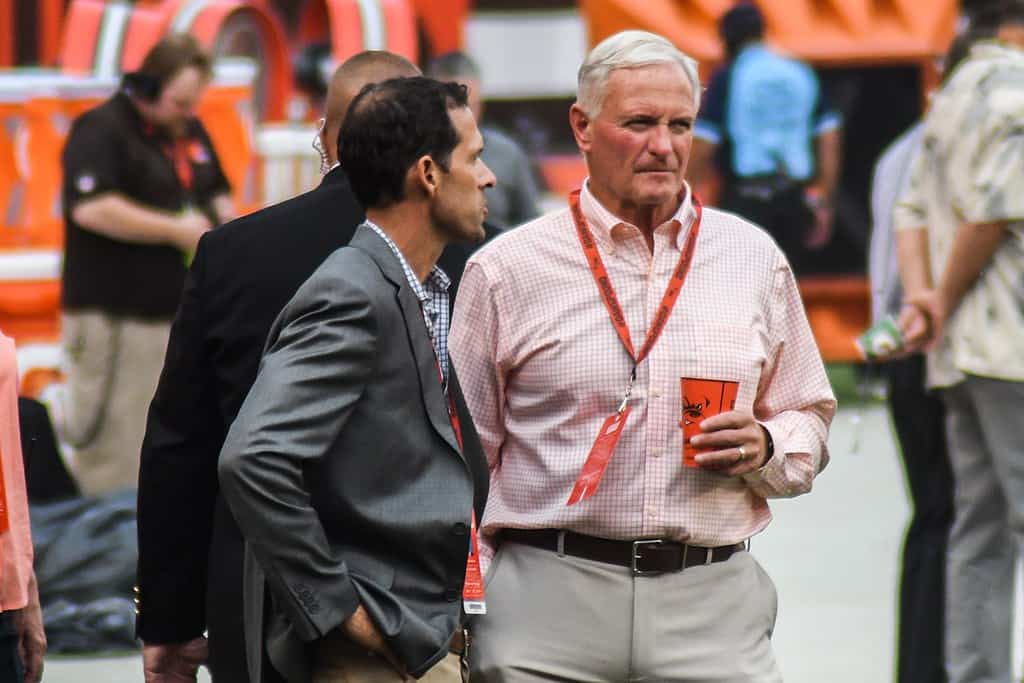 Jimmy Haslam has his dream team of aligned, single-visioned, analytics mavens set up in Berea.
Paul DePodesta, Andrew Berry, and Kevin Stefanski seem legitimately enthusiastic about their team.
Each of them boasts an Ivy League background in economics.
Berry tacked on a Masters Degree in computer science.
There is little doubt Haslam has some smart folks in the front office.
New #Browns trio of Paul DePodesta, Andrew Berry & Kevin Stefanski are either going to sink or swim together. Key word, together, or as Jimmy Haslam would call it, aligned.

— Daryl Ruiter (@RuiterWrongFAN) January 27, 2020
Each was hired for their understanding and utilization of advanced analytics.
One of the first things Berry, the new general manager, did was fire the "football guys" in the office.
But even the NFL teams with most advanced analytics departments retain old school football scouts.
Eliot Wolf and Alonzo Highsmith are two of the most respected scouting executives in the NFL.
They brought a lot to the table.
But Jimmy Haslam's and DePodesta's vision of analytics won out in Cleveland.
Should fans believe in the Cleveland Browns' Ivy League front office?
The first move of the DePodesta-Berry-Stefanski Era in Cleveland is the signing of a fullback. They certainly know how to make an entrance in this town. #Browns

— Hayden Grove (@H_Grove) January 28, 2020
Or are they doomed to start another cycle of frustration and fruitless optimism?
Should Browns Fans Believe in Analytics?
Analytics is riding a wave of acceptance throughout the NFL.
Super Bowl LIV features teams with two of the most advanced Analytics Departments.
It isn't a coincidence the #49ers and #Chiefs will meet in the #SuperBowl, after all, they're two of #NFL's most analytics driven operations.

As for the #Giants?
"If you get in the mindset where you don't value analytics, it'll cost you." – Brett Veach https://t.co/bjSZFviJ9m

— Matt Lombardo (@MattLombardoNFL) January 30, 2020
Kansas City accepted the analytics that says passing moves the pigskin more efficiently than running.
San Francisco runs as much as anybody but uses more pre-snap motion than any other team.
Analytics shows their shifts leave opposing defenses compromised to defend the run game.
Baltimore used a similar tactic this year.
Anti-analytics people pointed to the Ravens' first-round playoff loss as proof analytics isn't as advertised.
Ravens losing to the Titans gonna set NFL analytics back 10 years and frankly I am here for it

— Pete (@draftcheat) January 12, 2020
The Tennessee Titans ran the ball more traditionally with great effect.
Tennessee also stopped a pair of fourth-down attempts by Baltimore.
Fourth down attempts are rising in popularity because of analytics.
The Philadelphia Eagles credited analytics with prompting their aggressiveness on fourth down in 2017.
It helped them win a Super Bowl.
Eagles & Pats also used analytics. That means the last 4 SB winners have been on the cutting edge

— Philip Patton (@PhilPattonNFL) January 29, 2020
Tennessee's victory over the Ravens was simply a reminder that analytics deals with probability, not certainty.
Kansas City beat the Titans convincingly the following week.
A successful fourth-down conversion led to one of the Chiefs' touchdowns.
Should Browns Fans Fear Another 1-31?
This isn't Andrew Berry's first time in Cleveland.
Browns' fans remember Berry was part of the Sashi Brown experiment.
DePodesta was part of Haslam's first go-round with analytics, too.
But so was Hue Jackson.
Good morning. The primary reason #Browns went *1-31* over those two years is because Hue Jackson was the worst coach ever and there was soooooooo much other nonsense going on. Stop using that record to slander Andrew Berry.

— Chris Fedor (@ChrisFedor) January 29, 2020
There was a reason DePodesta and Berry wanted Haslam to hire Sean McDermott.
Jackson was skeptical of analytics and a little paranoid about the command structure.
Sports Illustrated published a great article this week by Pete Smith.
It details the 2016-17 draft picks with explanations of the decision-making process.
In short, Smith shows the analytics guys hit on half of their draft picks.
But there were other picks made to soothe the ego of Hue Jackson.
Hue Jackson's revisionist history – "I wanted to draft Carson Wentz, Patrick Mahomes, and Deshaun Watson"

Hue Jackson's reality – I tried to trade a 2nd and 3rd round draft pick for AJ McCarron

— Big Cat (@BarstoolBigCat) November 2, 2018
None of those picks panned out, although Shon Alexander might give Jackson a win.
Sashi Brown and Berry accumulated a mountain of draft picks to accelerate the Browns' rebuild.
John Dorsey brought in some talent, but he wasted a lot of picks, too.
DePodesta also masterminded the purchase of a top draft pick, disguised as a trade for Brock Osweiler.
The Browns' Brock Osweiler trade was pure Moneyball. @AlbertBreer on Sashi Brown, Paul DePodesta and a new NFL erahttps://t.co/6TrJxVRY3T pic.twitter.com/KpcRjwIATw

— The MMQB (@theMMQB) March 9, 2017
It is regarded as one of the most innovative trade and contract moves in recent years.
Should Fans Believe the Analytics Guys Know Enough About Football?
Head coach Kevin Stefanski is expected to turn analytics into competent football on the field.
His 14 years of coaching experience in Minnesota proves he is more than an analytics guy.
Stefanski immediately noted the mismatch of Freddie Kitchens' play calls versus Baker Mayfield's strengths.
His work with the Vikings' offensive line shows how he uses analytics to adjust styles and trends.
But it is unclear how much input Stefanski will have in the draft.
That will fall mainly to Andrew Berry.
Andrew Berry was a 4-year starting cornerback at Harvard & made All-Ivy League 3 times.

Kevin Stefanski was a 2-time All-Ivy League DB at Penn.

Paul DePodesta played WR at Harvard.#sissies#neverputonpadshttps://t.co/OJUQuYRr8e

— Evan Silva (@evansilva) January 27, 2020
Indianapolis hired Berry almost directly out of college to join their scouting department.
Colts legend Bill Polian calls him one of the smartest guys in football.
Quote from Pro Football Hall of Famer Bill Polian on Andrew Berry

"Andrew Berry is one of the brightest young men we ever had the pleasure of working with. He came to us very early in his career and very soon we realized he was on a fast track. 1/2

— Positive Browns Fan (@Brownsfever1) January 23, 2020
Berry played defensive back for the Harvard football team.
He even got a look as an undrafted free agent from the Eagles.
He brings seven years of scouting experience and four more of front office work to the Browns.
Berry knows football.
But why is DePodesta such a big part of things?
Should Fans Trust DePodesta?
Everyone knows how Paul DePodesta helped Brad Pitt win a lot of baseball games.
Browns just hired Jonah Hill from Moneyball. Seriously. #SoBrowns pic.twitter.com/SOmlTa6OJy

— Sports on Earth (@SportsonEarth) January 5, 2016
Well, actually DePodesta did not want the directors to use his real name or likeness in the film, Moneyball.
That movie used some artistic license that led to misconceptions about DePodesta.
For one, DePodesta was more than a baseball guy.
He played both baseball and football at Harvard.
Football was the sport he dreamed of playing professionally.
DePodesta's first job was an internship with the Baltimore Stallions of the Canadian Football League.
Depodesta is a football guy. Berry is a football guy. Both played football. Just cause depodesta started in MLB don't mean he don't know football better than you.

— Brad Canterbury (@KRA7ED) January 28, 2020
He has also been the Browns' Chief Strategy Officer for four years.
One of the misconceptions DePodesta says emerged from the Moneyball film was his smugness.
He insists his relationship with the scouting department was somewhat exaggerated.
DePodesta says the job of the analytics folks is simply to share information.
He will leave it up to Berry and Stefanski to utilize it in their football decisions.
Should Fans Look Forward to Playoff Football?
Browns fans can be optimistic about better times in Cleveland.
However, the timetable is in question.
The last head coach to win a playoff game for the Cleveland Browns is Bill Belichick (1994 Wild Card). https://t.co/HYXzENJHIB

— ESPN Stats & Info (@ESPNStatsInfo) January 12, 2020
This time around, Berry starts with a better collection of talent to build on.
That doesn't mean there won't be some big moves ahead.
Cleveland can always use more draft picks.
But don't expect a total purge or another tank job.
Berry knows he needs to bring a few new parts to the team.
The offensive line and the defense should get reinforcements.
Stefanski is recruiting a solid coaching staff.
It is certainly possible last season's hype was simply a year early.
But with the Browns, there is always a wild card.
Can the Fans Trust Jimmy Haslam?
Some might say Jimmy Haslam is more of a joker than a wild card.
Candidly, I woke up this morning feeling aligned. #Browns

— Candid Jimmy Haslam (@JimmyHaslam) January 28, 2020
Can he stay in his box and lets his dream team implement their strategy?
Or will he pop into the game and blow things up?
DePodesta, Berry, and Stefanski each report directly to Haslam.
We know they all appreciate analytics.
That doesn't mean the three will always be on the same page.
And that means the Haslam mind might hear differing opinions sometimes.
How aligned the Ivy Leaguers are will affect the Browns' latest plan.
If Haslam senses dissension, fans can't predict how he'll react.
Paul DePodesta clearly won the latest #Browns power play. Someone should tell him not to savor the victory. Jimmy Haslam's ax will eventually find him.

— Daryl Ruiter (@RuiterWrongFAN) January 30, 2020
Winning would solve everything.
Stefanski, Berry, and DePodesta know that as well as anybody.
It should bring a sense of urgency in putting the team together.
And that can't be a bad thing for the long-suffering Browns fans.