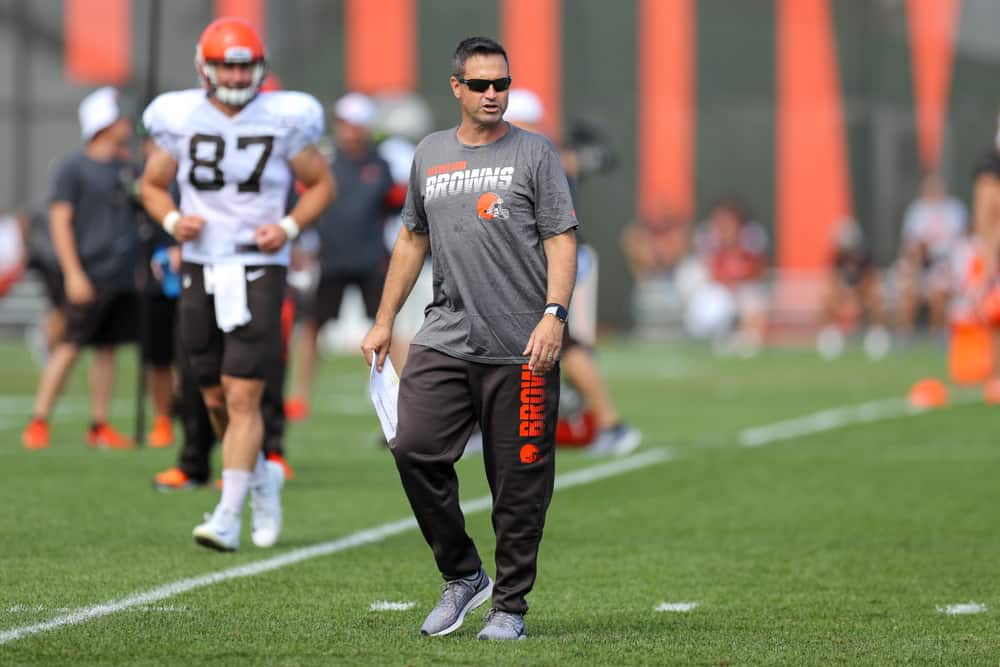 The vision for the 2020 Cleveland Browns is nearing its final stages.
New head coach Kevin Stefanski, along with new general manager Andrew Berry, continue to fill out the rest of the coaching staff that will hope to do what previous regimes have not.
That is, to lead these Browns to a winning season and hopefully into the playoffs.
With that in mind, let's take a look at who's dawning headsets on the Browns sideline for 2020.
Who's Back?
There weren't many coaches to survive the house-cleaning in Berea after 2019 came to a close.
In fact, only three coaches from Freddie Kitchens' staff will be back for next season.
Those coaches are special teams coordinator Mike Priefer, special teams assistant Doug Colman, and running backs coach Stump Mitchell.
Mitchell, in particular, is interesting because of what he was able to accomplish with Nick Chubb and the run game last year.
Keeping continuity in the one area that did see consistent success last season should be a step in the right direction.
Special teams seemed to be up and down at points, however, it was better than the disaster that unit was in 2018.
Perhaps Priefer and Colman can continue to improve that area of this team.
Offense
One of the more intriguing hires was Alex Van Pelt as the new offensive coordinator.
He's not the biggest or flashiest name by any stretch, but he certainly seems to get some praise from local media.
Some thoughts on Alex Van Pelt:

•Rodgers loved him & was pretty livid when the Packers didn't re-sign him after the '17 season

•The Bengals have had issues, but Van Pelt helped Dalton evolve in '18. Andy was much more comfortable on the move & led Cincy to a 4-1 start #Browns

— James Rapien (@JamesRapien) January 30, 2020
Van Pelt has spent time with the Packers, Bills, Buccaneers, and Bengals in his NFL coaching career.
Zac Taylor thought highly of him last year in Cincinnati, and the hope is that he can get Baker Mayfield and the Browns offense back on track.
The strongest hire for Cleveland might be with their new offensive line coach, Bill Callahan.
Might be the best hire the #Browns have made this offseason https://t.co/JKSpsWS3aP

— Damien Woody (@damienwoody) January 20, 2020
Callahan coached the Redskins last season after Jay Gruden was let go and has over 20 years of NFL coaching experience to bring to Cleveland.
Chad O'Shea is the new wide receivers coach and passing game coordinator.
O'Shea spent just one season with the Dolphins as head coach before getting fired at the end of last year.
However, he is praised for his accomplishments with the Patriots prior to his Miami stint.
Finally, Drew Petzing is the new tight ends coach.
Petzing has a history with Stefanski, serving as the wide receivers coach in Minnesota last season as well as other roles with the offensive staff there since 2014.
A new quarterbacks coach is yet to be named.
As it stands, the Browns offensive coaching staff looks like this:
GM: Andrew Berry
HC: Kevin Stefanski
OL/Assistant HC: Bill Callahan
OC: Alex Van Pelt
RB coach: Stump Mitchell
WR coach: Chad O'Shea
TE coach: Drew Petzing
QB coach: ?

Offensive staff coming together nicely. Defensive staff is on hold until after the Super Bowl. #Browns

— Michael Welsh (@MichaelWelsh9) January 30, 2020
Defense
The defensive staff, on the other hand, is largely incomplete.
With Steve Wilks out as defensive coordinator, the Browns have plenty of holes to fill on that side of the ball.
As it stands, the Browns know only their defensive backs coach in the form of Jeff Howard, who will also serve as a passing game coordinator.
Howard has a history with Stefanski in the Vikings organization, as he spent time in Minnesota as a defensive coach from 2013 until now.
The #Browns are hiring Jeff Howard as pass game coordinator/DBs coach, source said. Former #Vikings assistant reunites with Kevin Stefanski, who fills another key spot on his staff.

— Tom Pelissero (@TomPelissero) January 30, 2020
And that's just about where the Browns stand as far as the coaching staff goes.
Staff positions that still need filled are as followed: quarterbacks coach, defensive coordinator, defensive line coach, and linebackers coach.
It's likely the Browns round out the staff following the Super Bowl on Sunday as there is interest in coaches involved in that game.
Path clear for 49ers DB coach Joe Woods to be Browns defensive coordinator. His contract is up after Super Bowl.

— Tony Grossi (@TonyGrossi) January 30, 2020