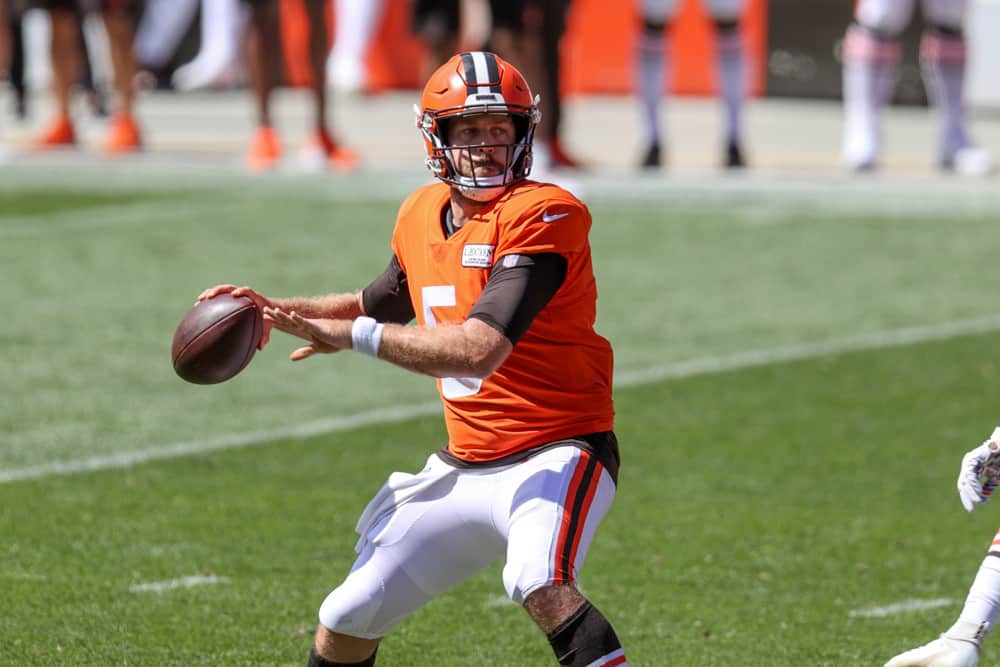 The Cleveland Browns had an official scrimmage over the weekend.
The format was Baker Mayfield and the first-team offense going up against the second-team defense, while Case Keenum and the second-team offense took on the starting defense.
Reports from the scrimmage explained how Keenum's unit came out on top, which is bad news for all the starters on the roster.
Case Keenum is carving up the Browns first-team defense (or what's left of it)

— Jake Trotter (@Jake_Trotter) August 30, 2020
Mayfield even ended the day with an end zone interception against the backup defense.
Once again, not the best sign.
Case Keenum to David Njoku (via #Browns) pic.twitter.com/Qu0te9T6pR

— BrownsWave \\: (@BrownsByBrad) August 30, 2020

The lack of a preseason is putting every individual practice in training camp under a microscope.
And the media is only allowed limited access, so there may be more glaring issues fans do not know about.
So should there be concern right now?
Why Fans May be Concerned About Case Keenum Shining
Browns fans have seen hype turn into total disaster often since 1999.
Bringing in Keenum was all about getting a legitimate threat to Mayfield on the roster.
.@casekeenum ➡️ @dpeoplesjones

A @uhhospitals Play of the Day! pic.twitter.com/RF02nIWIw3

— Cleveland Browns (@Browns) August 27, 2020
If all goes well then the young quarterback also has a mentor.
But if Mayfield struggles, the team isn't going to punt on the season when Keenum can step in and take over.
Starting quarterbacks struggling in practice is not a storyline heard from contending teams.
Mayfield is still trying to prove he belongs and deserves another contract.
But what if he isn't the quarterback of the future?
That question may be too painful to answer at this point in time.
Keenum has had success as a starter, but seems to be more on that backup level.
Him beating out a former No. 1 pick would be another total disaster in Cleveland.
Why Fans Should Not be Concerned Just Yet
Are we really going to start panicking about practice?
Mistakes are often made during practice because that is the time to do just that.
Mayfield can take more chances and head coach Kevin Stefanski can have the offense try things he normally wouldn't try in a game.
Over and over until it either works or is scrapped from the playbook.
This is the main problem without a preseason.
Fans are going off whatever reporters see in limited time at practice.
Maybe Mayfield's interception in the scrimmage was a throw he wouldn't normally make if the game counted.
Or maybe he is still warming up and getting ready for the season.
Highest-graded rookie QB seasons of the decade:

1. Russell Wilson (2012) – 89.7
2. Robert Griffin III (2012) – 83.7
3. Baker Mayfield (2018) – 83.2
4. Dak Prescott (2016) – 81.5 pic.twitter.com/dkzI70Mun8

— PFF (@PFF) August 26, 2020
Does thinking this make one an apologist or a blind believer?
Not yet, it is still too early.
There is always going to be some natural concern as a Browns fan.
Watching since 1999 has made it hard to trust any quarterback who shows flashes of success.
But true concern should not seep in unless Mayfield becomes a clear liability on the field.
Fans must also remember he is in a new offense this season in what will be his third in three years.
That is hard for any quarterback, let alone someone entering their third season.