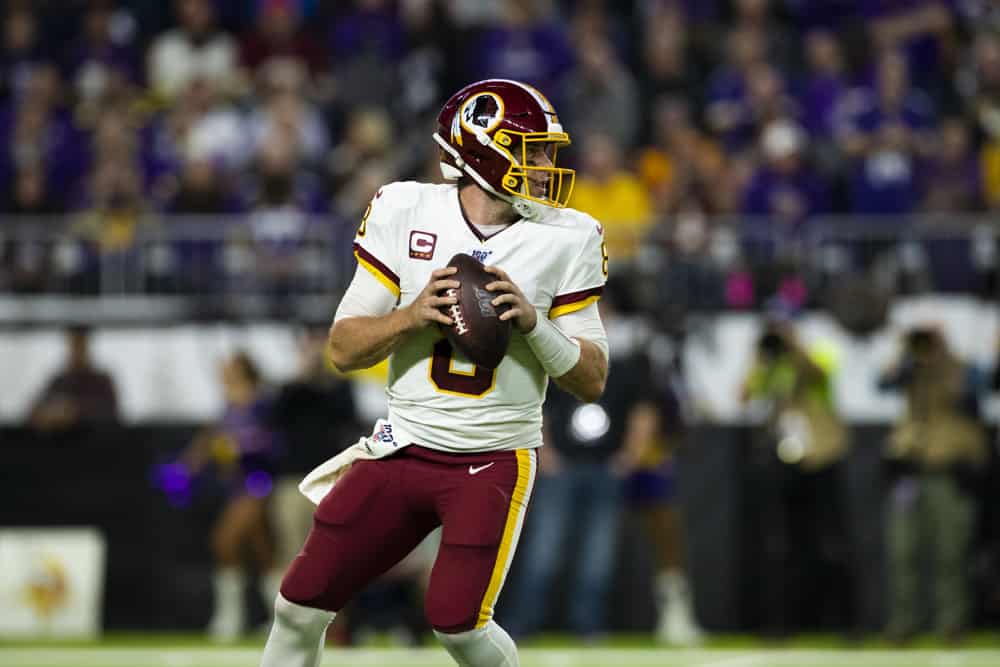 At first glance, it seemed quite odd for the Cleveland Browns to add veteran quarterback Case Keenum this offseason.
The 32-year-old quarterback has plenty of experience, but it's unclear if he was worth $18 million over the next three seasons.
🚨BREAKING🚨

Browns sign QB Case Keenum to a 3-year $18 million contract. pic.twitter.com/ho46BXEqzI

— Unfinished Business (@FinishTheBiz) March 16, 2020
The Browns have Baker Mayfield who is hopefully going to be the franchise quarterback for Cleveland.
Keenum is not expected to give Mayfield a fight for the starting quarterback role, but that doesn't mean Keenum will be useless in Cleveland.
After further examination, Keenum actually brings a few things to the table that could help Mayfield during his career.
Keenum's NFL Career
Keenum has played with six different organizations over the course of his eight-year career.
He has been given a chance to start everywhere he goes, but success often times alludes him.
At this point in his career, Keenum is not a starter, but he can be a reliable backup.
He has won in the playoffs, has 10 game-winning drives, and six comebacks throughout his career.
Keenum is an experienced quarterback that understands the game.
He somehow pulled off that miracle victory against the New Orleans Saints in the playoffs during the 2017 season.
Keenum has been around the game for quite some time and can offer advice to Mayfield that could help him grow as a quarterback.
Kevin Stefanski and Keenum
The 2020 season is Kevin Stefanski's first year as head coach of the Browns.
However, he has been in the league as a coach with the Minnesota Vikings since the 2006 season.
Both Stefanski and Keenum were together during the Vikings fantastic 2017 campaign.
Keenum went 11-3 as the starting quarterback and led the team to a playoff victory.
Part of the reason the Browns likely went after Keenum this offseason was because of his relationship with Stefanski.
He already knows how the system runs and he can get Mayfield quickly acclimated to this new system.
Stefanski was the quarterbacks coach during Keenum's terrific 2017 season.
Keenum threw for 3,547 passing yards with 22 touchdowns and seven interceptions that year.
Before that season, Keenum had never thrown more than nine touchdowns in a single season.
His career took off under Stefanski, so hopefully they can help Mayfield bounce back as well.
Limiting The Mistakes
Last season, Mayfield had a gunslinger mentality and would throw it deep quite often.
Sadly, Mayfield put himself in a lot of trouble by recklessly passing the ball downfield.
By the end of the season, Mayfield had almost as many touchdowns as he did interceptions.
2019 Interception leaders 📉

1. Jameis Winston 30
2. Baker Mayfield 21
3. Philip Rivers 20 pic.twitter.com/fgwiJY8LIg

— PFF Fantasy Football (@PFF_Fantasy) January 23, 2020
An improved offensive line and the addition of Keenum should help limit those mistakes.
Keenum is a game-manager type of quarterback who doesn't throw it deep quite as often as Mayfield.
He can hopefully help Mayfield learn to play while under pressure and make the smart decision instead of just throwing up a prayer down the field.
This new outside zone play-action style offense should be good for a player like Mayfield.
It'll be interesting to see how he adjusts, but Stefanski and Keenum will be right by his side the whole time coaching him through it.