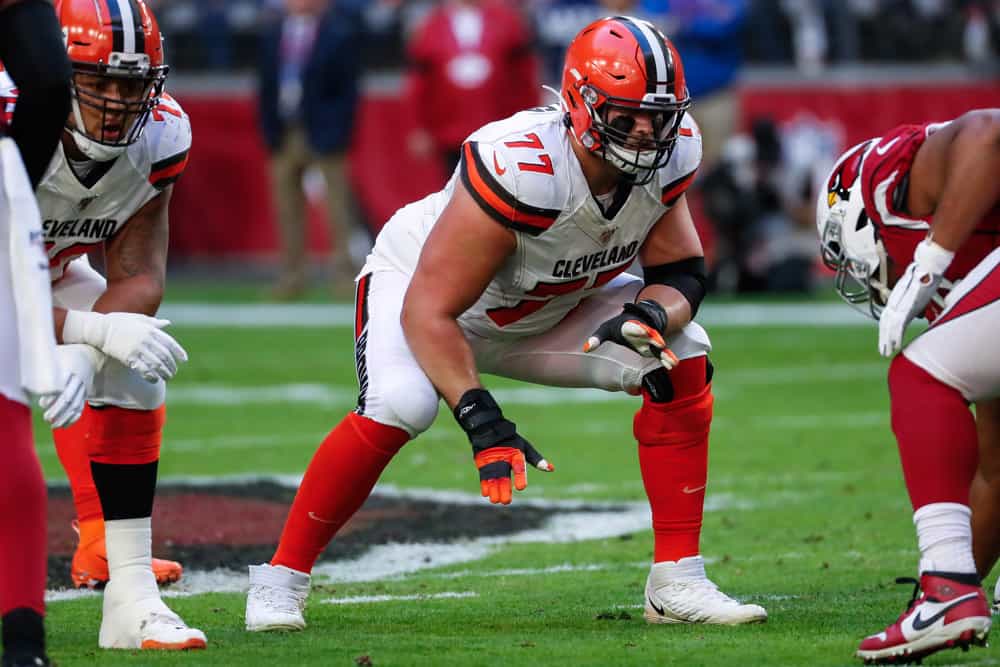 There have been rumors that the Cleveland Browns are considering a contract extension with guard Wyatt Teller.
It wouldn't be shocking to see the organization attempt to lock him up after his tremendous 2020 campaign.
He was arguably the best graded guard in the NFL last season and is well-deserving of an extension.
Although, the Browns might decide to wait until possibly next offseason before giving Teller a massive deal.
Honestly, that could be a smart idea for Cleveland considering their current position.
1. Make Sure He Is The Real Deal
The hope is that Teller carries over his stellar campaign from 2020 into the upcoming season.
However, that is not always the case and sometimes players regress after having breakout campaigns.
Teller came out of nowhere and put together one of the best years we've seen from a offensive linemen in years.
#Browns Wyatt Teller posted a run-blocking grade of 94.9 against Dallas, the best single-game run-block grade by a guard since Marshal Yanda in WK 6 of 2014 (96.1). pic.twitter.com/fvNbwDT1D4

— PFF CLE Browns (@PFF_Browns) October 7, 2020
He put a lot of work into his game and body prior to the 2020 season, which obviously helped him.
However, there is always the possibly that he does regress next season.
Other organizations now have more video and analysis on Teller and where his weaknesses are on the field.
Teller wasn't really much of a factor during his first two years in the NFL, so teams probably didn't pay attention to him at all.
A year later, teams know his name and are going to make gameplans to exploit his weaknesses.
That's football, but now Teller must adjust and find a way to continue to succeed at a high level.
The Browns don't want to pay Teller like an elite offensive linemen and his game regresses into average play.
Cleveland has already invested quite a lot of money in their o-line, so signing Teller is a big decision for them.
league average is $34.8 million per offensive line, which puts the Browns almost $20 million over the midpoint. On the other end of the spectrum is the AFC North rival Steelers, who currently have 16 offensive linemen under contract for less than $17 million total salary in 2021.

— Jeff Risdon (@JeffRisdon) July 5, 2021
The front office needs to make sure Teller is the real deal before giving him a massive long term deal.
This organization cannot afford to overpay average players and kill their current momentum as an organization.
2. Too Many Mouths To Feed
Another issue with signing Teller now is that it would mean other players will likely get paid later.
Cleveland needs to find a way to keep Baker Mayfield, Nick Chubb, and Denzel Ward all on the roster long term.
It wouldn't be shocking to see Mayfield get a deal in the range of $40 million per year.
Also, Chubb is going to get paid like a superstar running back, so Cleveland needs to get their priorities in check.
The Browns do have plenty of money left over in cap space, but cannot afford to be making poor decisions with it.
Top 10 Cap Space Heading Into Camp Per Over The Cap #NFL #NFLRumors
1. #Jaguars 38.4M
2. #Broncos 28.8M
3. #Jets 28.4M
4. #Browns 20.5M
5. #Chargers 19.8M
6. #Lions 17.8M
7. #49ers 17.7M
8. #Bengals 17.4M
9. #Washington 16.6M
10. #Patriots 14.9M

— NFL Rumors (@nflrums) July 3, 2021
One of two bad deals can really change the outlook of a franchise.
For example, the signings of Jared Goff and Todd Gurley completely messed up the Los Angeles Rams cap space situation.
The Browns need to make sure that the franchise players have their deals before locking up a player like Teller.
Yes, Teller was fantastic in 2020, but who knows if that will continue and waiting one year isn't going to increase his value by too much.
Cleveland should give Teller one more year and see if he's the real deal or not.
In the meantime, the front office needs to find a way to extend Mayfield, Chubb, and possibly Ward.