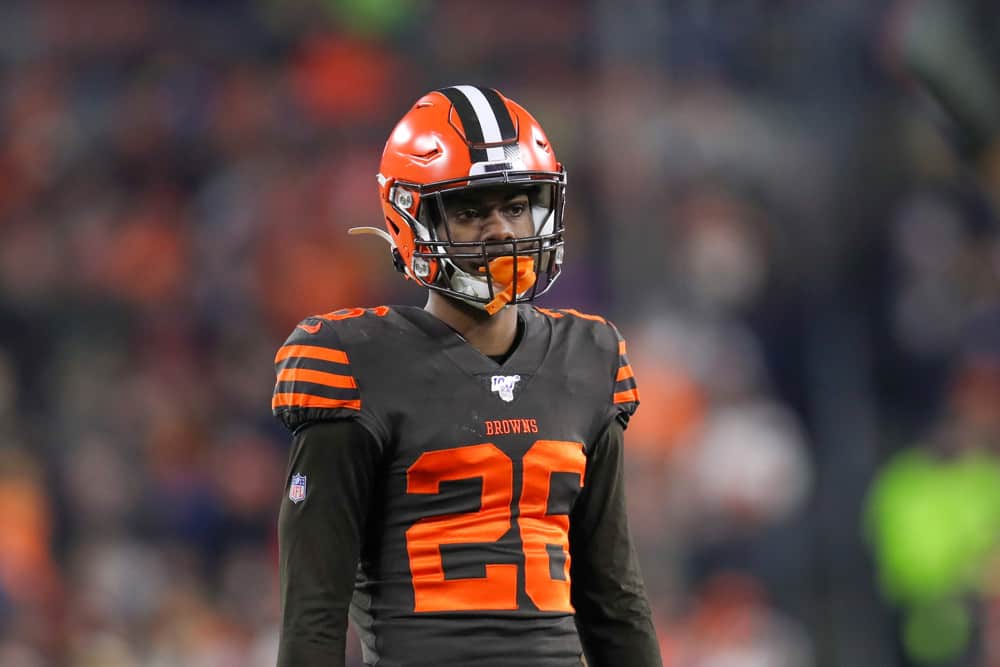 There have been some rumors that Cleveland Browns defensive back Greedy Williams could be on the move this offseason.
Most recently, Bleacher Report made a potential trade package where Williams heads to the Miami Dolphins.
The former second-round pick has been unimpressive since being drafted in 2019.
Since then, Cleveland has drafted a possible replacement for Williams with Greg Newsome II.
The stars are beginning to align for a Williams trade in the near future.
Making A Move Now
Realistically, the Browns could move Williams for the right deal before the 2021 season begins.
Newsome appears to be a legit prospect and could very well beat out Williams for the No. 2 job.
That means, Cleveland could potentially make a trade to enhance their team elsewhere before Week 1.
The Browns have some depth at defensive back, so losing Williams shouldn't make a significant impact.
Although, it's tough to honestly know what kind of value Williams has on the trade market right now.
He was a promising prospect out of LSU, but struggled as a rookie and missed all of the 2020 campaign.
Despite that, Williams has shown flashes of his potential during his time in Cleveland.
Greedy Williams picks off Dwayne Haskins. pic.twitter.com/tlq03wu0vm

— Ari Meirov (@MySportsUpdate) August 9, 2019
Another factor worth noting is that Cleveland doesn't have many holes on the team right now.
This team appears to be an all-around roster that could compete for a Super Bowl in 2021.
It's uncertain what kind of attention Williams would get on the trade market or if the return would be worth it.
Williams isn't likely to be traded before training camp unless it's a package deal with draft picks for a Pro Bowl caliber talent.
Keeping Williams (For Now)
Let's assume Cleveland doesn't trade Williams before Week 1.
He'll likely have a role on the defensive unit even if Newsome takes over as the No. 2 option.
Obviously, Cleveland has high hopes for Newsome since they drafted him in the first round.
Although, Williams hasn't really been given a fair chance in a coherent system.
The ability and talent are there, but the Browns need to find a way to tap into it.
Dawg Pound gets their newest player to cheer for

Cleveland Browns select LSU CB Greedy Williams pic.twitter.com/CRhFmzGPq7

— B/R Gridiron (@brgridiron) April 27, 2019
Having Williams as a backup or rotational player gives them an advantage over other organizations.
Everyone knows injuries happen and it's nice to have a player like Williams as a backup plan.
Right now, Cleveland probably doesn't gain much from trading Williams.
His value is fairly low and the Browns wouldn't get a reasonable return for him.
They'd be better off waiting and seeing if Williams can play well enough to build up his trade value.
Then, possibly mid-season, organizations will show interest in Williams and Cleveland can strike a deal if they feel it'd help them.
At the moment, trading Williams seems unnecessary unless it's in a package to obtain a Pro Bowl caliber talent for Cleveland.