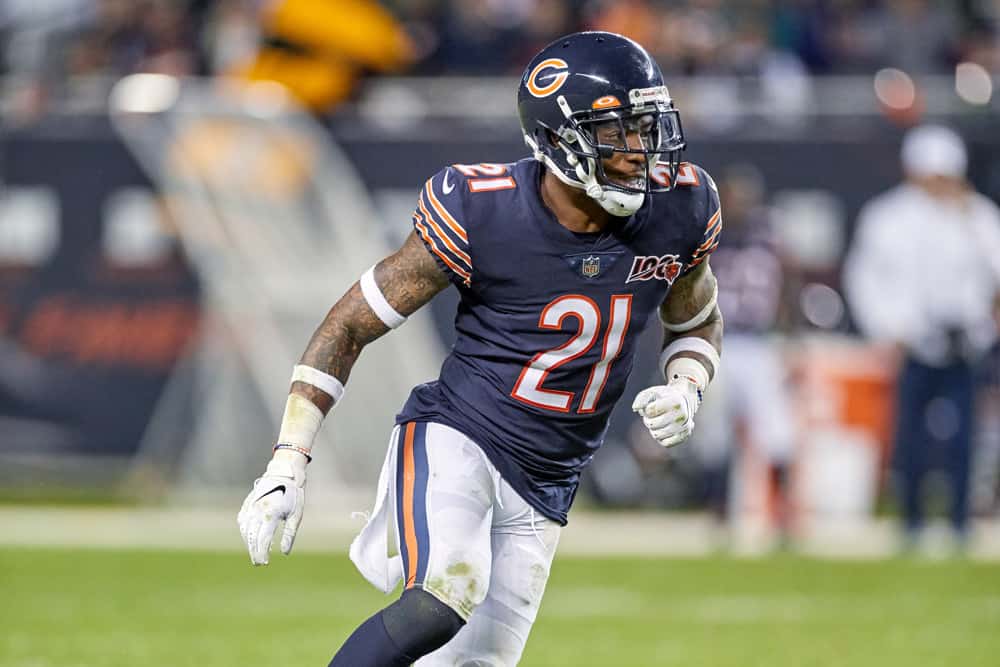 A new regime running the Cleveland Browns means some changes should be made to the roster this offseason.
Pro Football Focus recently ran a comprehensive free agency preview and listed players for each team to target.
Perhaps the most notable included for the Browns was safety Ha Ha Clinton-Dix.
That is, the man with the best name in football.
Whom should the #Browns target in free agency, re-sign, or potentially cut? All this and more in our free agency preview 🔽https://t.co/sMUGrJD6m4

— PFF CLE Browns (@PFF_Browns) February 10, 2020
Ha Ha's Career So Far
Clinton-Dix was a first-round draft pick back in 2014 by the Green Bay Packers.
He spent the first four seasons of his career up north with the team before being traded to the Washington Redskins at the midway point of the 2018 season.
Then came the 2019 season when the safety took a one-year deal with the Chicago Bears.
Most Interceptions
Since 2015

BAL Marcus Peters 24
DET Darius Slay 16
NFL Reggie Nelson 16
TEN Kevin Byard 15
CHI Ha Ha Clinton-Dix 15

— James Palmer (@JamesPalmerTV) October 15, 2019
He started in all 16 games and had two interceptions in what was a rough year for his team.
His best overall season came in 2016 when he made the Pro Bowl and was a second-team All-Pro safety.
The five-year man has not missed a game in his career and has been a regular starter since his second season in the league.
A Fit With The Browns
The Browns have the cap space to make some changes this offseason.
When it comes to the safety position there is not much money allocated so far for 2020.
Morgan Burnett is the highest-paid safety under contract, and there is an out in his contract for a dead cap value of just over $1.3 million.
The main player Browns fans will think about when it comes to the safety position is Damarious Randall.
He endeared himself to Browns fans in 2018 by intercepting a pass and handing it off to then Cincinnati Bengals coach Hue Jackson.
DAMARIOUS RANDALL HANDED THE BALL HE PICKED OFF TO HUE JACKSON WHAT A SAVAGE. #Browns pic.twitter.com/YPOjK6bTmT

— Damon J. Kecman (@DownWithDamon) November 25, 2018
But then came a 2019 season when the veteran leader clashed with Freddie Kitchens and missed a key game after allegedly missing a practice.
Whatever the truth may be, Randall is a free agent this offseason and no longer has John Dorsey in his corner.
Both Randall and Clinton-Dix are 27 years old.
Clinton-Dix has that 2016 season with a few accolades and also shares the advantage of not struggling in Cleveland.
A new regime usually means new names are better than those who have had any struggles before the takeover occurred.
The Verdict
There is no logical argument as to why Clinton-Dix would be a disaster signing for the Browns.
He is a durable player and has appeared in 96 career games since 2014.
Randall has only appeared in 65 in one fewer season, as his start came in 2015.
This is not a direct competition between the two.
Both could be nice safeties for the Browns in a year dedicated to bouncing back from a disastrous season filled with such high expectations.
But once again, a new regime means new faces have the advantage.
Randall was also a Dorsey guy, while Clinton-Dix would come from a dominant Bears defense.
The obvious answer is that the Browns should indeed target the safety in free agency.
It is just a matter of whether he wants to join a team that has faced so many struggles over the past two decades.
Though money usually overcomes any concerns.