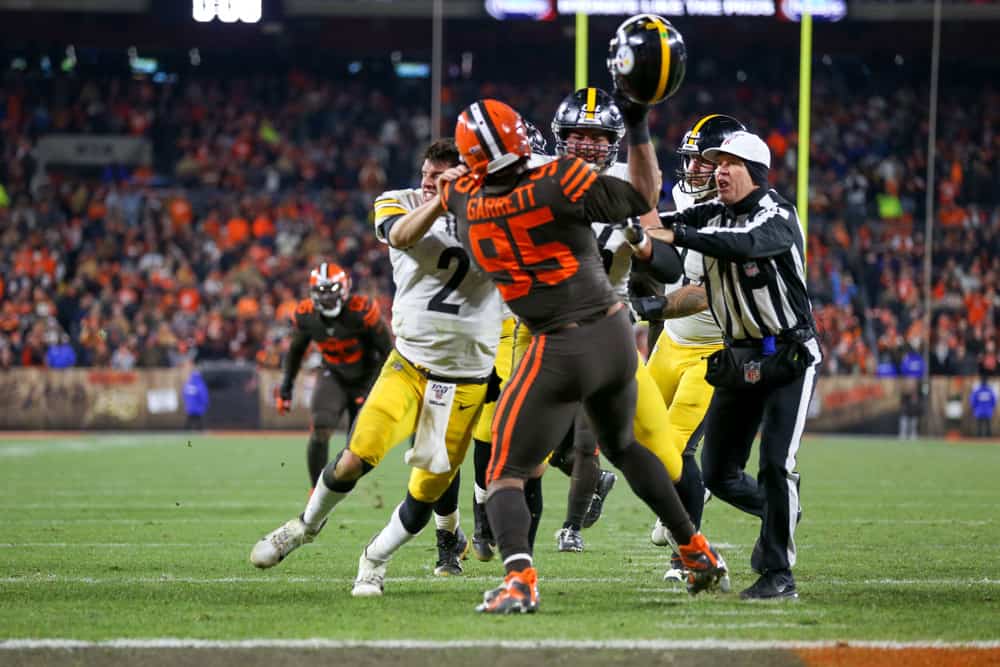 When the Cleveland Browns Myles Garrett first accused Mason Rudolph of using a racial slur, he said he didn't mean for it to go public.
But Garrett repeated the claim in an interview with ESPN's Mina Kimes that aired Thursday night.
Myles Garrett reiterates Mason Rudolph used racial slur after being reinstated for throwing helmet during brawl

(H/t @Jake_Trotter) pic.twitter.com/NmFfS5Kt7M

— Bleacher Report (@BleacherReport) February 14, 2020
"He called me the N-word," said Garrett.
"He called me a stupid N-word."
Garrett further said the use of the slur "triggered something".
But then he said he tried to "walk away from it" before Rudolph re-engaged.
That is when Garrett admittedly lost control to the point he used Rudolph's own helmet as a weapon.
Garrett swung the helmet and connected with Rudolph's head.
The incident aired on a nationally televised game that magnified the backlash against Garrett.
We Heard This Before
Garrett first made his claim a week after the incident.
He did so in the privacy of the NFL offices during the appeal of his indefinite suspension.
Interesting sidelight to Wednesday's appeal in New York: Browns' DE Myles Garrett wants to do it in person, and is planning to be there to state his case in person, per source. https://t.co/zdTkYaUAKA

— Adam Schefter (@AdamSchefter) November 18, 2019
There was no mention of the slur in post-game interviews.
No player on either team heard Rudolph nor Garrett mention the word during the ensuing fight.
The NFL had no one mic'd up for the game.
League officials made a statement that they could find "no evidence" of the slur being used.
In an appeal with the NFL, Browns' DE Myles Garrett alleged that Mason Rudolph called him a racial slur prior to last week's brawl on Thursday Night Football, sources told ESPN's Josina Anderson and me, an accusation the Steelers' QB strongly denies.https://t.co/NUQfAJdo6B

— Adam Schefter (@AdamSchefter) November 21, 2019
Garrett's appeal was denied and he missed the rest of the 2019 season.
During his suspension, Garrett maintained a low profile and did not repeat the allegation.
This is the first time he mentioned the matter since his reinstatement earlier in the week.
Recapping the Battle
In case you missed it, the fight happened during a mid-November Thursday Night Football game.
Pittsburgh was down two touchdowns with about 10 seconds to go.
Rudolph threw a pass a split second before Garrett wrapped him up.
Garrett was falling to the ground and could have released his grip on Rudolph.
Instead, he chose to take the Steelers' quarterback to the ground with him in a rather slow fashion.
This is the only time Rudolph could have uttered the N-word without another player hearing him.
Rudolph was obviously angry and appeared to try ripping Garrett's helmet off while the pair were on the ground.
As they got up, Garrett succeeded in pulling Rudolph's helmet off as linemen came to their quarterback's aid.
That is When Garrett Tried To Walk Away?
It's hard to agree with Garrett's assertion he "tried to walk away from it" when his separation was driven by a pair of offensive linemen.
But he is right that Rudolph chose to re-engage.
One more for @PGSportsNow: Myles Garrett is really, really adamant that Mason Rudolph called him the N-word before their November fight.

What a messhttps://t.co/iOsEWniW4m

— Joshua Axelrod (@jaxel222) February 14, 2020
It looked like the quarterback made a move to grab his helmet back.
In one motion, Garrett pulled the helmet back and swung it over a lineman's shoulder.
The helmet twisted enough that the padded rear neck area made contact with Rudolph.
Rudolph never appeared hurt or physically stunned.
But the swing was enough to set off Maurkice Pouncey, Pittsburgh's center.
Pouncey earned a two-game suspension with a series of punches and kicks to Garrett's head.
What Might Come of This?
Garrett was reinstated largely because of his good behavior and public demeanor since November.
Even during the ESPN interview, he accepted responsibility for losing control.
But he gives Rudolph an equal share of the blame for the incident.
Rudolph was not suspended and recently had a $50,000 fine upheld on appeal.
Garrett's suspension cost him more than $1 million.
NFL News: Browns' Myles Garrett's Suspension for Mason Rudolph Fight Cost Him $1.2M https://t.co/JtFCDVY38f

— SportNewsBuzz (@Sportnewsbuzz) February 12, 2020
All told, 33 players were disciplined and the teams paid $250,000 each in fines.
By restating the slur accusation, Garrett keeps the incident in the headlines.
This is exactly the opposite of what the NFL wants.
The odds of Mason Rudolph starting games for the Steelers in 2020 are not high.
But an apologetic and contrite Garrett would help lower tension when the teams meet again.
Fair or not, it will lead to more scrutiny from officials when it comes to physical play.
What About the Browns?
GM Andrew Berry and the Browns organization undoubtedly prefer Garrett to avoid discussing the incident.
The #Browns have announced Myles Garrett is officially back, with new GM Andrew Berry saying, "We welcome Myles back to our organization with open arms. We know he is grateful to be reinstated, eager to put the past behind him and continue to evolve and grow as a leader."

— Ian Rapoport (@RapSheet) February 12, 2020
The NFL is not going to reinvestigate the matter when they already failed to corroborate it once.
Garrett's teammates are in a tough position, too.
Several already stated in November they believe whatever allegation Garrett makes is true.
But none of them says they heard the N-word used.
Cleveland can do without extra scrutiny by officials.
But Garrett could face the same dilemma as Ndamakung Suh and Vontaze Burfict.
It is early enough in the offseason that the matter can die down rather quickly.
But Garrett will face similar questions until he stops answering them.
In an interview with @minakimes, Myles Garrett doubled down on his claim that Mason Rudolph called him a racial slur during the Week 11 incident that led to Garrett's suspension. https://t.co/KV93atnFYn

— ESPN (@espn) February 14, 2020
There are no apparent witnesses or evidence to counter the denial by Rudolph.
Why would Garret repeat the charges unless he believes the slur was used?
And if that is the case, how can the Browns tell him to stop answering the question?
Garrett should expect a phone call from Kevin Stefanski soon.
How Garrett and the team handle this going forward is to be determined.