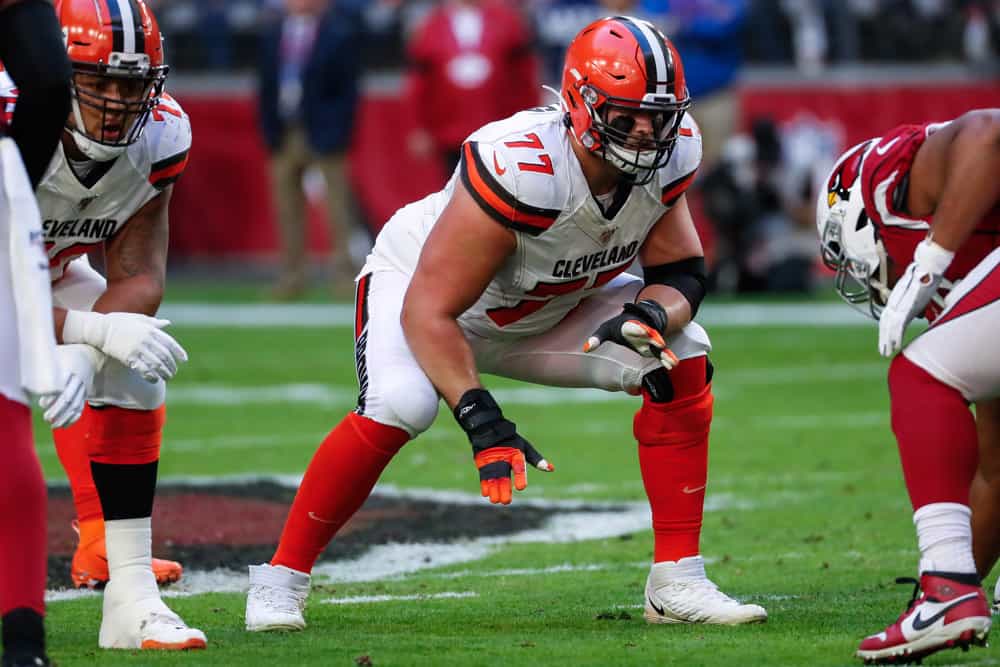 It wasn't too long ago that the Cleveland Browns offensive line was one of the weaker spots on the team.
However, general manager Andrew Berry quickly helped rebuild the o-line.
In 2019, the Browns gave up a few late-round draft picks in order to acquire Wyatt Teller from the Buffalo Bills.
At the time, Teller was expected to be a filler or rotational type of player until the Browns could find a better option.
Last season, Teller looked like a completely different player and performed at a Pro Bowl-caliber level.
He has become a full-time starter and could be looking at a massive extension in the near future.
A Breakout Star
The 26-year-old guard has quickly become a cornerstone piece on this offensive line.
It still baffles many how Teller was able to go from league average to one of the highest-graded guards in the matter of one offseason.
Although, sometimes all it takes is changing your technique or mechanics to give yourself a boost in play.
From the beginning of the 2020 season, Teller looked like an elite-level guard.
Highest grade for a guard after four weeks (since '06):

2020 Wyatt Teller – 94.1
2013 Evan Mathis – 93.9
2016 Zack Martin – 93.6
2016 Justin Pugh – 93.3 pic.twitter.com/DO8UC01nuX

— PFF (@PFF) October 5, 2020
Sadly, injuries did cost Teller some playing time as he was only able to play in 11 games last season.
Despite that, he graded as one of the best players at his position throughout the entire year.
The hope is that Teller will continue to play at this level for the 2021 season and beyond.
He'll already be entering his fourth year in the NFL, so Cleveland will quickly need to decide whether or not they should re-sign Teller to a long-term extension.
Time To Extend Teller?
Fans shouldn't be surprised if the Browns and Teller begin discussing a new deal before the start of the 2021 season.
Cleveland has one of the best offensive lines in the league and they want to keep it that way.
There's no reason that the two sides shouldn't begin talking an extension and see where they can get before the season begins.
Teller has mentioned before he loves playing in Cleveland and it shows with his play on the field.
This play alone, should get Teller an extension! I need more Wyatt Teller In My Life! 😂 #Browns pic.twitter.com/xnt3BEIBxd

— BrownsTherapy (@BrownsTherapy) January 20, 2021
That being said, Teller is an important piece to the team, but he isn't the main priority.
Cleveland should be focused on keeping Nick Chubb and Baker Mayfield on this roster.
Both players have shown to be more important to the success of this team and are likely going to demand higher salaries than Teller.
Honestly, keeping Pro Bowl defensive back Denzel Ward might be above Teller right now.
That doesn't mean Teller isn't important because he showed his worth last season.
Wyatt Teller really blocked three dudes on this play 😱 @Browns

(h/t @brentsobleski) pic.twitter.com/grfKt754qf

— The Checkdown (@thecheckdown) November 23, 2020
However, Teller only has one solid year of play under his belt, which could be a bit of a concern.
Cleveland doesn't want to give $12-15 million a year to Teller and he regresses back into a league-average guard.
The chances of that happening are slim, but it's still a possibility, so maybe the organization should wait and see.
Players such as Mayfield, Chubb, and Ward are nearing the end of their deals and have produced multiple years of above league-average play.
Hopefully, Teller is going to be in the Browns' future plans, but they don't need to get too eager without knowing exactly what they have in him.