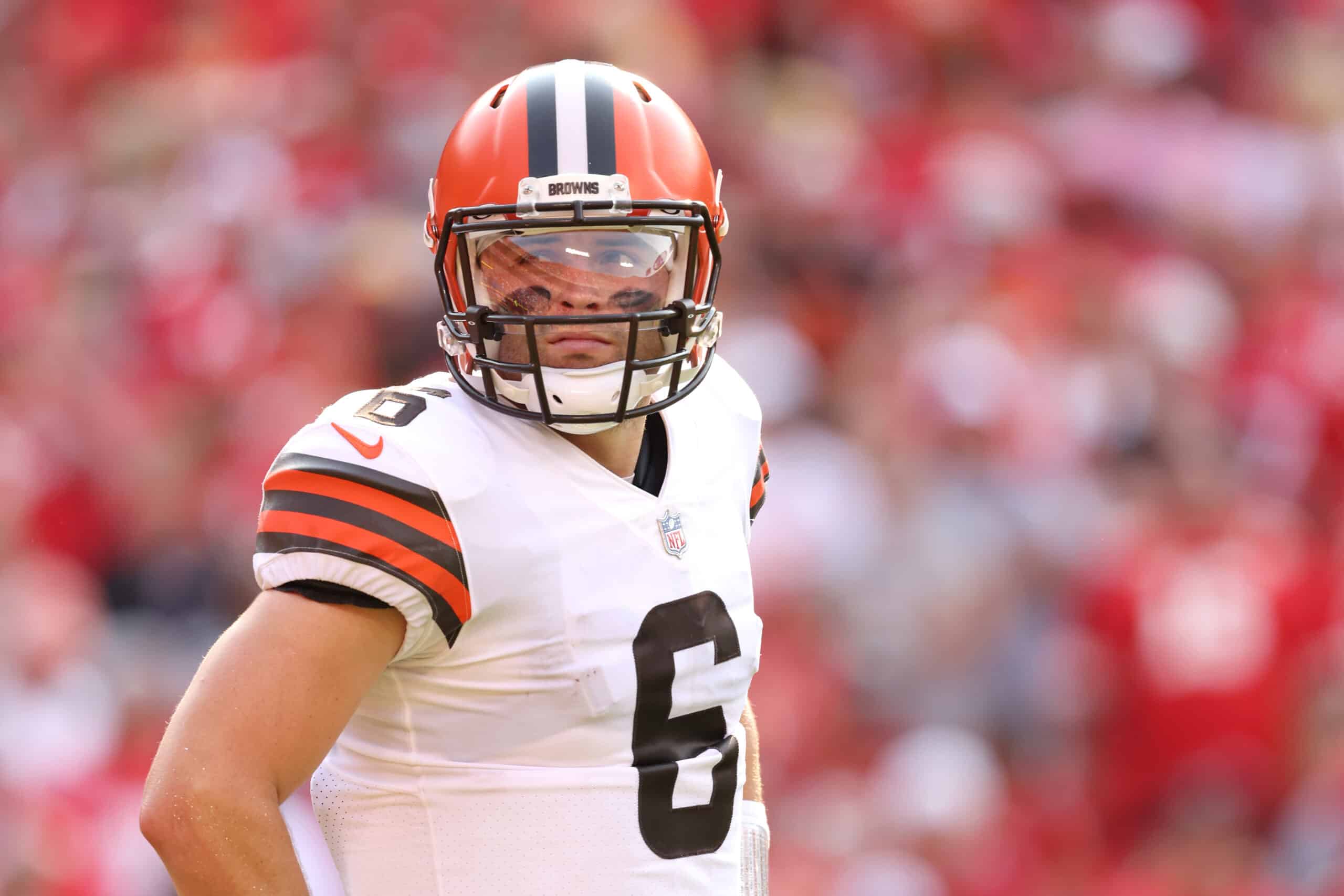 The Cleveland Browns lost a heartbreaker to the Kansas City Chiefs in Week 1 of the 2021 NFL season.
What was heartbreaking was that the Browns had a 22-10 lead at halftime and appeared to be cruising.
In true Mahomes fashion, the Chiefs marched back into the game and won it at the end.
But there was a moment where Mayfield had the ball in his hands and the opportunity to change the game's fate.
In that split second play, he threw an interception.
He was wrapped by a defender and did not want to take the sack so he threw the ball up only for it to end up as a pick.
Admittedly, it was not the best decision.
BAKER MAYFIELD THROWS AN INTERCEPTION pic.twitter.com/8ZrCzhCZDY

— Alex. (@dubs4o8) September 12, 2021
So it is not surprising that social media is already reacting and judging him for the one costly play.
Monday Morning Quarterbacking On Sunday Night
I like Baker. He is the franchise QB for them.BUT…what matters in this game is that at the time it came to tie/win the game, he turned it over. Doesn't matter what he was trying to do. That is what matters the most/will be remembered the most. Sucks, but true. On to the next.

— Louis Riddick (@LRiddickESPN) September 12, 2021
Baker must learn to live another day. That's a terrible decision, resulted in a turnover and ends the gm. Take the sack or throw it out of bounds. Don't try and be heroic in that situation #NFLSunday #BrownsvsChiefs.

— shannon sharpe (@ShannonSharpe) September 12, 2021
Baker can't be doing that at this point in his career. Great game otherwise, but you just can't.

— Ben Axelrod (@BenAxelrod) September 12, 2021
Naturally, there were media types who needed to post videos and mention the contract that no one is worried about now that the season started.
"That last drive is how you get the $250 million contract. That's when you want Mahomes with the ball, not Baker Mayfield."

— Hear from @ColinCowherd following Chiefs win over Browns: pic.twitter.com/a00DtBrCVt

— The Volume (@TheVolumeSports) September 12, 2021
A Few Sympathizers
Thankfully, there were a few who put it in perspective.
That game absolutely does not warrant Baker Mayfield hate. #Browns

— Camryn Justice (@camijustice) September 12, 2021
Today strengthened my belief in Baker Mayfield. That final play doesn't erase a great game. Can't turn it over against the Chiefs play and simple. Baker and the #Browns will be perfectly fine

— Jacob Roach (@roachizm13) September 12, 2021
Baker had a day, and then worst play!! We will talk about the play way more. Nature of the beast. Week 1!

— Ryan Clark (@Realrclark25) September 12, 2021
Putting It In Perspective
On the day, Mayfield was 21 for 28.
He threw for 321 yards and had one interception.
If anyone told him that would be his stats for the day, he likely would have taken them with the hope that the interception was early in the game or seemingly insignificant.
The Chiefs played better in the second half, coupled with the loss of Jedrick Wills.
Both made a huge impact.
The Browns will be fine.
Mrs. Baker Mayfield tweeted as much, and we have every reason to believe her.
We'll be just fine… 🤍🧡🏈

— Emily (Wilkinson) Mayfield (@emilywmayfield6) September 12, 2021
Mayfield's interception was one of three turnovers.
So everyone needs to clean up their play and learn from this because the Browns could very well be seeing Kansas City again later in the year.
If that happens, the third time will be the charm.