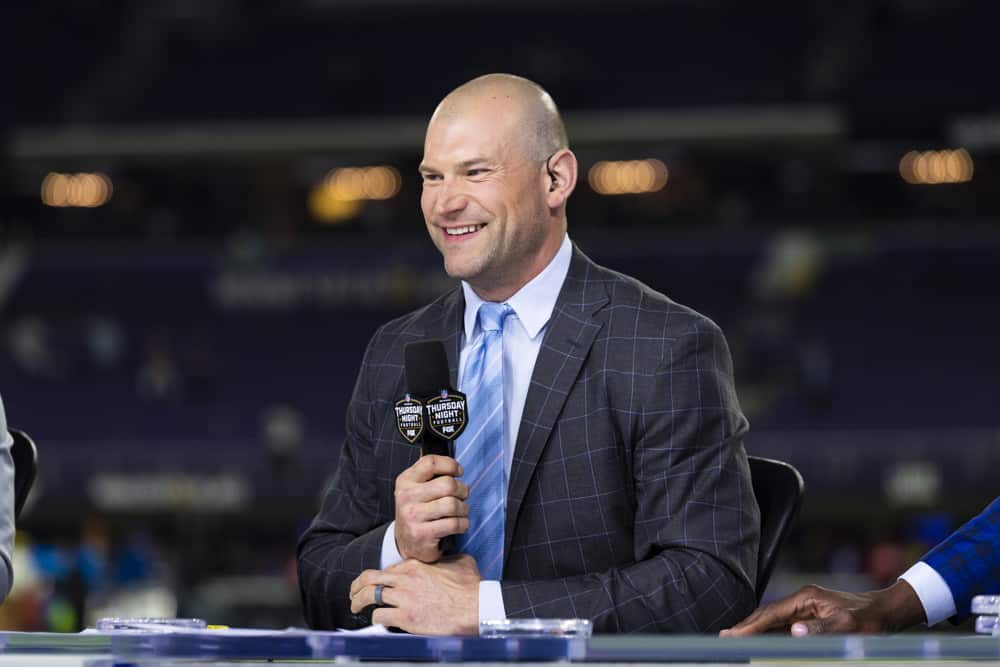 Make no mistake about it, former Cleveland Browns offensive tackle Joe Thomas is a legend in Cleveland.
Fans were ecstatic to hear the news that he would be in the booth doing color commentary during the Browns 2021 preseason.
Today during the Browns game against the Giants, temperatures were definitely steamy.
A thermometer was not needed to measure it; all fans needed to do was keep a watchful eye on Thomas' armpits.
Get Joe Thomas some AC up there pic.twitter.com/UJYiHNVVui

— McNeil (@Reflog_18) August 22, 2021
People took their reactions to social media.
Here is a sampling.
Joe Thomas' sweat could make Lake Erie flood Cleveland……

— Cleveland Sports Talk (@CLEsportsTalk) August 22, 2021
Joe Thomas calling the game today #Browns pic.twitter.com/byOhZRh7ov

— CleWest (@erjmanlasvegas) August 22, 2021
Joe Thomas showing off his sweat stains in the #Browns booth. pic.twitter.com/sZgr4OdMY2

— Gary Marbry (@nuggetpalooza) August 22, 2021
Joe Thomas sweating during the broadcast like he still playing.

— Colb (@___Colb___) August 22, 2021
When I woke up this am I thought there were potentially a lot of was that I'd end up trending on Twitter today…

Doing it for excessive armpit sweat was not in my top five thoughts pic.twitter.com/PJ8Ya3Ylty

— Joe Thomas (@joethomas73) August 22, 2021
This looks like a 3 shower game for Joe Thomas. One at half time, one more post game.

— Pete Smith (@_PeteSmith_) August 22, 2021
I needed a full 53 man shirt roster for that one; wowzers https://t.co/gh7ZTkZcEs

— Joe Thomas (@joethomas73) August 22, 2021
Even The Browns Got In On The Fun
The official Cleveland Browns Twitter account also poked fun at the situation, and Thomas had the perfect reply.
Not sure any of that would have mattered in that sticky jungle they were calling a broadcast booth💦🌊💧 https://t.co/IO1oyN5JNU

— Joe Thomas (@joethomas73) August 22, 2021
Thomas brings the same intensity, excitement, and love for the Browns to the broadcast booth that he brought to the field as a player.
He has received positive fan reception in the booth despite the pit stains.
Joe Thomas is significantly better than almost all the analysts working on Sundays for the major networks. Somebody should hire him now.

— Joe Banner (@JoeBanner13) August 22, 2021
The Browns' final preseason game is scheduled for Sunday, August 29 at Atlanta.
Sadly, for Joe Thomas fans, this game will be aired on NBC's Sunday Night Football so Joe Thomas will not be in the booth.