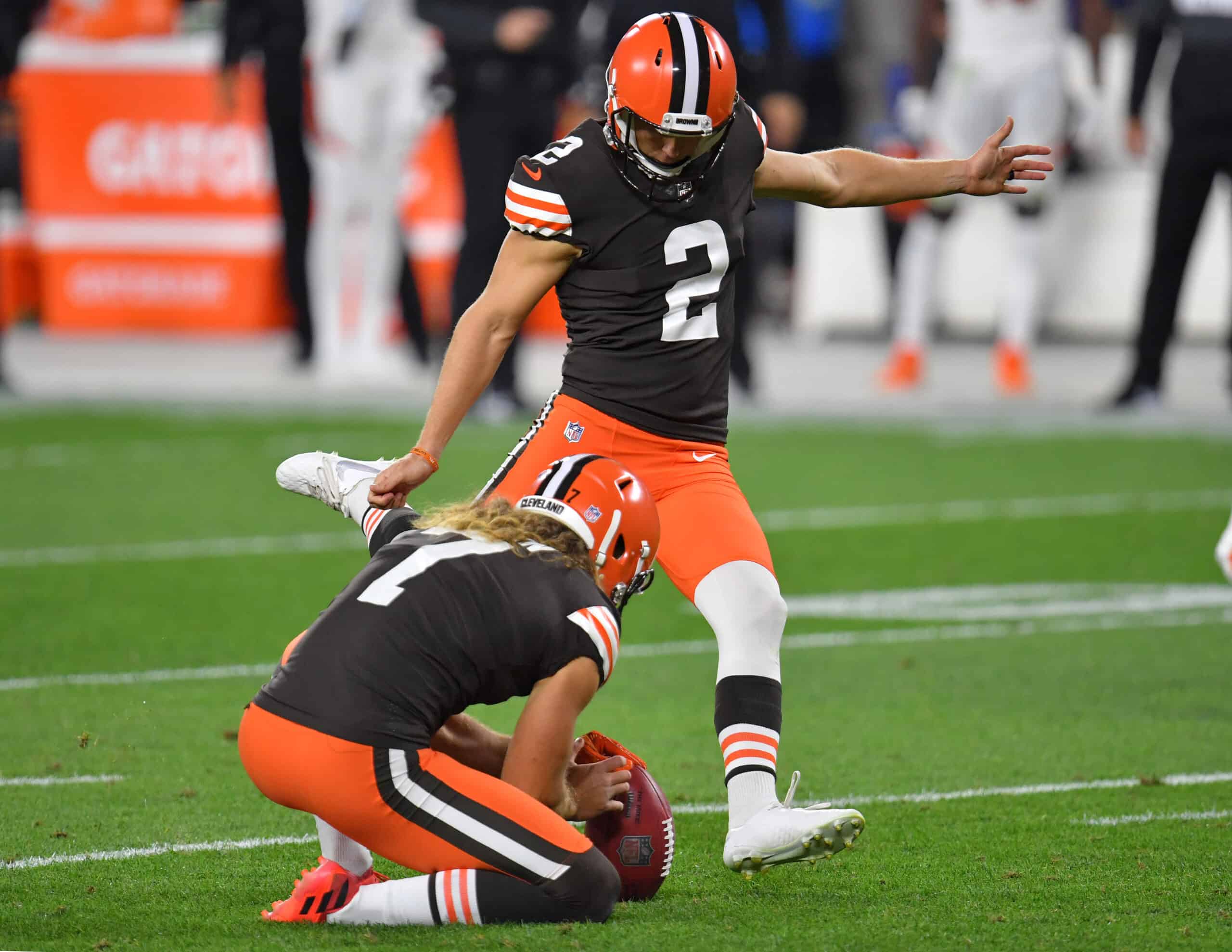 The Cleveland Browns have been running an under-the-radar kicking competition.
Incumbent Cody Parkey and Chase McLaughlin have been duking it out with their legs.
It seemed to be a pretty even split between the two.
Chase McLaughlin nails a 49-yard field goal to increase the #Browns lead over #Giants to 17-13 with 2:29 to play. The kicking battle between McLaughlin and Cody Parkey is neck-and-neck.

— Jeff Schudel (@jsproinsider) August 22, 2021
That may have changed given the news that Parkey suffered a quad injury.
Kevin Stefanski says #Browns kicker Cody Parkey has leg injury via @sdoerschukREP https://t.co/MLiVr1Fyzw

— Nate Ulrich (@ByNateUlrich) August 22, 2021
Parkey Kicked In The First Half
He kicked the extra point from the first touchdown of the game.
Parkey then performed the ensuing kick off.
After that, the Browns did not require a kicker until the third quarter.
That is when Chase McLaughlin came on the scene.
He converted an extra point and a 49 yard field goal.
Severity Of Injury Is Unknown
Coach Stefanski was asked to elaborate on Parkey's injury.
He provided no additional information.
"That's all I know."
Anytime a kicker has a leg injury, it should be a cause of concern.
However, we do not know if his kicking leg is the one with the injury.
Chase McLaughlin
The Browns picked up McLaughlin this spring off of waivers after the Jets released him.
It has been a healthy competition between Parkey and him.
Browns Ks Cody Parkey and Chase McLaughlin have been really good of late. Parkey made a 48-yarder last week and McLaughlin nails a 49-yarder into the Dawg Pound with plenty to spare.

— Andrew Gribble (@Andrew_Gribble) August 22, 2021
McLaughlin has plenty of leg for long-range kicks.
#Browns K Chase McLaughlin nails one from 49 yards that probably would've been good from 55-60 yards.

— MoreForYouCleveland (@MoreForYou_CLE) August 22, 2021
He has bounced around five teams in two seasons.
McLaughlin converted 22 of 28 field goals in his career, and he made 31 out of 32 extra points.
Parkey has obviously had his ups and downs throughout his career and is still well known for the infamous double-doink failed field goal attempt when he was with the Chicago Bears.
Cody Parkey's double doink 😳

Bears kicker misses a go-ahead FG as Philly (+240 ML) stuns Chicago on this day 2 years ago

(via @Eagles)
pic.twitter.com/zXTKtjKlvs

— br_betting (@br_betting) January 6, 2021
That missed field goal cost the Bears a playoff win.
No one wants one kicker to prevail over the other because of injury.
Hopefully, Parkey's injury is not serious, and he can be on the field soon to compete for his job.