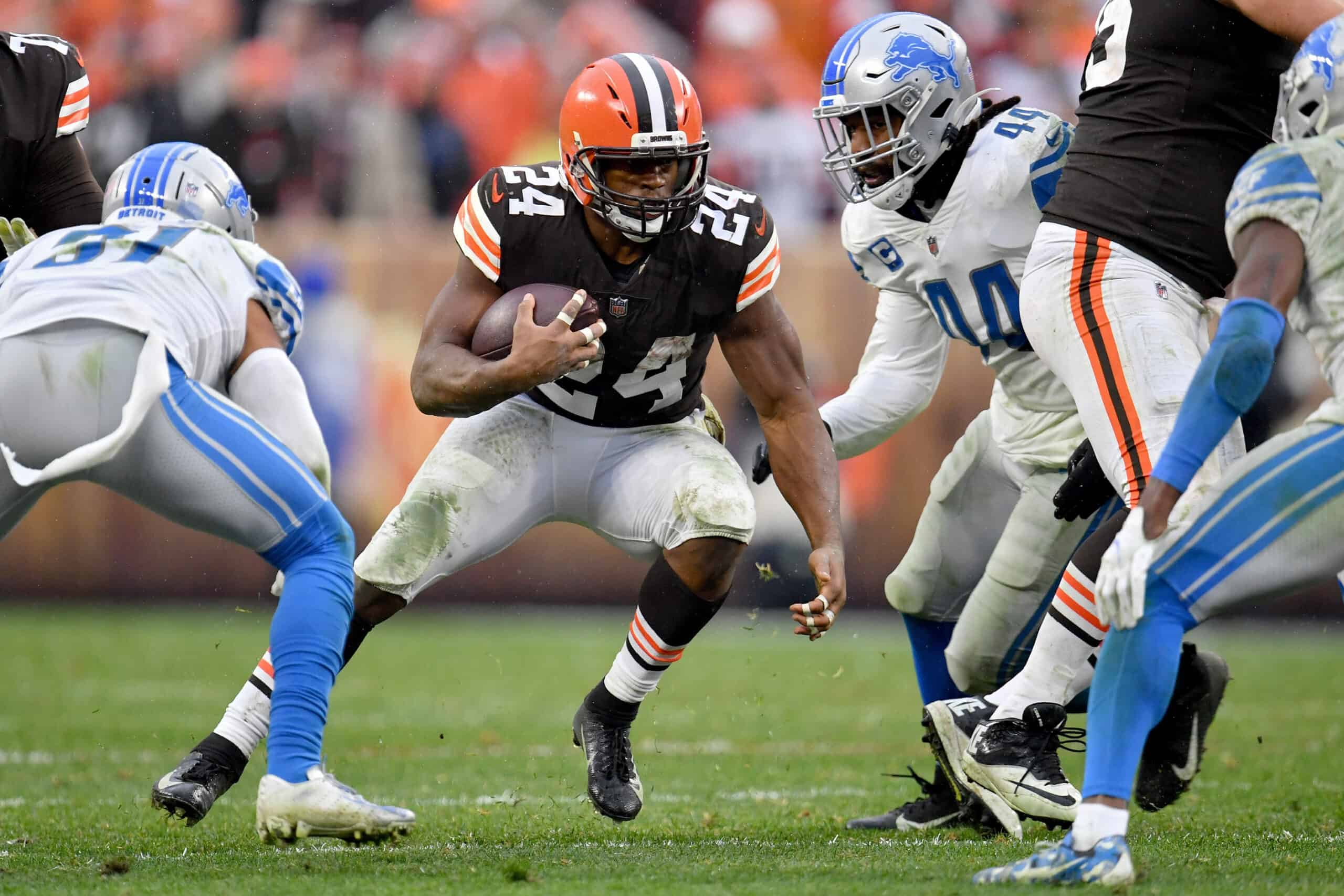 It's hard to imagine where the Cleveland Browns would be without Nick Chubb.
The two-time Pro Bowl running back has done nothing but succeed since joining the league.
Honestly, he appears to be getting better as time goes on.
The 25-year-old is putting together another ridiculous campaign this season.
He has only played in nine games through 12 weeks, but is putting together outstanding numbers when he is on the field.
The Unstoppable Nick Chubb
Seriously, best of luck to any defense trying to stop Chubb on a weekly basis.
He has rushed for 50 yards or more in every game, but one this season.
That being said, seemingly every organization is having problems trying to stop Chubb.
In fact, Chubb currently leads the NFL in yards per rush attempt this season.
Yards per rush this season, among qualified RB

Nick Chubb 5.78
Jonathan Taylor 5.77
Chase Edmonds 5.66
Tony Pollard 5.63
Miles Sanders 5.20 pic.twitter.com/uby6B7ZBju

— NFL on CBS 🏈 (@NFLonCBS) December 4, 2021
As mentioned before, Chubb hasn't played in every game this season.
Although, he is fantastic and clearly making an impact when he does.
The only other two backs even remotely as unbelievable are Derrick Henry and Jonathan Taylor.
Sadly, Henry is likely out for the rest of the 2021 season, so that's why he isn't on this rushing list.
Although, Taylor is right behind Chubb for the most rushing yards per attempt.
It's going to be a fun finish to the season to see which player will finish on top, but right now Chubb has a slim advantage.
Will Chubb Keep This Up? 
In Week 12, Chubb put together his worst performance of the season.
He rushed eight times for 16 yards in the close loss to the Baltimore Ravens.
This was the first time that Chubb has seen less than 10 touches in a single game all year.
What happened that week was likely a fluke and Chubb should continue to succeed the rest of the way.
He has posted four games of 100 rushing yards or more already this season.
All of those performances happened in a five-game span.
Chubb is truly a superstar and is well deserving of his third Pro Bowl selection.
.@NickChubb21's #ProBowlVote & #TDThursdays make the bye week better.

Retweet for more votes! 🗳

📺: #BALvsCLE – CBS 12/12 pic.twitter.com/slCV0id6d2

— Cleveland Browns (@Browns) December 2, 2021
The Browns are going to need Chubb now more than ever before.
Cleveland currently sits right outside the playoff picture with five games left in the regular season.
All of those games are against teams that are currently above .500 heading into Week 13.
That being said, the Browns need their franchise back to help carry the load on offense.
The passing attack has struggled lately, which means the Browns might lean on Chubb to do more over the next few weeks.
He has proven to be more than capable of taking over 20 carries per game.
Obviously, the Browns don't want to overwork Chubb, but he has been their best weapon on offense.
Right now, Chubb is rushing for nearly six yards per attempt.
The Browns need to continue pounding the rock with Chubb if they want to have a chance at the playoffs this season.