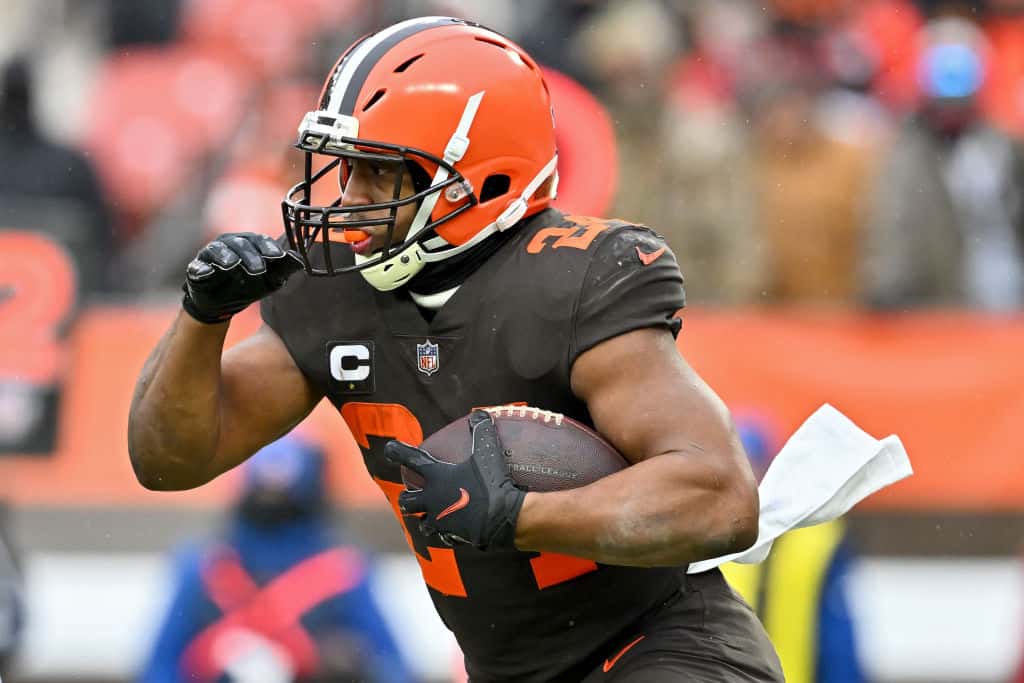 Nick Chubb is coming off yet another monster season for the Cleveland Browns.
Since entering the league in 2018, Chubb has been one of the most dominant backs on any team and has now been nominated for an award based on his continued success.
C'mon run it up, Dawg Pound! ⬆️

Vote for @NickChubb ☑️ https://t.co/PwsovlebSg

— Cleveland Browns (@Browns) January 23, 2023
Yesterday afternoon, the NFL announced the three finalists for the FedEx Ground Player of the Year.
Joining Chubb as finalists are Derrick Henry and Josh Jacobs, who each had fantastic seasons in their own right.
Chubb finished the 2022 regular season with 1525 rushing yards and 12 rushing touchdowns, and also added in 27 receptions for 239 yards and a receiving touchdown.
Browns fans, now is the time to vote for Chubb.
Even though the team didn't find the success they were looking for as a whole in 2022, Chubb was the definite bright spot on the team.
Browns fans could certainly use a positive accolade heading into 2023, and Chubb is very well-deserving of this award.
Thankfully, Chubb is tied to the Browns until the conclusion of the 2024 season, so he and Deshaun Watson should have a great opportunity to grow in the offseason, and should be able to make a splash within the division next season.
There is a lot to look forward to for the Browns heading into 2023.
Chubb's continued success is certainly one of them, and we are hoping that the Browns can reach new heights next season.
If you're able to and have Twitter, go ahead and vote for Chubb for the FedEx Ground Player of the Year award.