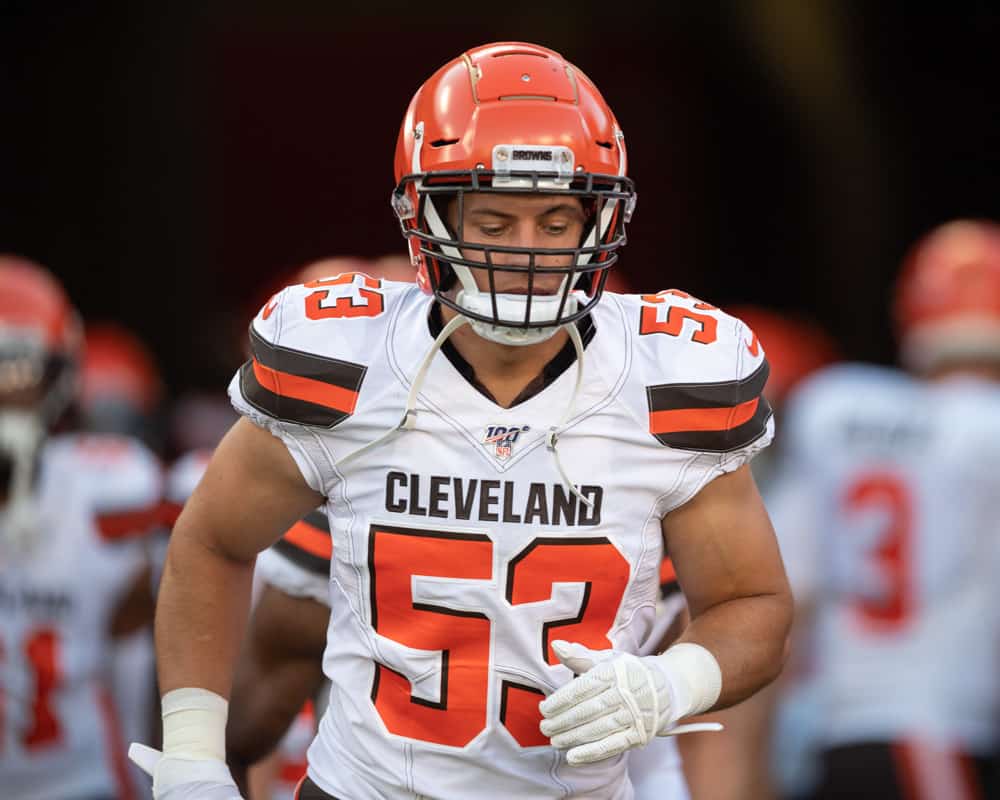 "Scho-Time" in Cleveland is coming to a close, but who is coming to replace him?
Joe Schobert, the star linebacker for the Cleveland Browns, is out the door according to sources.
It's no longer Scho-time in Cleveland: LB Joe Schobert will hit the free agent market and won't be back with the #Browns, who aren't willing to meet his $10M-plus market price, source says https://t.co/XSupyDhHBo

— Mary Kay Cabot (@MaryKayCabot) February 29, 2020

It is speculated that Schobert is asking for over 10 million per season and that is more than the Browns are willing to pay.
Every team needs a backup plan for cases like this.
The Cleveland Browns can look through free agency or the draft, but the team will need to fill his void.
For the season, Schobert had 133 combined tackles, which ranked 10th overall.
Without further ado, these are the top-10 options to replace Schobert.
No 10: Akeem Davis-Gaither-Appalachian State
Akeem Davis-Gaither is a seasoned prospect coming out of the draft after spending five seasons with the Mountaineers.
For his career, he finished with 258 tackles, 28 for a loss, eight sacks, and 18 passes defended.
In 2019, Davis-Gaither was named an All-American and the Sun Belt Conference Defensive Player of the Year.
Despite coming out of a mid-major, Davis-Gaither is the complete package and someone that could compete for a starting job.
He is smaller at 220 pounds but his speed allows him to play in coverage as well.
RB Ke'Shawn Vaughn, Vanderbilt vs Akeem Davis-Gaither, Appalachian State https://t.co/qy4fLHx3X0 Sticky coverage by Akeem Davis-Gaither in a difficult drill here.

— DraftScouts.com (@DraftScouts) January 30, 2020
Davis-Gaither is already gaining interest from NFL teams, including Ohio's other NFL franchise the Cincinnati Bengals.
No 9: Malik Harrison-Ohio State
Malik Harrison may not be a flash name, but he is a Ohio guy that has consistently improved every year at Ohio State.
As a sophomore, Harrison was a role player that earned a grade in the 60s according to Pro Football Focus.
However, that number jumped to 73 as a junior and 83 as a senior.
According to PFF, Harrison earned an 87.1 run-defense grade and led the Buckeyes with 75 tackles.
Harrison also has a winner's mentality after playing for a team that qualified for the College Football Playoff.
Malik Harrison on what he's looking to prove, the hardest guy to tackle, and his most dominant game pic.twitter.com/v9Rt0Dsu6W

— Mike Spencer Hrynyshyn (@MikeH_Draft) January 21, 2020
No. 8: Sione Takitaki-Cleveland Browns
You are probably asking yourself, how can this be?
Sione Takitaki is a current Brown and not somebody through free agency or the draft.
Just listen.
Last season, the News-Herald reported that Takitaki was in a battle for the starting position in training camp, which was eventually won by Schobert.
Even though Takitaki did not win the job, it's a good sign that he challenged Schobert for the position.
Takitaki could see a rise this season.
Since Schobert is out, and Christian Kirksey is potentially going to be cut, that leaves Mack Wilson and Takitaki as candidates to rise as leaders on defense.
If Takitaki wants to make a name for himself, this will be the year for him to do that.
When the Browns selected Takitaki with the 80th overall pick in the third round, the team was hoping to upgrade their depth on defense.
"With the 80th pick in the 2019 Draft, the Cleveland Browns select Sione Takitaki, LB, Brigham Young."

📺: NFLN/ESPN/ABC April 26-27 pic.twitter.com/s2aL3mBUsc

— Cleveland Browns (@Browns) April 27, 2019
Instead, the rookie only played 4.3 percent of the defensive snaps according to Football Outsiders.
Sione Takitaki has only played 17 defensive snaps on D this season but they've all come the past 2 games (2 wins) and he's graded out at 80.3 overall, including a stout 81.6 Run Defense mark.

I'd expect him to see more time this week. #Browns #NFL

— CLEology (@_CLEology) November 21, 2019
He finished with just 12 tackles last season and a lot of that had to do with former defensive coordinator Steve Wilks reliance on the 4-2-5 defense.
With question marks surrounding Wilson's development, and free agency for members on defense, Takitaki has the chance to get a bulk of playing time.
Even though we do not know what defensive scheme Woods will use as the new DC, we can assume that Takitaki will be used in some capacity.
When Takitaki was used towards the end of the season, he was a productive linebacker and Woods will likely hope he can sustain that success in 2020.
No. 7: Joe Bachie-Michigan State
What about replacing one Joe with another?
Joe Bachie could scare away some teams in the draft due to a failed drug test.
In late-October, Bachie failed a drug test but spoke publicly about the incident last week for the first time.
Michigan State LB Joe Bachie on Thursday spoke publicly for the first time since his failed drug test in late-October.

He called it one-time thing with an over-the-counter pre-workout supplement. "There was no juicin'. No steroids. Nothing going on." https://t.co/JI9cwMX3b9

— Aaron McMann (@AaronMcMann) February 27, 2020
If Bachie falls towards the latter part of the rounds, he would not be a bad pickup.
From Berea, Ohio, Bachie posted a 4.67 40-yard dash at the combine.
Before he was suspended, he was posting solid numbers.
Star Michigan State LB Joe Bachie tested positive for a banned substance and is now ruled ineligible

Bachie Stats:
72 Tackles, 9.5 TFL, 4 PBUs, 3.5 Sacks and 1 INT in 8 games pic.twitter.com/5OAxFPJBMT

— Elite College Football (@EliteCollege_FB) October 31, 2019
Bachie could come into training camp and compete for the job.
For a fourth to fifth-round pick, Bachie has the potential to be a steal.
No. 6 Danny Trevathan-Chicago Bears
Danny Trevathan and Nick Kwiatkowski (more on him later) are both free agents for the Bears and one is likely out.
According to NBC Sports Chicago's Cam Ellis, the Bears are prioritizing on keeping Kwiatkowski.
The Bears are planning to prioritize Nick Kwiatkoski as a free agent. But there are multiple factors in play, including Danny Trevathan's market value and an expected addition at quarterback.

The Bears' offseason plan is taking shape: https://t.co/5xayCwlo0h

— Chris Emma (@CEmma670) March 1, 2020
That means that Trevathan could be on the market soon.
Trevathan is a proven NFL-caliber linebacker that just needs to stay healthy.
Before signing with the Chicago Bears in 2016, Trevathan was a starter for the Super Bowl champion Denver Broncos.
Free Agent Profile: Danny Trevathan (LB)

Age: 29 H: 6′-0″ W: 239 Spd: 4.84
Exp: 8 Years – 6th Round (188) Pick, 2012

Career Stats:
96 Games, 609 Tackles (Combined),
9 Sacks, 8 Int, 6 FF, 35 PDef

Strong starter, who's played at a high level, dealt with injury issues in '19 pic.twitter.com/lEq9SU170Y

— Offseason Champions (@HTTRChamps) February 28, 2020
The durability of Trevathan is a major concern.
Trevathan turns 30 this month and has only played in 15 or more games four times in his eight-year career.
However, when he is on the field, he is one of the better linebackers in the league.
According to PFF, Trevathan was awarded grades of 70 or more in Run Defense, Tackling and Pass Rushing last year.
If the Browns wanted to take a chance of Trevathan, it probably would not break the bank and could be a cheap high reward situation.
No. 5: Kyle Van Noy-New England Patriots
Kyle Van Noy is an interesting option for a couple of reasons.
For starters, he has a winning pedigree after being apart of the Super Bowl championship team in 2018.
He was a former second-round pick by the Detroit Lions in 2014 and was thought to be a difference-maker in the league.
Due to his size and speed, he has played mainly outside linebacker in his career.
Free Agent Profile: Kyle Van Noy (LB)

Age: 28 H: 6′-3″ W: 250 Spd: 4.71
Exp: 6 Years – 2nd Round (40) Pick 2014

Career Stats:
81 Games, 289 Tackles (Combined),
17.5 Sacks, 2 Int, 5 FF, 10 PDef

Versatile, dynamic pass rusher, has speed to chase and cover in the passing game. pic.twitter.com/XbJDZvIJBW

— Offseason Champions (@HTTRChamps) February 26, 2020
Van Noy does not produce flashy stats either.
In 15 games, Van Noy finished with 6.5 sacks and two interceptions.
However, when it comes to advanced stats, Van Noy's name pops up.
I've been recording disruption stats since 2015.

Kyle Van Noy (51.5) had the most this season of anyone in that stretch not named Trey Flowers.

Dont'a Hightower had a career-high 40.5 this season and was probably their best player against the Titans.

— Jeff Howe (@jeffphowe) January 5, 2020
Van Noy did not produce like an elite linebacker like Rams' Cory Littleton (more on him later).
However, in terms of metrics, he is someone that has the ability to replace Schobert.
What puts Van Noy lower on this list is his potential contract.
Some analysts put Van Noy in the range of $12 million per season.
The Browns did not want to pay Schobert $10 million, which makes it difficult for the team to back up signing Van Noy.
No. 4: Cory Littleton-Los Angeles Rams
For similar reasons to Van Noy, Cory Littleton has the upside to replace Schobert, but the contractual problem as well.
Littleton put his name on the map as one of the best middle linebackers in the NFL.
With long arms and great speed, he proved that he can run with almost any tight end or running back, and still pressure the quarterback.
In 2019, Littleton registered a huge year with 134 tackles, 3.5 sacks, and two interceptions.
According to advanced stats, Littleton put together a season that was just as productive as Schobert's.
Who would you rather have Giants fans?

Cory Littleton or Joe Schobert?

Littleton was a beast for the rams in 2019 — 3.6% missed tackles rate, nine passes defended, 3.5 sacks

Schobert — 10.7% missed tackle rate, 69.1% completion percentage allowed

Team Littleton #Giantschat pic.twitter.com/TrtyvKA3j1

— Alex Wilson (@AlexWilsonESM) March 2, 2020
Linebacker is considered a cheap position to pay, but the Rams are likely going to see Littleton walk out the door.
With contracts to Jared Goff and Todd Gurley, and potentially a third in Jalen Ramsey, the Rams are thin on cap room.
With that being said, Littleton is not going to be cheap either.
According to Pro Football Focus, Littleton is projected at a contract that is worth $12 million per season.
Some NFL executives even believe that he could get $13 million per year.
That worth is precisely why Littleton is ranked No. 6 on this list.
We must respect the work that Littleton can produce; however, he would not immediately upgrade a dire need.
The Browns ranked 30th in the league in rushing yards allowed per game with 144.7.
According to PFF, Littleton ranked 73rd in the league in run-stop percentage with a percentage of 5.8.
If the Browns wanted a linebacker that will improve the team, Littleton's name should be in the mix.
He was one of the league's best tacklers.
However, paying $13 million for no upgrade at run-defense is a huge question mark too.
No. 3: Nick Kwiatkoski-Chicago Bears
Many expect Nick Kwiatkowski to get offers from other teams and the Browns should be interested.
HIs profile may not be as flash as Schobert but Kwiatkowski is coming off a career-season.
Free Agent Profile: Nick Kwiatkoski (LB)

Age: 26 H: 6′-2″ W: 242 Spd: 4.73
Exp: 4 Years – 4th Round (113) Pick, 2016

Career Stats:
57 Games, 184 Tackles (Combined),
6 Sacks, 1 Int, 4 FF, 8 PDef

Young, Career Backup, Solid All Around Playmaker, Big Upside, But Inexperienced pic.twitter.com/QVBWC2RJPZ

— Offseason Champions (@HTTRChamps) February 27, 2020
In a contract year, Kwiatkowski finished with 72 tackles and three sacks.
If he was thrown into a starting role on a consistent basis, it's possible that those numbers could be inflated.
Long story short, he still has raw potential and an emphasis on an "upside."
Nick Kwiatkoski running through people #WVU pic.twitter.com/0tsB2Pfl7Y

— WVU on Sports Illustrated (@SI_WVU) September 29, 2019
The Browns need someone who can rush the passer with Schobert leaving.
Kwiatkowski is not going to cost as much as Schobert.
He will get offers from other teams and the Browns would need to be careful to get into a bidding war.
There is a reason that the Bears are considering an extension and that is because he has solidified himself as a starter in this league.
If he is available, he could fill the void left by Schobert quicker than expected.
No. 2: Isaiah Simmons-Clemson
Isaiah Simmons would be No. 1 if the Browns had a higher draft pick.
The Browns have the No. 10 overall pick in the first round; however, Simmons is off the board in many mock drafts.
How well Simmons can play has posed the question of the Browns moving up in the draft to select him.
Browns GM Andrew Berry told reporters at the NFL combine, he is "flexible" about trading up or down.
If the Browns wanted to trade up, Simmons is everything a defensive coordinator wants in their scheme.
At the combine, Simmons ran the 40-yard dash in 4.39 at 238 pounds.
His workouts at the NFL Combine were so great that ESPN analyst Louis Riddick proclaimed Simmons is a top-4 pick.
Isaiah Simmons should not go no lower than 4th overall. Just sayin 🤔😳

— Louis Riddick (@LRiddickESPN) March 1, 2020
Overall, Simmons is a game-changing force that would fill the spot of Schobert with no questions asked.
The problem is that the Browns need a left tackle and are rumored to use their first-round pick on that capacity.
However, Simmons is worth the price for the Browns to select a tackle in the latter part of the draft.
Isaiah Simmons
2020 #NFLCombine

• Taller than DK Metcalf

• Heavier than Roquan Smith

• Faster than Devin Hester

• Jumps higher than Julio Jones

• More explosive than Alvin Kamara@ClemsonFB @isaiahsimmons25 pic.twitter.com/NeotE79Ivg

— NFL Research (@NFLResearch) March 1, 2020
No. 1: Blake Martinez-Green Bay Packers
Blake Martinez would not bring the caliber of play that Schobert did, but if we are looking at great value options, Martinez is in the conversation.
Sometimes you have to bring in a player that has a proven NFL resume.
That is where Martinez can come into play.
Free Agent Profile: Blake Martinez (LB)

Age: 26 H: 6′-2″ W: 237 Spd: 4.71
Exp: 4 Years – 4th Round (131) Pick, 2016

Career Stats:
61 Games, 512Tackles (Combined),
10 Sacks, 3 Int, 2 FF, 17 PDef

Excellent in coverage & solid against the run. One of the most sure-tacklers in NFL pic.twitter.com/truPv6F42P

— Offseason Champions (@HTTRChamps) February 27, 2020
The cons are there when looking at his abilities.
Martinez is small for the position, measuring at 6-foot-2 and 238 pounds.
However, that is a small con, given that Schobert was 6-foot-1 and 229 pounds.
That leads to our pro that Martinez could play more in pass coverage opportunities.
That would allow the Browns to save money with contract extensions for players like Myles Garrett, Baker Mayfield, and Nick Chubb looming.
At 26-years old, Martinez has the prime of his career ahead of him for a great value.
Since coming into the league in 2016, Martinez has been one of the league's best tacklers.
Most Combined Tackles (Since 2018)

Blake Martinez – 299
Bobby Wagner – 297
Darius Leonard – 284
Luke Kuechly – 274
Jaylon Smith – 263
Cory Littleton – 259
Budda Baker – 249
Zach Cunningham – 249
Todd Davis – 248
Lavonte David – 243
Fred Warner – 242
Jordan Hicks – 241

— NFL Stats (@NFL_Stats) February 21, 2020
After his rookie season, Martinez has put together three straight seasons of at least 140 or more tackles.
In 2017 and 2018, Martinez finished with 144 tackles, while 2018 included five sacks.
Last year, Martinez finished with 155 tackles and three sacks.
For a linebacker that would save the team a few dollars, Martinez should be on the Browns' radar.
Final Thoughts
The idea of Isiah Simmons playing in Brown's uniform makes you want to drool.
If the Browns wanted to fill their hole at linebacker, trading up is the right idea.
Having Martinez in the team's sights is a great backup plan too.
Overall, there are quality linebackers on this list.
It will come down to, does the cost meet with the team's agenda?