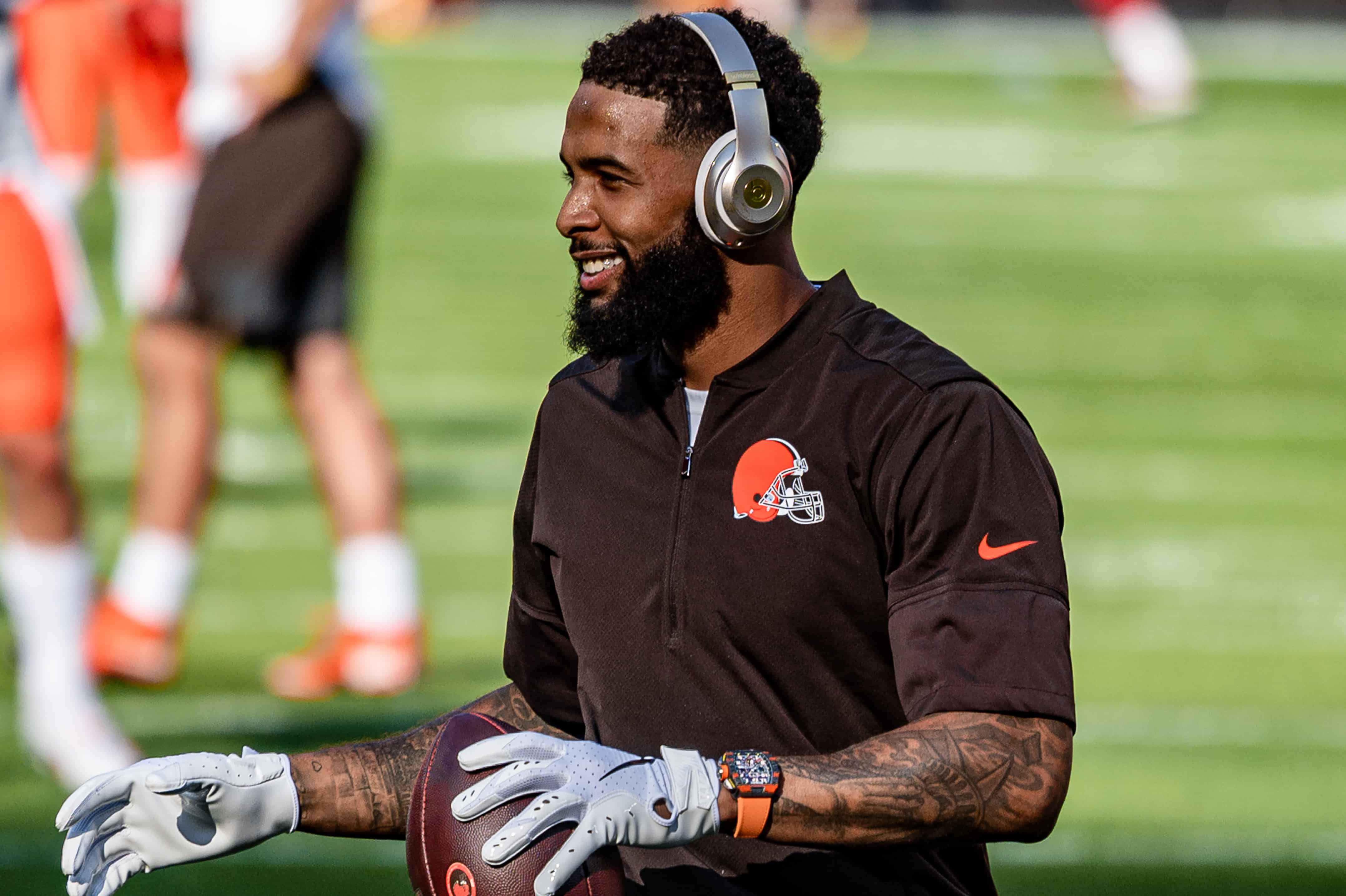 According to a recent report via Bleacher Report's Mike Freeman, the possibility of Odell Beckham Jr. getting traded this upcoming offseason is not zero percent. Is it likely that he starts 2020 in Cleveland? Yes. However, one NFC team official said, "The vultures will be circling if the Browns keep sucking."
If Beckham does end up leaving Cleveland, what are his top three destinations?
1. San Francisco 49ers
The San Francisco 49ers are 8-0 to start the 2019 season, and Beckham wants to win games. Prior to the New York Giants trading OBJ to the Cleveland Browns for first and third-round draft picks and safety Jabrill Peppers, the 49ers seemingly almost landed the stud wide receiver.
Immediately before the trade deadline, the 49ers acquired Emmanuel Sanders to beef up their struggling WR core. Sanders is on the last year of a three-year contract. He becomes a free agent in 2020. There is a need to be filled in San Francisco, and Beckham makes sense as a possible candidate.
With a strong offensive line and Jimmy Garoppolo under center, don't expect too much resistance from Beckham if a trade offer does find its way onto John Dorsey's answering machine.
2. Seattle Seahawks
If the 49ers do start inquiring about Beckham during the offseason, the Seattle Seahawks interest in the situation will increase. As a direct competitor with the 49ers in the NFC West, Pete Carroll and company are also in the market for a wide receiver.
Seattle is slightly too far north of San Francisco to be a Winter travel destination, but with Russell Wilson at the helm for the Seahawks' offense, Beckham might show some interest.
Tyler Lockett is having an impressive season, and D.K. Metcalf seems to be developing into a solid second-string WR, but Seattle wants more. The New England Patriots recently cut Josh Gordon from their injured reserve, and the Seahawks quickly signed him. Gordon never stays in the same place for long, opening room for Beckham in 2020.
Wilson is currently a contender for NFL MVP, and if Beckham ends up in Seattle, their already impressive offense should only get better.
3. Philadelphia Eagles
The Philadelphia Eagles are struggling offensively this season. With a 5-4 record, playoffs are still a strong possibility, but in order to win another Super Bowl, their wide receiver core has to improve. Unfortunately, Beckham won't help Carson Wentz and company this season.
Last offseason, OBJ expressed some dissatisfaction with Dave Gettleman's decision to send him to Cleveland. Is there a better way to get back at a franchise that ousted you than signing with a division rival? He could torture the Giants for two games every season.
Wentz is another mobile, accurate QB. He is an upgrade from Baker Mayfield, and the Eagles' offensive line gives him time to throw the ball downfield. If DeSean Jackson returns healthy, adding OBJ to Alshon Jeffery and Jackson makes for a deadly 11 personnel.