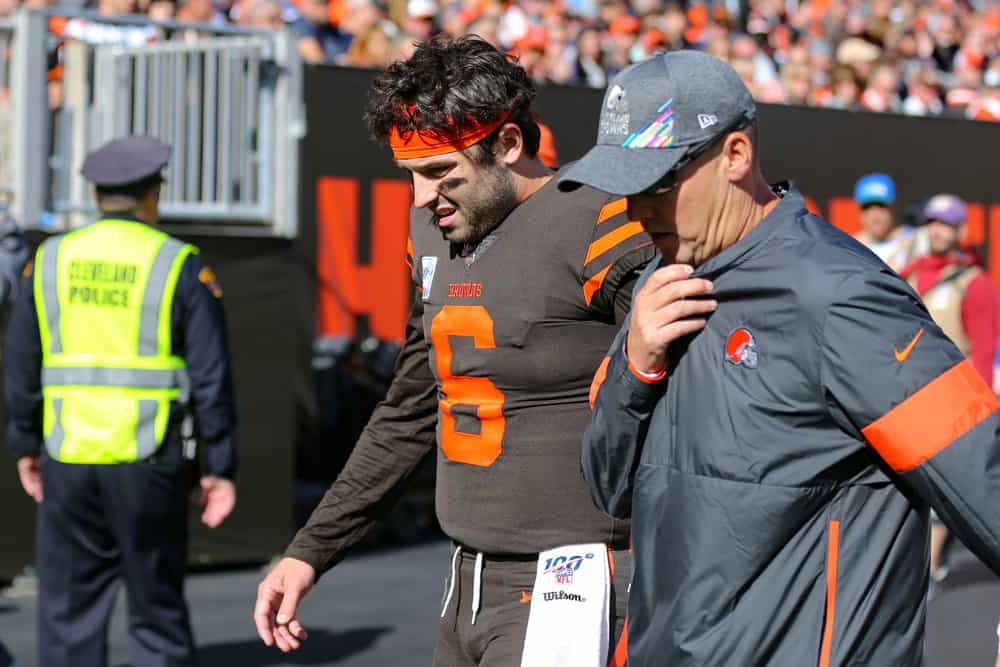 The Cleveland Browns' most recent loss to the Denver Broncos moves their record to an abysmal 2-6. For a team that started the season with serious playoff hopes, the word disappointment isn't quite strong enough.
Last season, Freddie Kitchens provided such an offensive spark after the Browns' parted ways with Hue Jackson that he earned the job as head coach in 2019. Cleveland had high expectations for the 44-year-old tight end and quarterback expert.
Kitchens established a quick relationship with Baker Mayfield, the first overall draft pick in the 2018 NFL Draft.
In 14 games, Mayfield threw for slightly under 4,000 passing yards, 27 touchdowns, and 14 interceptions. His quarterback rating on the season surpassed 90, and Cleveland deemed him the future of the franchise.
After NFL failures Brady Quinn, Colt McCoy, Brandon Weeden, Jason Campbell, Brian Hoyer, Josh McCown, Cody Kessler, DeShone Kizer, and others, how could Cleveland not get excited about a successful QB campaign in 2018?
Unfortunately, Mayfield is taking a step back in 2019. Through eight games, he has slightly under 2,000 passing yards, 7 touchdowns, and 12 interceptions. His 71.3 quarterback rating is one of the worst in the league. His advanced metrics are just as poor.
All of this is with the addition of Odell Beckham Jr., one of the league's best wide receivers.
Much like Mayfield, Kitchens proved to be a disappointment in 2019, as well. His insistence on utilizing 11 personnel when 12 personnel works better for the team is concerning. In a crucial third-down-and-three, Kitchens handed the ball off to Dontrell Hilliard with Nick Chubb on the bench. He did the same on fourth-down-and-one.
The Browns' red zone offense is sputtering, and outside of an undefeated back-half of the season, the Browns will miss playoffs.
Regardless of all their struggles, both Kitchens and Mayfield need job security. 
Since 1999, the Browns hired and fired 10 head coaches, starting and sitting 27 different quarterbacks. Both coaches and players are never allowed to fail in Cleveland, despite the team failing every year since the Bill Belichick era.
There are plenty of arguments to be made in favor of keeping Mayfield under center, and he should be able to work through his sophomore woes. It is more difficult to find an argument that sheds positive light on Kitchens' mishandling of the team's most talented players. Neither of those arguments matter.
This argument considers the future of the Browns' organization. A time will come when Kitchens and Mayfield are gone. Whether that be because Dorsey and company decide to head in other directions or because both coach and player eventually retire, the time must come.
Who wants to take over a failing organization and endure swift punishment if the first or second season fails? The Browns, as an organization, need stability.
There are other ways to show that a 2-6 record is unacceptable. Relieve Kitchens of the play-calling duties. Todd Monken is quite capable of taking over for the next few weeks to see if things turn around. Simplify play calls for Mayfield. Rely more heavily on the run.
Cleveland thought 2019 would be a historic year. It won't be. That's tough to hear as an over-patient fan. However, the solution to the Browns' dilemma is not to empty the house.
The old cliche is, "if it ain't broke don't fix it." Well, if it is broke, try to fix it before throwing it in the garbage. Those involved in the Browns' hiring process, as well as those drafted to the Browns, will thank Cleveland for giving the team time to develop for once.