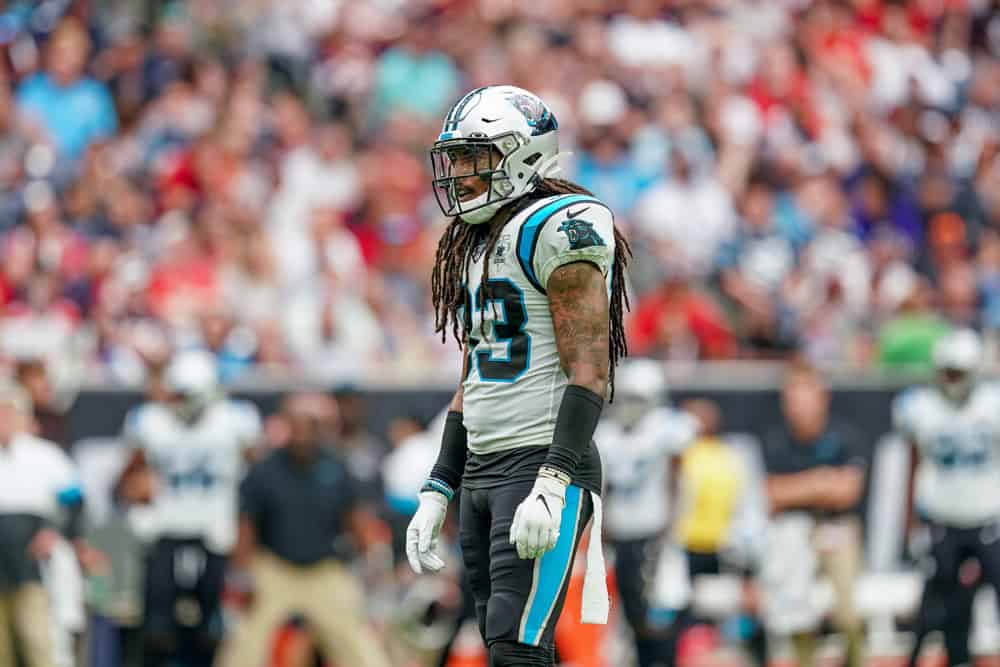 Free safety Tre Boston is a free agent. Again.
For the fourth season in a row, Boston finds himself in search of a new contract.
Since Carolina cut the 2014 fourth-round draft before his fourth season, this has been an annual ritual.
Most valuable offseason additions, either through the draft, free agency, or trade?

Starts with Tannehill

Powered by @awscloud pic.twitter.com/ub0TOq6VmM

— Steve Palazzolo (@PFF_Steve) February 6, 2020
Boston comes off his third consecutive one-year, "prove it" contract.
All he´s done is finish with PFF ratings of 80.6, 74.1, and 76.4 over those three seasons.
Yet, the Chargers (2017) and Cardinals (2018) did not try to resign Boston.
Carolina brought him back to the Panthers last year, and might still try to hold onto him.
But Boston expects to be a free agent.
And he is an inexpensive option the Cleveland Browns should explore to fill one of their biggest defensive needs.
How Good Can He Be?
There is usually a reason a player is waived or allowed to explore free agency four years in a row.
Boston was not signed early in any of those years, either.
But it is difficult to understand why in Boston´s case.
(Yes PFF grades). With the youth movement in Carolina here is the current list of FS under 30 and my take on who we can and can't afford.

The highest graded most affordable option is…

Tre Boston. pic.twitter.com/MHAED2sJLo

— Small Town RIOT (@SmallTownR1OT) March 8, 2019
Every offseason, pundits tab Boston as a free agent bargain or under the wire star.
Then he signs a last-minute deal for less than he is worth.
In 2019, Boston had 61 tackles and intercepted 3 passes with 11 passes defended.
He is a hard hitter with good speed and ball instincts.
Only one safety has more combined interceptions and pass breakups over the last three seasons.
Over that same time period, Boston has the second-highest PFF coverage grade.
He also played the fifth-most snaps, making a point about his durability.
It wasn´t all good on the statistical front.
Boston missed a total of 25 tackles over the past two years.
Why Would the Browns Be interested?
Cleveland has needs throughout the defense, but especially at safety.
They are expected to move on from Damarious Randall who can be a free agent.
Justin Burris and Eric Murray can also enter free agency.
Morgan Burnett is coming back from a torn Achilles suffered in November.
Sheldrick Redwine had some moments but enters just his second season.
JT Hassell is the only other safety on the roster.
The #Browns highest graded FA is FS Damarious Randall at 69.3 (40th Overall Safety). Here are our other options (unless tagged):

2020 FS Market

Justin Simmons – 90.8
Adrian Phillips – 87.4
Jimmie Ward – 84.2
Devin McCourty – 80.7
Tre Boston – 76.4
Haha Clinton-Dix – 74.2

— CLEology (@_CLEology) December 30, 2019
Besides his playing prowess, Tre Boston is considered a solid locker room presence.
Boston has game experience and is a known commodity with some ball-hawking skills.
His price tag will be far less than the premier free safeties.
Cleveland can use the difference to sign a solid linebacker or strong safety.
There are also some quality safeties who could fall to the middle or late rounds of the draft.
Boston provides another veteran presence for those rookies as well as Redwine.
What Will it Cost the Browns?
Boston should come cheaper than many of the other free agent safeties.
But he expects to make significantly more than the $2.1 million the Panthers offered in 2019.
Boston via the Charlotte Observer:
"Not a little more. It's time. I told y'all year after year, compare Tre Boston's stats to the top-10 paid safeties and there's no difference. So what is stopping them from paying me the same? I'm going out there banged up just like the rest of 'em. Numbers just like the rest of 'em. It's all about getting my worth … they know what I'm worth … I've proved it year after year after year."
Cleveland could wait to see if Boston is unsigned late in the preseason and score a real bargain.
But if they want to land him early to get him in the program, a two year deal at $4-5 million per might be enough.
Probably not a popular opinion amongst #Browns fans, but I don't know that $14M/Yr. for a safety is the right move. According to Spotrac you could get Karl Joseph and Tre Boston for around $16M. pic.twitter.com/j2jvdjKZJW

— Jared L (@JaredL77) March 6, 2020
The Browns have the cap space to make that commitment.
And they would score a capable veteran at a position of need.